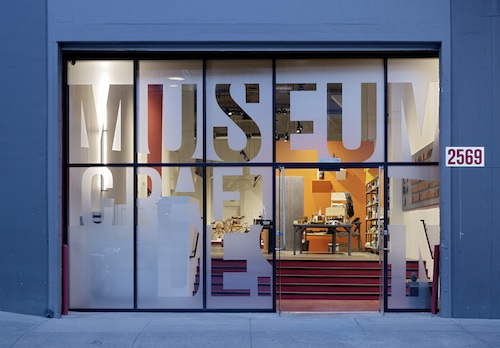 About the Museum
Since opening to the public in 2004, the Museum of Craft and Design has delivered innovative exhibitions and programs to thousands of visitors from San Francisco, the Bay Area, and beyond. Learn more about how we started and where we are heading next.
Photo: Matthew Millman
Mission
The Museum of Craft and Design (MCD) develops and presents engaging exhibitions and educational programs that explore and define the role of craft and design in our dynamically changing global culture, encouraging our audience to see the world differently.
History
Early 2015: MCD unveils a brand new website.

Our new home is at 2569 Third Street in the American Industrial Center and opened to the public in April 2013. Our new location allowed us to expand our exhibition space and to build our first-ever dedicated space for public programming, like our popular MakeArt workshops.

In February 2012, MCD announced a move to the historic Dogpatch neighborhood of San Francisco.

In the fall of 2010, MCD launched the first of a series of pop-up museums—exhibitions, educational programs, and retail store—in temporary locations throughout San Francisco while we searched for a building to purchase as a permanent home.

The Museum of Craft and Design opened in 2004 on Sutter Street, in San Francisco's Union Square District, as the San Francisco Museum of Craft+Design
Likes to gather people.

JoAnn Edwards Executive Director

Loves Lucille Ball.

Ashley Ciak Administrative Assistant

Likes coffee and beer.

Ted Cohen Exhibition Designer

Likes classical music and good wine.

Renay Conlin Development Director

I like movies, travelling, and my life blood is coffee.

Sara Dermody Development and Member Associate

Likes DIY and heavy music

Alexander Jackson Operations Manager

Likes snowboarding and crafts.

Charlotte Jones Adult Program Manager

Likes marzipan, nature, and donuts.

Natasha Glushkoff Children's Program Manager

Likes anything that sparkles.

Clarissa Kalman Business Manager

Likes watching murder mysteries.

Natasha Kleit Store Associate

Likes hangin' in the hills and reading to kiddos.

Debra Lande Store Manager / Buyer

Likes animals, cartoons, and travelling.

Sarah Stone Store Associate

Likes hiking, cheese, and 70s color palettes.

Ariel Zaccheo Curatorial Assistant / Registrar

Likes cheap beer and motorcycles.

Alex Ziv Gallery Ambassador

Likes making pickles and bookstores.

Jyoti Arvey Store Associate
Andy Astor, Chair
Chris Motley, Secretary
Dorrian Porter, Interim Treasurer
Alexa Arena
David Gauger
Steven B. Kaplan
Olle Lundberg
Lawrence Mendenhall
Babette Pinsky
Phil Schlein
Ronald Abramson
Glenn Adamson
Suzanne Baizerman
Lisa Bayne Astor
Sylvia Bennett
Virginia Breier
Vallie Brown
Linda Brownrigg
Ted Cohen
Jack da Silva
Marilyn da Silva
Donald Fortescue
Andrew Glasgow
Marc Grainer
Ana Lisa Hedstrom
Lloyd Herman
Robyn Horn
Gary Hutton
Janet Koplos
Wendy Maruyama
Josh Oliver
Steven H. Oliver
Michael Osborne
Joanne Rapp
Dorothy Saxe
Nancy Selvin
Elizabeth Shypertt
Paul J. Smith
Jamienne Studley
Michael Vanderbyl
Isabel Wade
Jenn Carroll Wilson
Bernice Wollman
Ronald C. Wornick
Barbara Waldman
Opportunities
---
Become a Volunteer
All our programs, workshops and events are supported by a team of incredibly talented and generous volunteers. We constantly need volunteers for a variety of events on weekdays and weekends. Volunteer duties typically include: greeting visitors, checking in guests, setting up chairs and tables, serving beverages, gallery watch, answering questions, assisting instructors and craft participants (children and adults), coat check, and general clean up. We occasionally need volunteers for administrative tasks or special projects in the office too. We'd love to hear from you! Join our volunteer roster. Email: volunteer@sfmcd.org.
---
 Job Opportunities
The Museum of Craft and Design seeks out qualified candidates who are passionate about contemporary craft and design. We are an equal opportunity employer.

Title: Museum Store Associate
Part time
About