Member Travel: Berlin – The Bauhaus and Beyond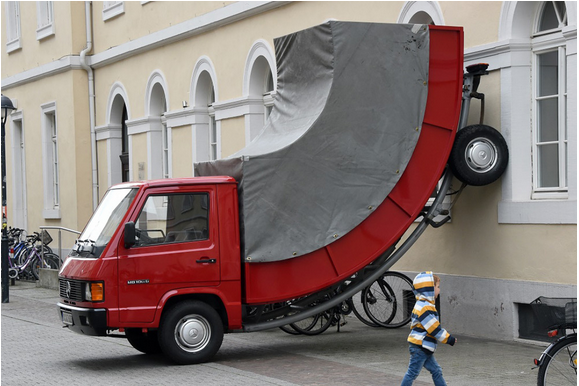 The Museum of Craft and Design invites you to its next international tour adventure September 18 – 24, 2016.
Join Executive Director JoAnn Edwards and Development Director Renay Conlin for six enchanting days and seven nights in Germany's capital!
Berlin, a culture-hungry community, beckons with a veritable cornucopia of fascinating museums, contemporary art and architectural wonders. Since the reunification of East and West Germany, Berlin has been setting trends at break-neck speed. Creative concepts in art, architecture, music and food are proliferating in a way that welcomes artists, designers, fashonistas and collectors – basically all creative types – or those eager to take it all in. Particularly in the former East, where once gritty neighborhoods were the norm, the visual landscape is teeming with excitement. The energy is palpable. We'll have a special tour of the über-contemporary Karen and Christian Boros Collection, housed in a former air raid shelter erected in 1942, as well as a behind-the-scenes tour of the Berggruen Museum. We'll visit some of the notable art spaces such as Kunst-Werke Institute for Contemporary Art and Autocenter. We'll also walk the East Side Gallery, an international memorial for freedom, and visit remnants of the Berlin Wall that now provide a bold canvas for powerfully expressive graffiti art. Maestro Thomas Conlin will arrange for us to attend the Berlin Philharmonic, one of the great orchestras of the world, at the architecturally and acoustically perfect Philharmonie.
Home base for the week will be at the contemporary boutique hotel Casa Camper Berlin, in the heart Mitte, the vibrant and historical core of the East. With just a short walk through narrow streets and courtyard mazes, you'll find yourself among upscale shops, tony bars, fabulous cafes and restaurants, and the oldest Jewish cemetery in Berlin. A bit further on you'll find the powerful Holocaust Memorial, the Reichstag Dome by Norman Foster, the Brandenburg Gate – and the list goes on. Our visit coincides with the annual Berliner Festspiele, which encompasses all the major performance halls for concerts, opera, ballet and theater as well as exhibitions of contemporary art, craft and design.
Join us for this special donor trip for members at the $500 level and above. There are only sixteen slots available. Air travel will be your responsibility, but leave the rest to us with more details to come as we finalize arrangements. Please note that there will be a good deal of walking on this trip.
Reserve your spot now with a $1,000 deposit per person by contacting Renay Conlin, via email at rconlin@sfmcd.org or by phone at 415.773.0303.