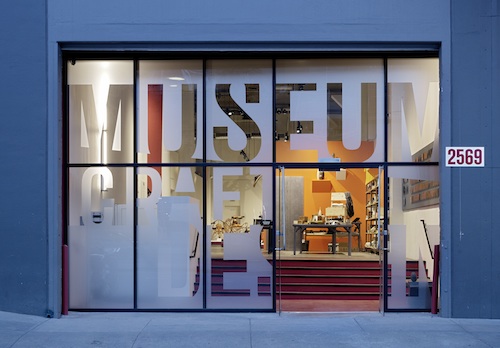 About the Museum
The Museum of Craft and Design (MCD) makes creativity accessible to everyone.
The Museum of Craft and Design is the only museum in San Francisco devoted to craft and design. Founded in 2004, MCD showcases designers, makers, and artists through an exciting and distinctive series of craft and design-focused exhibitions and public programs. As a non-collecting institution, the museum actively collaborates with artists, designers, museums, and universities, as well as design venues and practitioners to create inspirational experiences in the world of craft and design for visitors of all ages.

Manifesto
You're bold. You question the conventional notion of art. You are inspired by creativity that stirs the soul. And you value designers, makers, and artists who are risk-takers and seek to inspire the world. Visual culture thrives at the Museum of Craft and Design. We bring you the work of the hand, mind, and heart. We are building a path to the future of creative expression.
Photo: Matthew Millman
Mission
Through inspired exhibitions and experiential programs, MCD explores the creative process and current perspectives in craft and design.
History
2019
Celebrating 15 years, the Museum of Craft and Design has welcomed over a half a million visitors from across the globe. Known for its bold and innovative exhibitions and inspiring MakeArt programs for all ages, MCD marks this important milestone with DESIGN15, a year-long celebration connecting craft, design and community!
2018
MCD announces the launch of MAKE, an after-hours event on the third Thursday of most months, offering a range of dynamic programming, including artist happy hours, hands-on activities and local vendor pop-ups. We also, kicked off MakeArt Family Days, an evolution of MCD's signature MakeArt programs designed for visitors of all ages. These first Saturday events feature tactile materials introductions for toddlers, guided activities for kids, gallery tours and in-gallery drop-in projects for families.
2015
MCD Parklet opens, considered "the benchmark of Parklets" by SF Planning Department. MCD's website, sfmcd.org, gets a new look and feel!
2013
Our new home is at 2569 Third Street in the American Industrial Center and opened to the public in April 2013. Our new location allows us to expand our exhibition space and to build our first-ever dedicated space for public programming, including our popular MakeArt workshops.
2012
In February 2012, MCD announces a move to the historic Dogpatch neighborhood of San Francisco.
2010
In the fall of 2010, MCD launches the first of a series of pop-up museums—exhibitions, educational programs, and retail store—in temporary locations throughout San Francisco while searching for a building to purchase as a permanent home.
2004
The Museum of Craft and Design opened on Sutter Street, in San Francisco's Union Square District, as the San Francisco Museum of Craft+Design.
Likes good cigars and bringing people together

JoAnn Edwards Executive Director

Likes cooking and cold water swimming

Jeremiah Barber Lead Preparator & Facilities Associate

Likes hiking, biking, and anything outside

Marie Deininger Education Coordinator

Likes exciting books and traveling

Jacqueline Fried Store Associate

Likes dachshunds and design

Caroline Holley Interim Associate Director

Likes thrift stores and karaoke

Christina Humphreys Development Coordinator

Likes snowboarding and tarot

Charlotte Jones Education Director

Likes anything that sparkles.

Clarissa Kalman Business Director

Likes reading biographies on women in history

Natasha Kleit Assistant Registrar

Likes hangin' in the hills and reading to kiddos.

Debra Lande Store Manager / Buyer

Likes SCUBA Diving and Skateboarding

Tito Rodriguez Assistant Store Manager

Likes wine and playing soccer

Sarah Beth Rosales Marketing and Communications Director

Likes Doggies + Cats, Crystallized Cheeses and Indoor Gardening

Jen Moser Villasenor Operations and Administrative Manager

Likes hiking, cheese, and 70s color palettes.

Ariel Zaccheo Curator
Neil O'Donnell, Chair
Babette Pinsky, Vice Chair
Andy Astor, Treasurer
Peggy Dalal, Secretary
Fred Bould
Kelly Koski
Joy Ou
Dorrian Porter
Leah Segawa
Diane Tucker
Gretchen Wustrack
Board Members Emeritus
David Gauger, Steven B. Kaplan, Ken Riding, Phil Schlein, and Barbara Waldman
---
Ronald Abramson
Glenn Adamson
Lisa Bayne Astor
Robin Azevedo
Sylvia Bennett
Linda Brownrigg
Ted Cohen
Donald Fortescue
Lloyd Herman
Gary Hutton
Janet Koplos
Wendy Maruyama
Josh Oliver
Steven H. Oliver
Michael Osborne
Joanne Rapp
Dorothy Saxe
Nancy Selvin
Elizabeth Shypertt
Jamienne Studley
Bernice Wollman
Ronald C. Wornick
The Design Council is an advocacy committee of the MCD Board, working to make MCD a home for the broader Bay Area design community.
Ongoing support for the Design Council is generously provided by Hunter Douglas.
Shujan Bertrand
Bill Burnett
Kuen Chang
Brianna Cutts
Lise de Vito
Apeksha Garga, Wealthfront
Dan Harden
Lisa Iwamoto
Wai Loong Lim
Primo Orpilla
Tim Parsey
David Peschel
Dee Speed
Scott Yu
Opportunities
---
Become a Volunteer
Volunteering at MCD is a wonderful way participate by nourishing the community with creativity!
Sign up to be part of our volunteer community and help us to serve the diverse population of the San Francisco Bay Area. As a volunteer, you will assist with hands-on craft and design activities for kids and adults, speaker series program and special events.
Many of these programs are on the weekends and evenings so they can fit into your schedule.
---
 Job Opportunities
The Museum of Craft and Design seeks out qualified candidates who are passionate about contemporary craft and design. We are an equal opportunity employer.
---
Title: Development Manager
Full-time, Exempt
---
Title: Development Coordinator
Full-time, non-exempt; occasional nights and weekends required
---
Title: Museum Store Associate
Part time
About