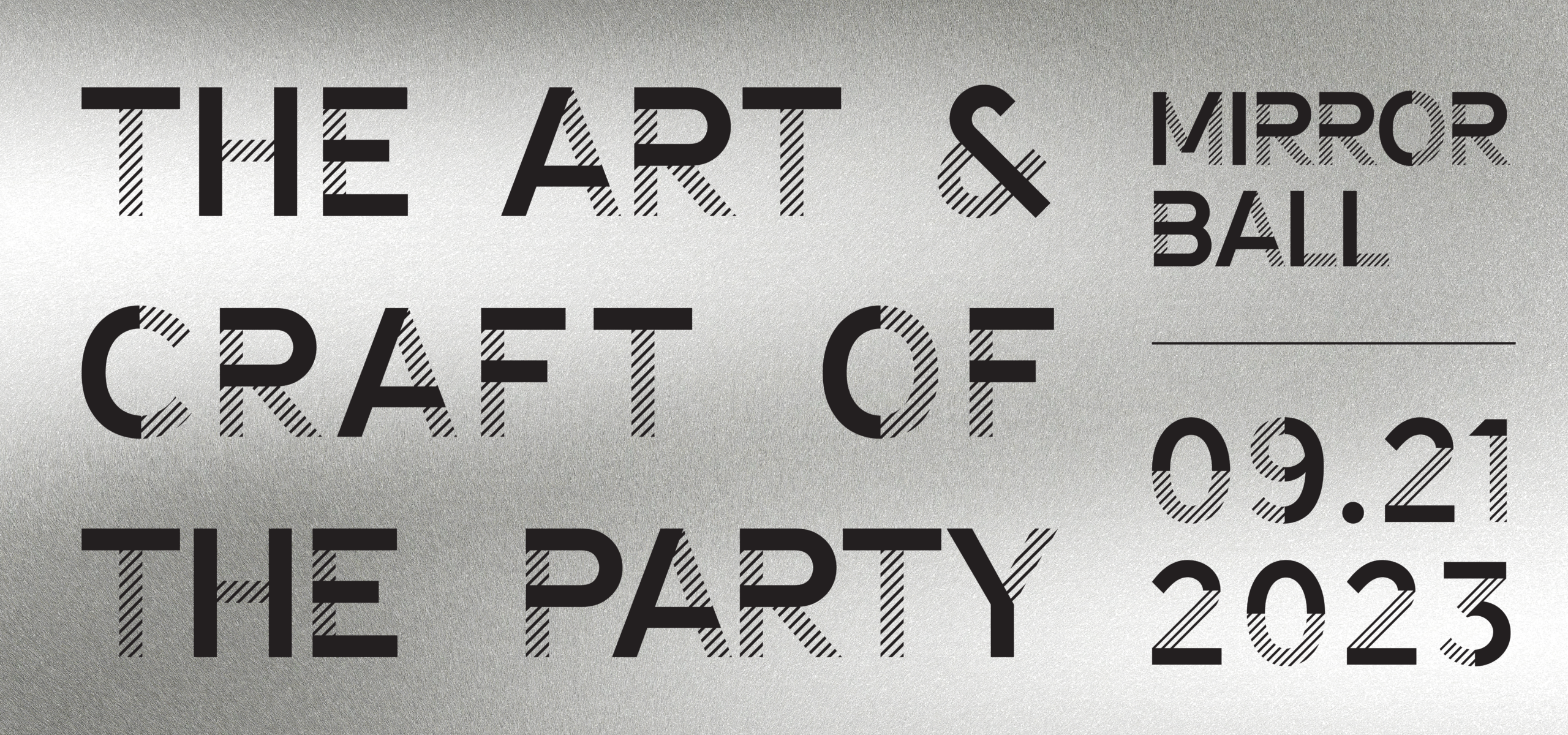 Mirror Ball is back on September 21, 2023! Get ready to sparkle and pull out your dancing shoes for MCD's fall fundraiser.
You're invited to join us for delectable food, craft cocktails, immersive art-making, and fun. Dance the night away at MCD's 2023 Mirror Ball while helping to raise funds in support of access to creativity for all.
Join as an event sponsor today! Fill out our Mirror Ball Sponsor form or contact giving@sfmcd.org
Member tickets and general admission tickets are on sale now! Reserve your tickets here. 
We're grateful to our community of supporters that participated in the 2022 Art For All Mirror Ball benefit, honoring Gary Hutton. Thanks to the wonderful generosity of participating artists, event sponsors, ticket holders, auction bidders, and in-kind partners we raised over $168,000 to support the museum and fund our first IDEA (Inclusivity, Diversity, Equity, and Access) Fellowship.
2022 EVENT SPONSORS AND PARTNERS
CRYSTAL BALL
Lisa Bayne Astor and Andy Astor
Robin McRoskey Azevedo
Peggy and Yogen Dalal
Pamela and David Hornik
Rose Roven and Susan Cummins
Barbara Waldman
GLITTER BALL
Cat Foo and Aaron Bastian
Miriam Owen
Jamienne Studley and Gary Smith
SPARKLE BALL
Bonnie Bridges and Bill Banyai
Lisa and David Gauger
Sandra Jordan
Alyce and Steven Kaplan
Sally Liu and Bay Chang
Janine and Jon Miller
Christine Motley and Neil O'Donnell
Dorothy Saxe
2022 PARTICIPATING ARTISTS AND IN-KIND PARTNERS
Anonymous, áplat, Aram Originals, Artesano, Zana Bayne, Chris Bowman, Bryr Studio, Bullseye Projects, Chappellet, Peggy Dalal, Restaurant Gary Danko, DigWineSF, Dogpatch Boulders, Dogpatch Saloon, JoAnn and Ken Edwards, Iris Eichenberg, Mark Gardner, Ewa Gavrielov, Keith Goldstein, Dana Harel WHITE DIRT, Eleanor and Bruce Heister, Pamela and David Hornik, Gary Hutton, JB Blunk Estate, Jolt N' Bolt, The Jug Shop, Alyce and Steve Kaplan, Lagunitas, Jane Lebkowski, Melissa Leebove, Olle Lundberg, MCD volunteers, McEvoy Ranch, John Merkl, Matthew Millman, Robert Milnes, Bob Nugent, Joy Ou, Miriam Owen, The Parsonage, Piccino, Babette and Steven Pinsky, The Plant Cafe Organic, Dorrian Porter, Michele Pred, Rancho La Puerta Wellness Resort and Spa, Revel Shop SF, Marilyn and Ken Riding, Florian Roeper, Beth Rubin, Dorothy Saxe, Jan Schachter, Lynn and Arthur Schnitzer, Ward Schumaker, Nancy Selvin, Adam Shiverdecker, Souvla, Lauria Szujewska, t.w.five, Ungrafted, Barbara Waldman, Heather Wilcoxon, The Estate of Bernice Wollman and Warren Rubin
For special event questions and/or sponsorship inquiries, please contact giving@sfmcd.org