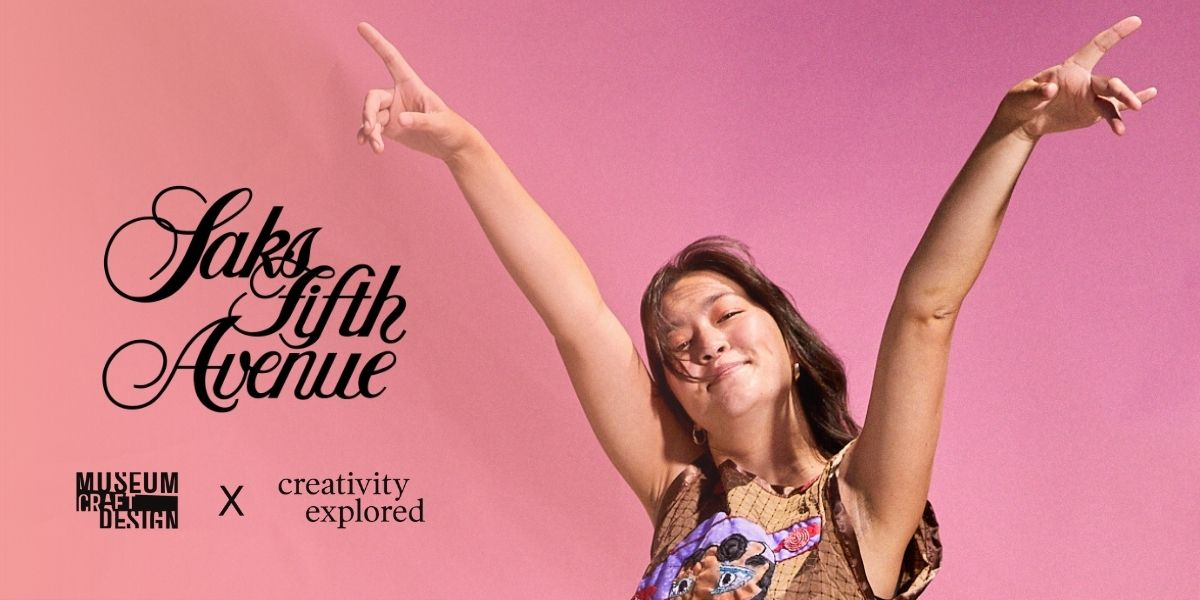 Mode Brut Window Reception at Saks Fifth Avenue
September 24 @ 4:00 PM

-

7:00 PM

Free
September 24, 2021
MCD and Creativity Explored (CE) are teaming up with Saks Fifth Avenue San Francisco in Union Square to showcase original artwork and one-of-a-kind fashion in the Powell Street window displays!
The Powell Street Mode Brut window displays will open on September 10, 2021 and remain on view through September 29, 2021, with a public reception and shopping event on September 24 from 4:00 PM to 7:00 PM at Saks Fifth Avenue. The collaboration also includes multiple placements of original artwork throughout the store.
Visit Saks Fifth Avenue on Friday, September 24th from 4:00–7:00 PM for an open reception and shopping event! The public is invited to join the community to celebrate the Mode Brut windows, meet the artists, and enjoy light refreshments. The MCD MakeArt Van will also be on-site handing out free MakeArt Kits co-authored by Creativity Explored artist Katherine Finn-Gamino. Additionally, Saks Fifth Avenue San Francisco will donate 10% of proceeds from Friday's sales to Creativity Explored up to $5000 when "Creativity Explored" or the "Mode Brut" window displays are mentioned at checkout.
The window displays showcase original artwork and fashions by Maria Berrios, Calmer Clark, Christina Marie Fong, Joseph 'JD' Green, Claus Groeger, Makeya Kaiser, Vincent Jackson, Ethel Revita, Cheryle Rutledge, Anne Slater, Ana Maria Vidalon, Kathy Wen, Gerald Wiggins. Garments from Mode Brut designers Ayana "Yanni" Brumfield, Bonanza, and Tokyo Gamine are also included. Installations throughout the store will feature artwork by Peter DeLira, Ade Lewis, Steven Liu, Nubia Ortega, Taneya Lovelace, Thomas Pringle, Ethel Revita, Yukari Sakura, and Alfred Vargas.
All COVID protocols will be followed as per store policies and San Francisco Department of Public Health requirements.