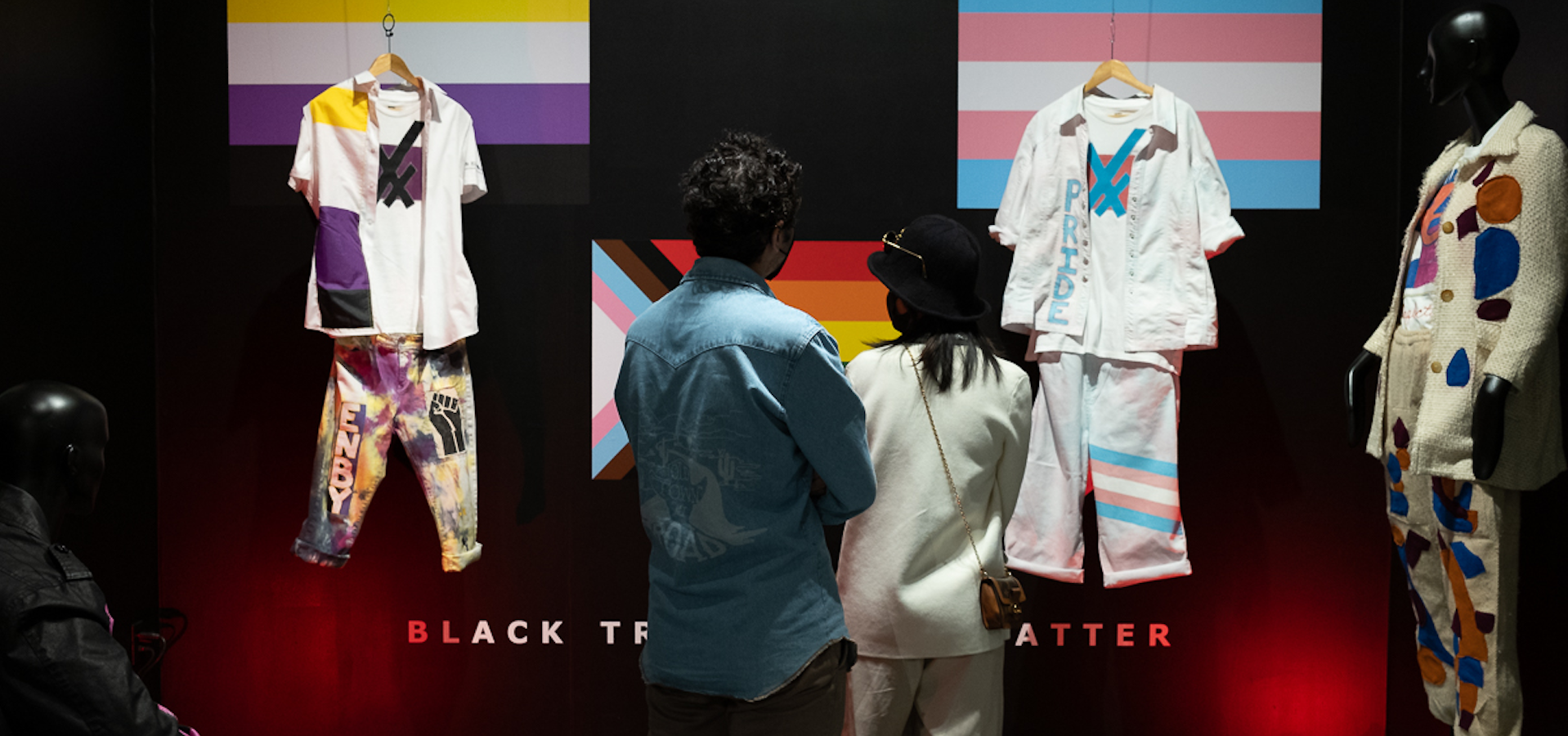 MCD Curator Walk-Through: Mode Brut with Clèa Massiani + Ariel Zaccheo
November 19, 2021 @ 1:00 PM

-

2:00 PM
Virtual Event
Join guest curator Cléa Massiani from Creativity Explored (CE) and MCD Curator Ariel Zaccheo for a virtual tour of Mode Brut.
Produced in collaboration between CE and MCD, Mode Brut is an exhibition that redefines fashion through accessibility. Over 50 CE artists with developmental disabilities worked with design partners Bonanza, Tokyo Gamine, and Ayana 'Yanni' Brumfield.
Persisting through challenges imposed by the pandemic, the designer and artist teams spent more than a year making fashion over Zoom, navigating phone calls and mail projects, and enjoying walks filled with rich conversation and art sharing. The unique and incredibly intentional pieces on display challenge museumgoers to think past the familiar modes of apparel by redefining what, and who is fashionable.
Participants will view a screening of the VIP tours from opening weekend, and will be joined in the event live with the curators, who will be available to add extra insights and answer questions.
Pre-registration required—limited space available. 
MCD Members are always free. $10 for general admission, $8 for Students and Seniors. 
---
About Cléa Massiani
Cléa Massiani is a curator and art professional based in San Francisco, CA. She is the founder and co-director of Bass and Reiner Gallery, located at the Minnesota Street Project complex in San Francisco, a curatorial space dedicated to foster dynamic dialogues in the Bay Area art scene and emerging artists. Cléa has curated and co-curated several exhibitions in museums and galleries and held professional art positions both in Europe and the United States. She holds a B.A. and M.A. in History and Art History from The Sorbonne University (Paris, France), and an M.A. in Exhibition and Museum Studies from the San Francisco Art Institute.
About Ariel Zaccheo
Ariel Zaccheo is a curator and writer working in San Francisco. She graduated with a BFA in Art History from the University of Utah in 2011, and with an MA in Exhibition and Museum Studies from the San Francisco Art Institute in 2013. Ariel has been the Curator of the Museum of Craft and Design since 2020, following her tenure as MCD Assistant Curator since 2015. Additionally, she has been the co-curator of the Artists Television Access Window Gallery since 2013 and serves on ATA's Board of Directors.Her writing has appeared in Contemporary Art Review Los Angeles, Surface Design Journal, Fiber Art Network, American Craft
Mode Brut (detail shot of work by Yanni Brumfield) 2021, Museum of Craft and Design. Image courtesy of Samuel Abhaya.