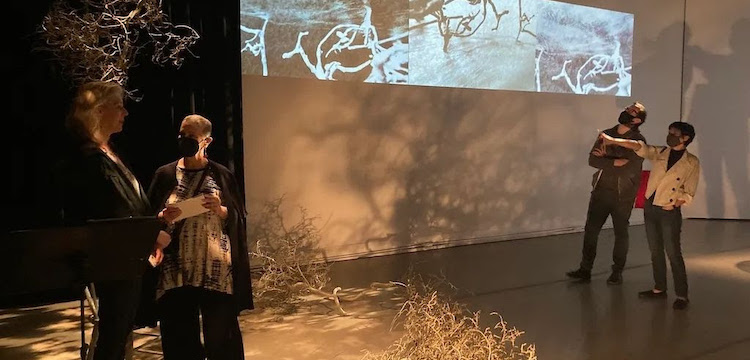 Special Event: LIGHTFAST
October 29, 2022 @ 5:00 PM

-

6:30 PM
Museum of Craft and Design
What changes when artists decide to cross creative borders together and venture into different medium territories?
Join MCD for a special event showcase of the body of work born of this question and the conversations between a composer, a writer, and two visual artists. Experience the journey they traveled, both together and independently, exploring different forms of audio, visual, and narrative art that ultimately evolved into the foundation for LIGHTFAST.
This full sensory multimedia collaboration invites viewers to consider emotional states of being and the human relationship with nature through sculptural installations, an interactive handmade codex, immersive imagery and projections, live cello improvisation, spoken word, and recorded layers of instrumental and natural sounds.
Two night event run, pre-registration requested
Friday, October 28,  7:00 PM–8:30 PM: TICKETS
Saturday, October 29, 5:00 PM–6:30 PM: TICKETS
$35 General Admission, $25 students/seniors, $15 MCD members
LIGHTFAST creators are:
Christel Dillbohner, visual researcher, associate of the Institute of Cultural Inquiry and co-creator with Danae Mattes of CircumNavigators; cellist Monica Scott, known in the Bay Area as member of piano/cello duo martha & monica, and experimental ensemble sfSound; novelist and short story writer Sylvia Brownrigg, author most recently of Pages for Her and Invisible Countries; and Danae Mattes, visual artist, whose other collaborations include work with Hope Mohr Dance and jazz musician Henry Threadgill.
Make the most of your MCD Membership and don't forget to stop by the Museum Store on your way out and get your 10% off discount!
Not an MCD Member? Join today and get free and discounted tickets to MCD's signature programs, events, tours, and more!
All visitors will be required to wear masks inside the museum. Learn more about MCD's guidelines here.