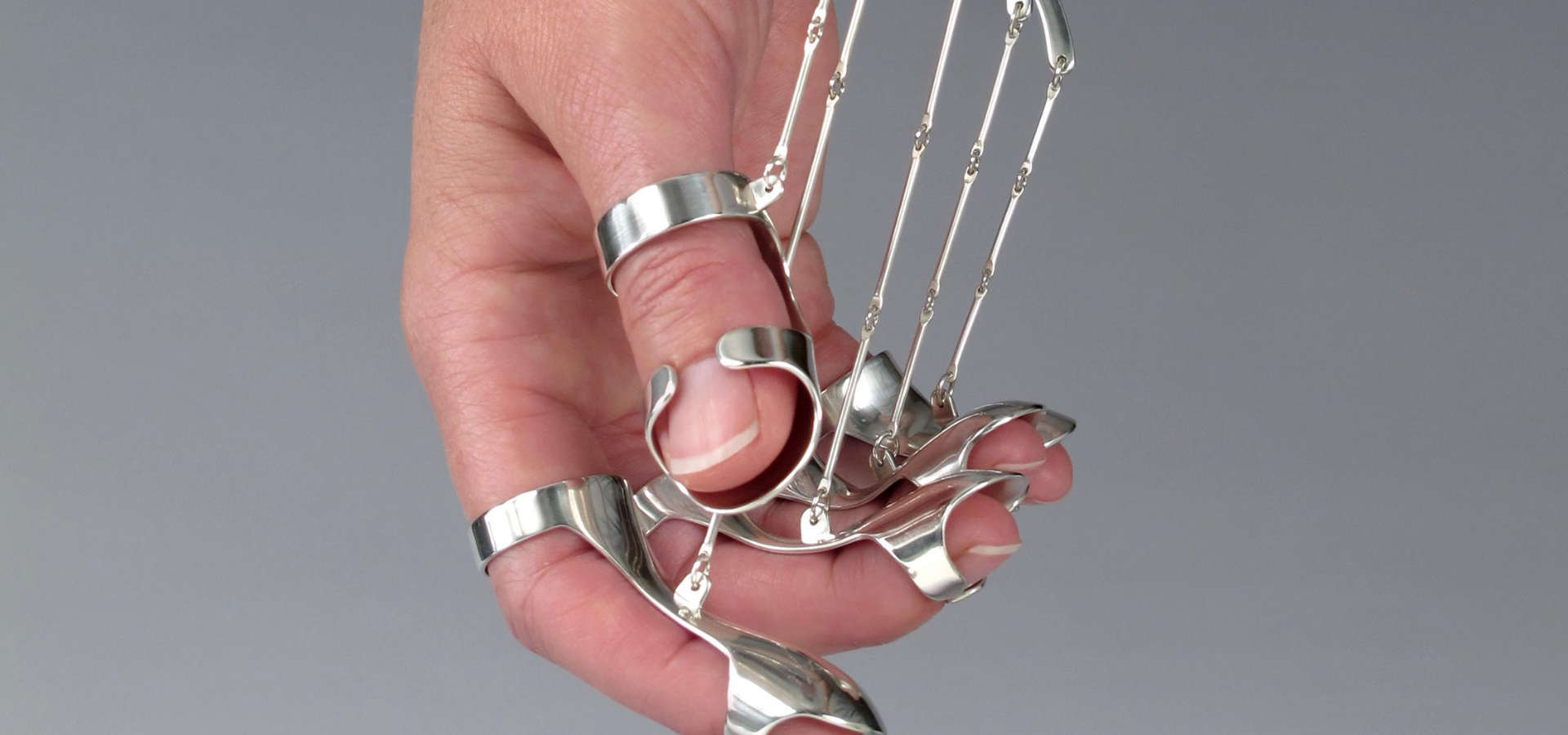 Jennifer Crupi: A Display of Gestures
June 28, 2014–October 5, 2014
Guest Curator
Marc D'Estout

The Museum of Craft and Design's exhibitions and programs are generously supported by the Windgate Foundation and Grants for the Arts. Additional funding for this exhibition was provided by the Rotasa Foundation.
Jennifer Crupi: A Display of Gestures, organized by the Museum of Craft and Design will be the first presentation of this celebrated conceptual-metalsmith artist's work on the West Coast.
This exhibition includes 13 handcrafted works of art made from sterling silver and aluminum that address ways we communicate with each other through body language and specific movements. Crupi's wearable, articulated and interactive objects become instruments for gestural behavior, often taking a humorous approach to pointing out actions we make to express concealed frustration or anxiety. By exploring gesture as ornament, Crupi creates a physical "prompt" akin to choreography that can be observed and even traced. By scripting gestures for the wearer, Crupi blurs the distinction between object maker and theatrical/performance director.
Above Image: Jennifer Crupi, Ornamental Hands: Figure Three (shown worn), 2013. Image courtesy of Christian Luis
Jennifer Crupi is a Full Professor at Kean University, Union, NJ where she has taught since 1999. Her work is in the permanent collection of the Smithsonian American Art Museum, Washington, D.C., Museum of Contemporary Craft, OR and the Samuel Dorskey Museum of Art, NY.