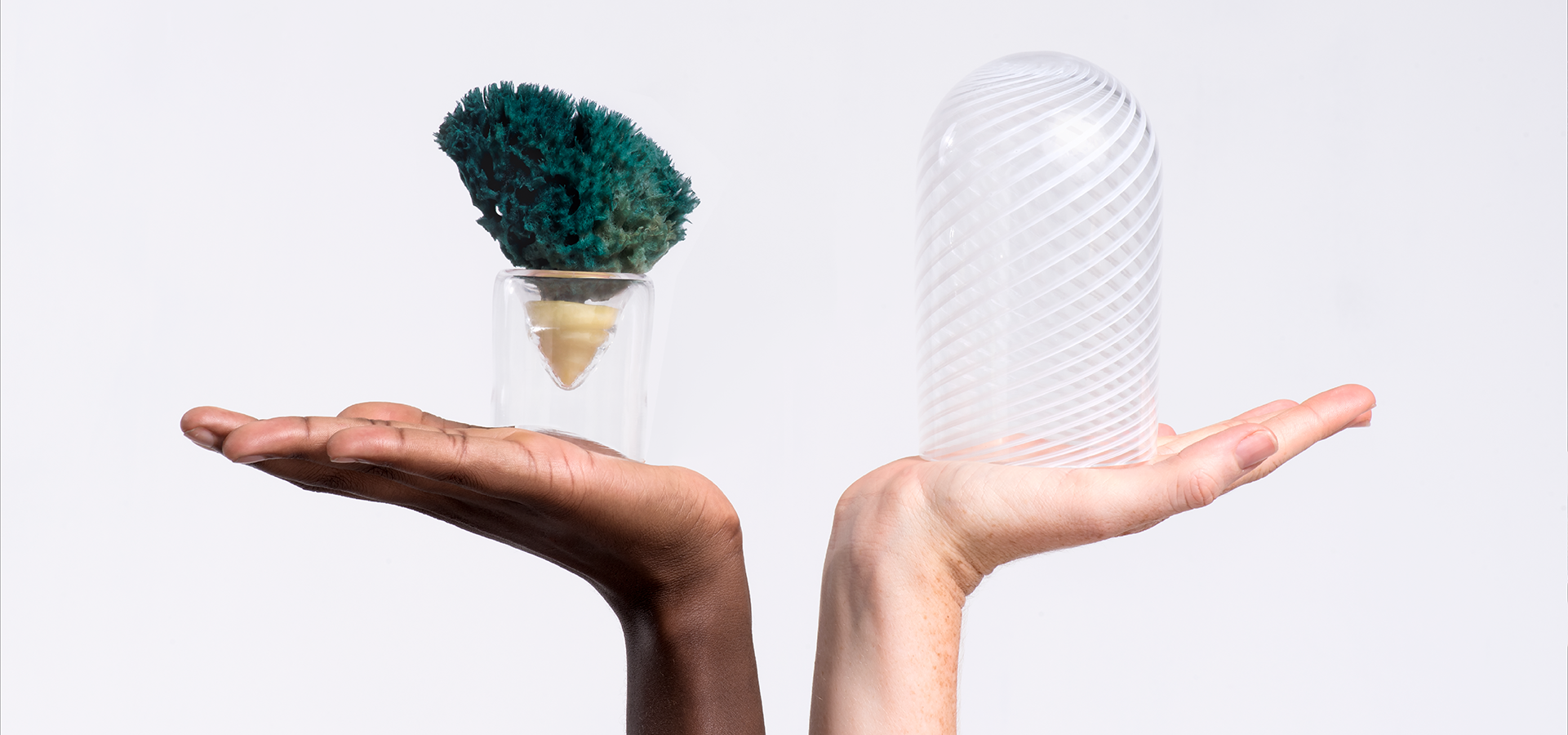 Living with Scents
February 11–June 5, 2022
Guest Curator:
Elisabetta Pisu
Clara Muller
The exhibition is an IMF Foundation production in collaboration with the EP Studio.
Odors are perceived with every breath we take and immediately interpreted by the most ancestral parts of our brain. In recent years, researchers and practitioners, from the neurosciences to the humanities, have strived to gain a better understanding of the sense of smell, which deeply, yet often unknowingly, shapes the way we live: our eating habits, our social interactions, our emotions, memories, and even our well-being and safety. Albeit elusive and ephemeral in nature, scents may thus be purposefully used to improve many aspects of our lives. Furthermore, despite its long neglect in the West, smell can also carry cultural, aesthetic, and practical values, as exemplified by a number of ancient and foreign cultures.
In the hands of contemporary designers, whose job it is to consider the interactions of minds, bodies, and things, scents are mediated in innovative ways to raise a form of new sensory awareness. This exhibition will feature about 40 of these designers and artists from all over the world whose work reflects and participates in the growing culturalization of all things olfactory. Working with and around the sense of smell, taking into account its neurobiological, historical, social, and aesthetic specificities, these practitioners attempt to change the way we relate to and interact with the world. Their informed efforts are an incentive to use our nose to observe objects from a different point of view, and conversely to use objects to take advantage and make sense out of smell in novel ways.
The phrase 'olfactory design' can refer to a variety of practices that encompass, inter alia, fragrance making, olfactory marketing, stage design, architecture, and even urban planning. The focus of Scents and Fragrances will be on objects, not just scented products, but creative and artful interfaces to deliver scents with manifold design outcomes, from the hedonic to the functional. On display will be an unprecedented collection of useful, meaningful, and beautiful olfactory objects to be discovered through both the eyes and the nose.
Above Image: Iris Eichenberg, Set of Three Brooches and Holder from the Heimat series (detail), 2004, Metal, thread skeins, cardboard (box). The Susan Grant Lewin Collection, Cooper Hewitt, Smithsonian Design Museum, acc. no. 2016-34-23-a/s Photo Courtesy of Cooper Hewitt, Smithsonian Design Museum / Photographer:  Matt Flynn ©Iris Eichenberg.
Claudia Adiwijaya
Atelier oï
Lena Beigel
Gilles Belley
Carla Bengtson
José Bermúdez
Sofia Caraza
Peter de Cupere
Julie de Mol
Ebram Investments
Emerging Objects

Philipp Emrich
Antonio Gardoni
JIA Design Team – Spencer Hung
Kaja Solgaard Dahl for Atelier Kaja Dahl
Karen Campa, Katie Dobberstein, Fabien Florek, Corinna Hartinger
Kin Objects
Jody Kocken
Zsofia Kollar
Ani Liu
Muro Scents Co., Monica Förster Design Studio, frankly//Aakerlund, and Zanat
LiNendo
Lizzie Ostrom (Odette Toilette)
OVR Technology
Patrick Palcic
Sara Ricciardi
Charline Ronzon-Jaricot
Rui Pereira and Ryosuke Fukusada
Lena Saleh
Ariane Shirvani
Susana Soares
Studio Forest & Whale by Wendy Chua, Gustavo Maggio
studio Outofstock
Sissel Tolaas
Unfold Studio (in collaboration with Barnabé Fillion)
Liza Witte
Zanellato/Bortotto Studio
MCD welcomes the opportunity to work with you to craft sponsorship opportunities and benefits that suit your philanthropic and marketing goals. All sponsorship gifts are fully tax-deductible.
Learn more about our levels and benefits and become a sponsor today through our Exhibition Sponsorship form.
Questions? Contact our Development Team at giving@sfmcd.org.