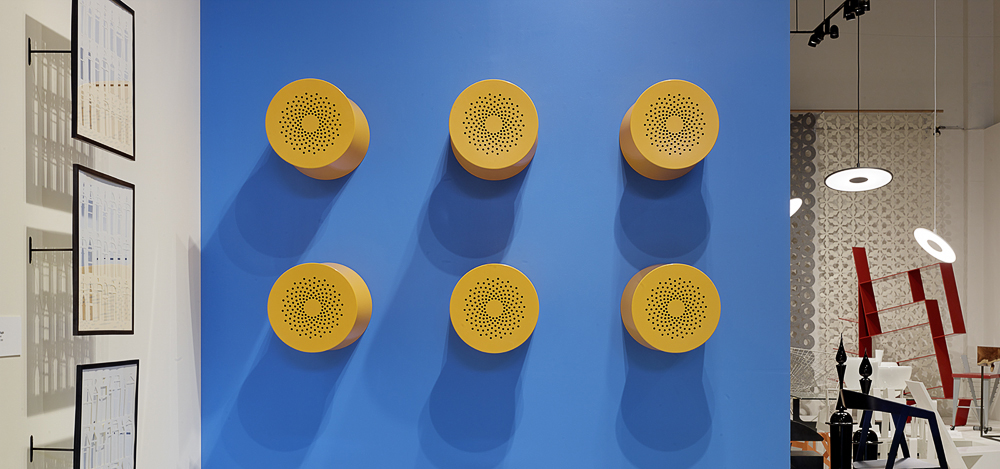 New West Coast Design 2
October 26, 2013 – January 5, 2014
Guest Curator: Kathleen Hanna and Ted Cohen
Exhibition designer: Ted Cohen, Museum of Craft and Design
Media Partner: 7×7 Magazine
The Museum of Craft and Design's exhibitions and programs are generously supported by the Windgate Foundation and Grants for the Arts.
Today, the icons of Modernism are visible everywhere. Eliel Saarinen's Tulip Chair, the Diamond by Harry Bertoia, Marcel Breuer's Wassily Chair, and Isamo Noguchi's coffee table are eternally with us as are the designs of Saarinen's fellow Cranbrook students Charles and Ray Eames. Where are the incubators for the designers of our decade? Which of their works will become icons treasured by the next generation?
Organized by the Museum of Craft and Design with guest curators Kathleen Hanna and Ted Cohen, New West Coast Design 2 (NWCD2) was inspired by the initial 2008 exhibition New West Coast Design which highlighted experimental works in traditional and new materials by artists working in California, Oregon and Washington.
NWCD2 will feature dozens of works chosen for the significant contribution they make to the world of design by expanding on the idea of function, exploiting materials, innovative techniques, or pioneering applications of new technology.
From skateboards and single speed bikes to fashionable water bottles and drinking vessels, furniture, toy houses, 3D designs and lighting fixtures, NWCD2 focuses on the design process itself and how this impulse is manifested by a wide variety of individuals – architects, industrial designers, interior designers, studio craft artists and design groups working with the advanced digital technologies.
Whether inspiration comes from a perceived problem to be solved, a client commission, a new material to be explored or digital design program to be exploited, the drive is there and the upshots endless.NWCD2 explores the many facets of contemporary West Coast Design, its artists' intentions, influences and myriad directions.
Image: Brandon Adams, Stools, 2013, Museum of Craft and Design 2013-2014. Image courtesy of Matthew Millman.
BRANDEN ADAMS
JOSHUA AIDLIN
CARLO AIELLO
MAKI AIZAWA
JENNIFER ANDERSON
ATELIER DION
BEVARA DESIGN HOUSE
MICHAEL BOYD
JORY BRIGHAM
ELIN CHRISTOPHERSON
CERNO LIGHTING
CANDACE CROCKETT
CHARLES DE LISLE
JOHN DENMAN
ENSCONCE DESIGN
MELISSA FLEIS
MICHAEL FOX
FROG DESIGN
GRAIN
SEB HAMAMJIAN
DANIEL HOPPER
GARY HUTTON
CURTIS INGLIS
MADELINE ISAKSON
JIM ISERMANN
ANDREW KUDLESS
MAGDA LATTIN
RICK LEE
JASON LEES
DAVID LEGRAND, ECO-MADE
PO SHUN LEONG
DAVID LEWIN
JOHN LISTON
JOHN LUM
LUNAR
TONY MARSH
AUSTIN MCADAMS
ALISON MCLENNAN
LEE MILTIER
JENNIFER MORLA
NICE COLLECTIVE
NORTH FORTY DESIGNS
TSUYO ONODERA
COLIN OWEN
PABLO PARDO
ERIC PFEIFFER
HANNAH QUINN
RONALD RAEL
GEORGE ROCHA
ALEXANDER PURCELL RODRIGUES
JARED RUSTEN
RAY SALAS
SALATINO & GANDOLFO
VIRGINIA SAN FRATELLO
COLIN SELIG
AARON SILVERSTEIN
HAYLEY STRAUSS, ECO-MADE
BOYD SUGIKI
JEREMY SYCIP
TOURNESOL SITEWORKS
PHIL TOY
RECHENG TSANG
TYPE A MACHINES
SEAN WALLING
BRET WALTERS
SARAH WARD
NIKOLAS WEINSTEIN
CHRIS WEISS
LISA ZERKOWITZ