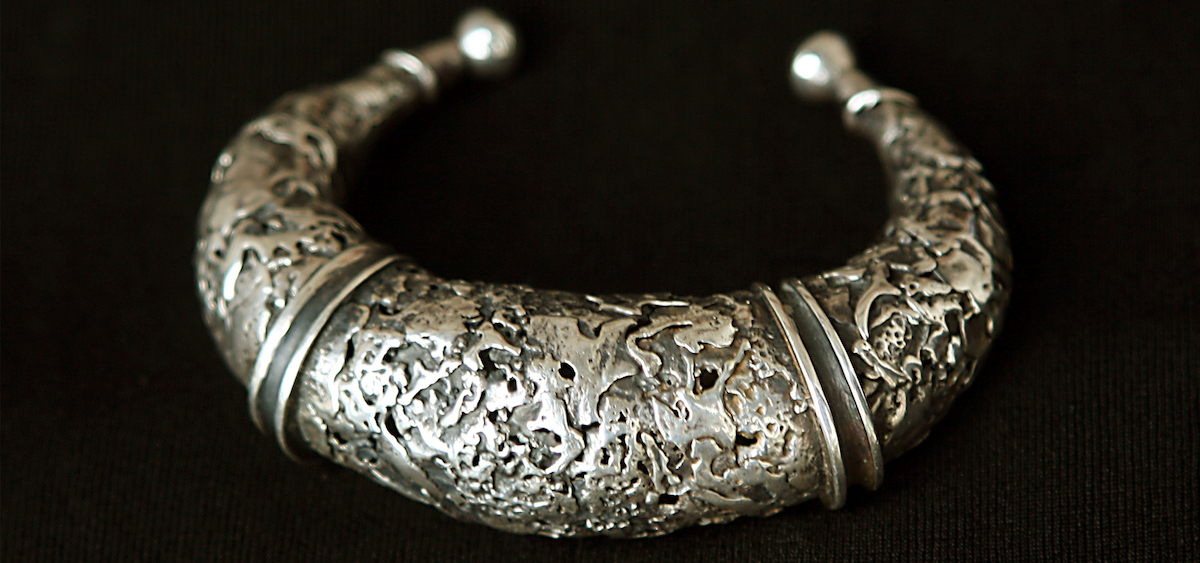 TEX GIELING: SIXTY YEARS
November 17, 2018–February 24, 2019
Guest Curator:
Elizabeth Shypertt
Support for Tex Gieling: Sixty Years is provided by Rotasa Fund, Society of North American Goldsmiths, Barbara Waldman and Metalworks SF.
Jewelry is a lifetime commitment for some people. This could not be more evident than it is in artist, Imogene (Tex) Gieling's exhibition Sixty Years. The pieces selected for the exhibition showcase the wide range of work produced during her illustrious career. The objects are arranged by decade allowing the viewer to see not only the development of different techniques but also the artistic changes Gieling went through over the years. Tex worked primarily in sterling silver but often incorporated gold, pearls, semi-precious and precious stones into her designs. She was prolific in her jewelry making, even when working full time to teach the next generation of metalsmiths.
Tex Gieling, Cuff, c.1960s Image by Claire Konig
Tex was born and raised in Corsicana, Texas where she learned to draw from her grandfather. She later studied in New York with László Moholy-Nagy (who is arguably one of the greatest influences on post-war art education in the United States, where he brought his version of Bauhaus teaching), as well as with the German Abstract Expressionist painter, Hans Hoffman. She then moved to Seattle and lived on a houseboat while studying at the University of Washington where she discovered her passion for metal arts.
In the spring of 1950, after finishing her university studies, Tex moved to San Francisco where she worked as a scientific illustrator in order to support her jewelry making. In 1955 she was invited to join the faculty of at UC Berkeley to teach design in the Department of Decorative Art. At the same time, Tex finished her graduate degree in metal arts. She stayed at UC Berkeley until 1962 when the university phased out the department where she was teaching. In 1965 Tex was invited to set up a Metal Arts Program at San Francisco State College (now University).  She taught at SF State for 25 years, until her retirement in 1990.