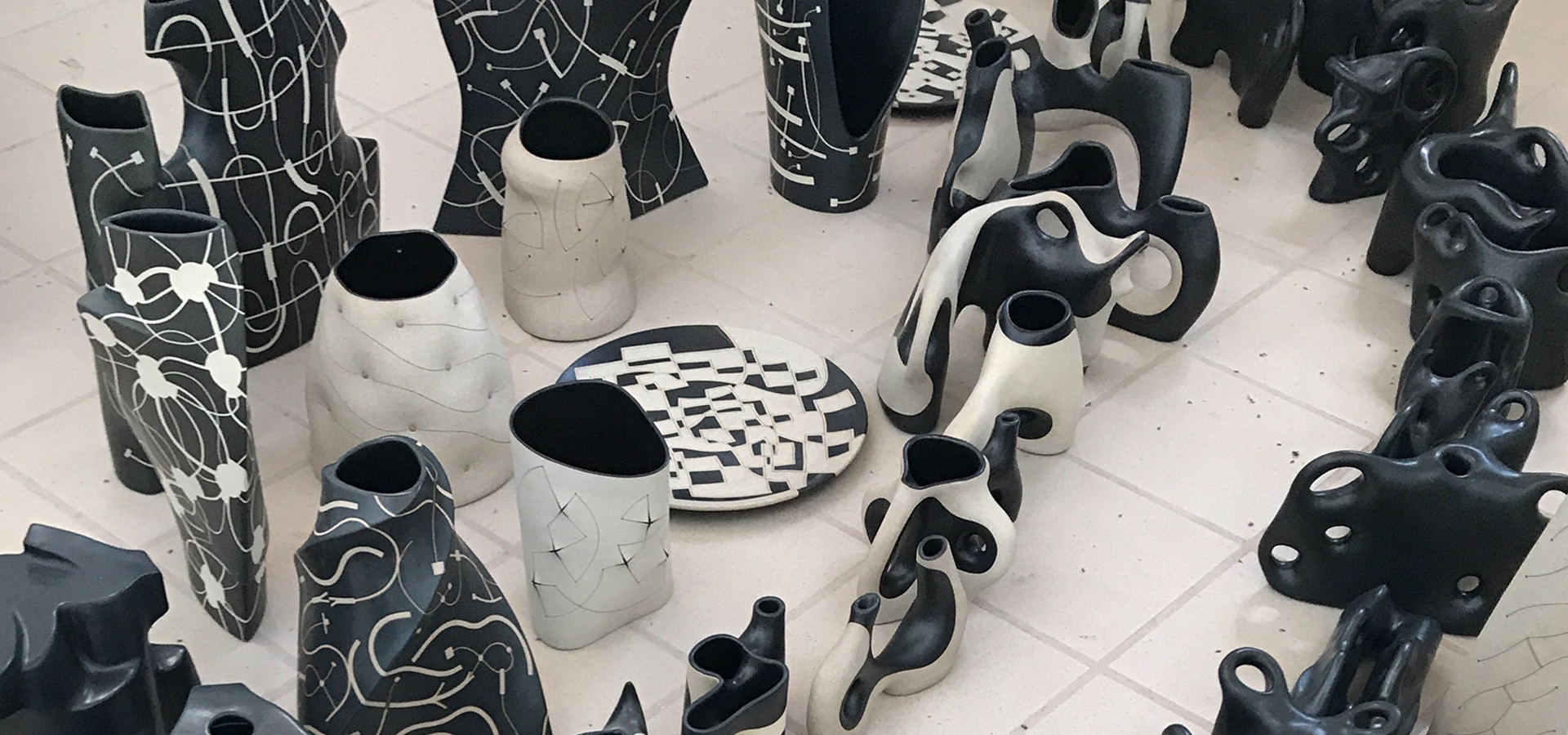 GUSTAVO PÉREZ: SELF PORTRAIT IN BLACK AND WHITE
November 10, 2018–February 24, 2019
Guest Curator:
Mayer Shacter
Additional support for Self Portrait in Black and White is provided by the Consulate of Mexico in San Francisco and Janet and Victor Schachter.
Gustavo Pérez's work is a mixture of theme, development, and intuition. The works that result are like a logbook of where he has been and where he is now in his relationship to clay. The work presented for MCD will be an installation of recent work wherein Pérez's creative process will become visible. The installation presents several different series of work, marking lines in Pérez's development. Some cycles grow organically, and others contradict. By presenting the series together, both individual pieces and the relationships between them become evident.
Gustavo Pérez: Self Portrait in Black and White is part of the museum's Visible Transparency Project, which invites visitors to witness the behind-the-scenes exhibition installation. Pérez's installation will take place during regular museum hours from Tuesday, November 6th through Thursday, November 8th.
Gustavo Pérez, Self Portrait in Black and White, 2018, high fired glazed and unglazed ceramic. Photo courtesy of the artist.
Gustavo Pérez was born in Mexico City in 1950. He studied Engineering, Mathematics, and Philosophy at the University of Mexico and then enrolled at the Design and Crafts School in Mexico City to study ceramics. He currently lives and works in Veracruz, Mexico, and Prissac, France.
His pots are distinguished by their simplicity and symmetry; many of them feature carefully incised lines, geometrical patterns, and bright colors while maintaining a minimalist aesthetic.
Pérez has exhibited widely in Mexico and also in the United States, Cuba, Japan, Korea, Canada, and throughout northern Europe. He has been invited on various occasions to direct courses and workshops in Germany, France, and Spain. Since 1994, he has been a member of the International Academy of Ceramics and is now a member of the board. In 2005 he was honored with a retrospective exhibition of his work at the Franz Mayer Museum in Mexico.
Pérez's work is represented by numerous international public collections, such as the Los Angeles County Museum of Art, the Montreal Museum of Fine Arts, the Museum of Modern Art in Mexico City, and the Saga Prefectural Art Museum in Japan.