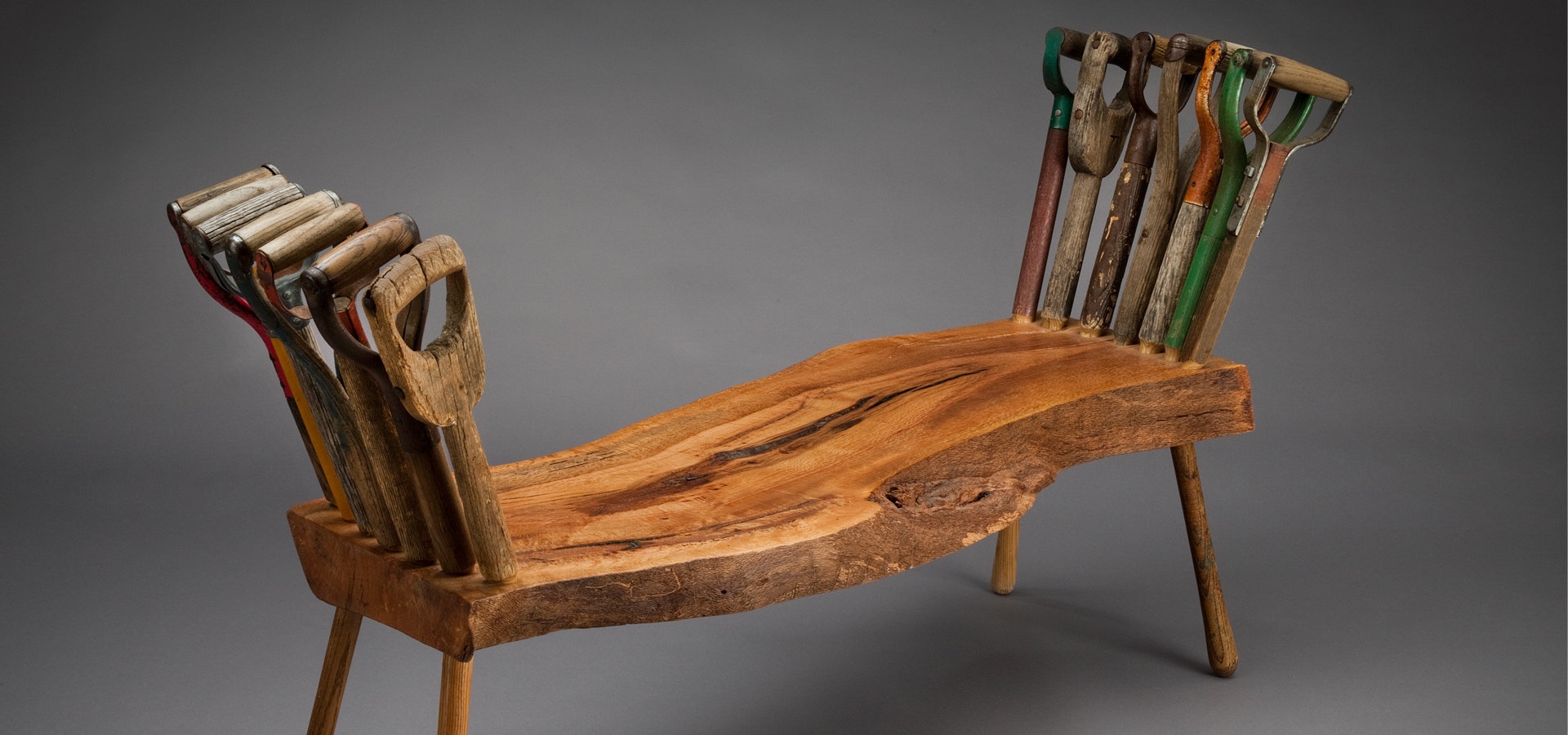 TOM LOESER: PLEASE PLEASE PLEASE
January 20–May 20, 2018
Guest Curator:
Glenn Adamson
This exhibition is presented by the Museum of Craft and Design in partnership with the Houston Center for Contemporary Craft.

If the furniture we sit on every day were totally different, would our lives be different too? That is one question posed by Madison-based designer/maker Tom Loeser. His longstanding investigation of unconventional, invitational furniture forms began in the early 1980s with a series of Folding Chairs, colorful seats that double as wall-hung art. In more recent years, he has made chests that swivel and slide, rocking chairs for two, rotary-action benches, and many other surprising shapes. When in use, these pieces immediately create opportunities for interaction – not only between people and objects but between people and other people too. Accessible and entertaining, to be sure, Loeser's work also has a purpose: to shake up our habits, and encourage us to be playful with our environment and with one another. The exhibition will comprise approximately 20 furniture pieces by Loeser, most of which are newly made; as well as framed artworks.
Tom Loeser, Double Dig, 2016. Image courtesy of the artist
Tom Loeser designs and builds one-of-a-kind functional and dysfunctional objects that are based on the history of design and object-making as a starting point for developing new form and meaning. He has been head of the wood/furniture area in the Department of Art at the University of Wisconsin, Madison since 1991. He holds a BA from Haverford College, a BFA from Boston University, and an MFA from the University of Massachusetts, Dartmouth. Loeser is the recipient of four Visual Artist Fellowship Grants from the National Endowment for the Arts and an NEA Creative Artist Exchange Fellowship. His work has been featured in many national and international exhibitions and is in the collections of the Smithsonian Cooper-Hewitt National Design Museum, Museum of Art and Design, Rhode Island School of Design Museum of Art, Museum of Fine Arts, and many other institutions. He was elected to the American Craft Council College of Fellows in 2012.