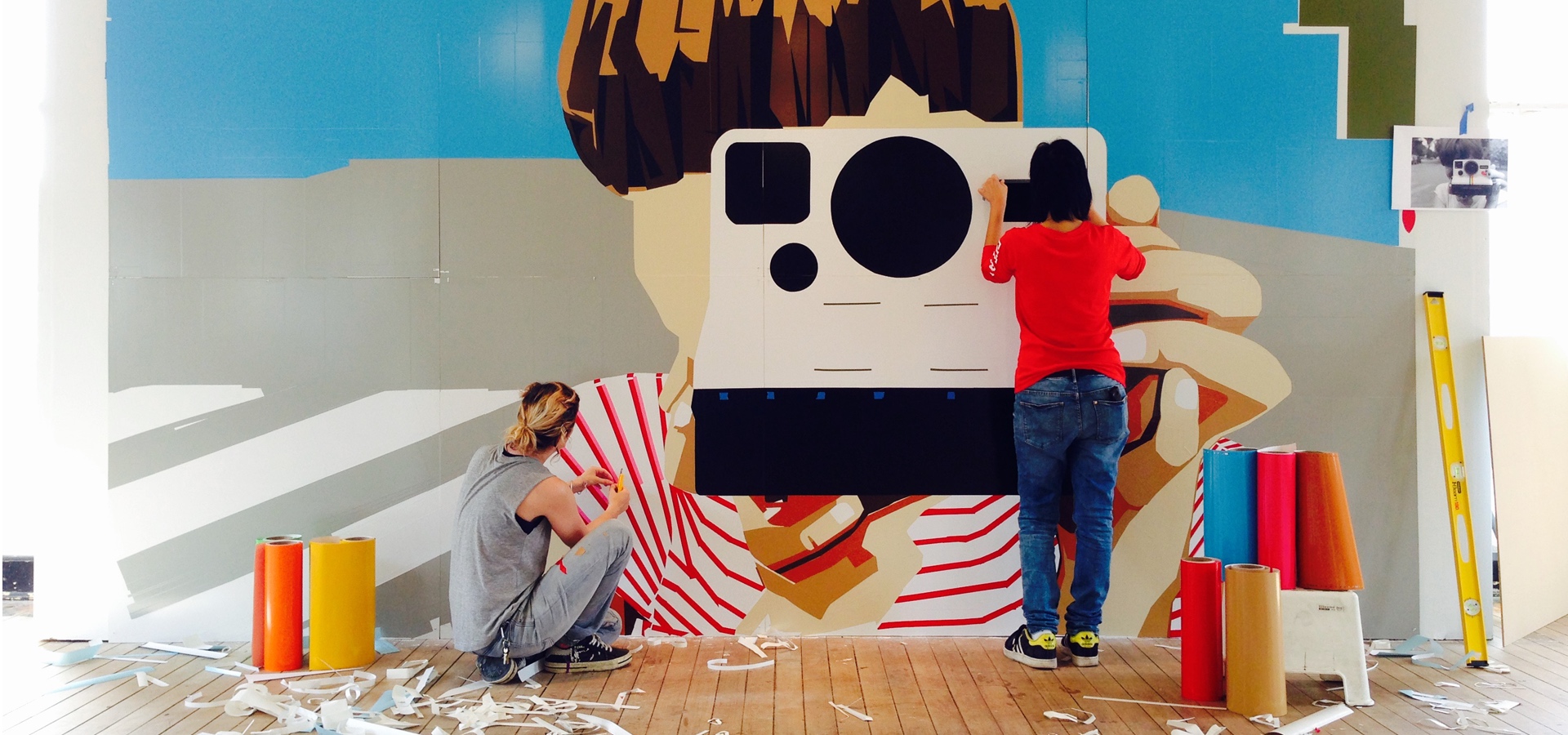 t.w.five
January 20–May 20, 2018
t.w.five began in 2009 as a collaboration between two artists. Both had been working under pseudonyms, one as "t.w." and one as "five." Combining their aliases and their strengths, they chose to work with a fresh medium: hand-cut strips of adhesive-backed vinyl. The material is bold, graphic and layerable, and built upon both artists' backgrounds while propelling them into new terrain.
The common themes of transportation, infrastructure, networks and architecture featured in t.w.five's work mirrors their shared experience of immigration. Emigrating from Sweden and Brazil, both members of t.w.five have now lived in the United States longer than they had lived in their countries of origin. What then does it mean to be an alien or green card holder? To be a citizen? To be home?
Questions of home and its role as private domain informed the construction of this installation. t.w.five purposefully leaves the windows open to reveal scenes of domestic life. The private space of "home" is destabilized, as viewers can peer through the windows. Alternating between creating work in the studio and murals on the street or in office spaces, t.w.five often engages this gray area between public and private space.
From January 16-19, the artists created this installation on-site as part of MCD's Visible Transparency Project. Further exploring the line between public and private, viewers were encouraged to ask questions and watch as t.w.five installed their work
t.w.f.ive, AIR, 2015, in-process image at The Center of the Arts in Headlands. Image courtesy of the artists
t.w.five works with just one material — vinyl — and focuses largely on process. All shapes are hand-cut to size from large rolls of solid color vinyl, and then carefully applied to a surface of the work. Each work is made of intricately repeating patterns, which require hours of rigorous work. The finished product is a labor of love, weaved and realized by two sets of skillful hands. Born and raised in Sweden and Brazil, respectively, t.w.five is an international art duo based in San Francisco, California. Each artist holds a Masters of Fine Art from San Jose State University and have enjoyed numerous solo exhibitions in the Bay Area and abroad.