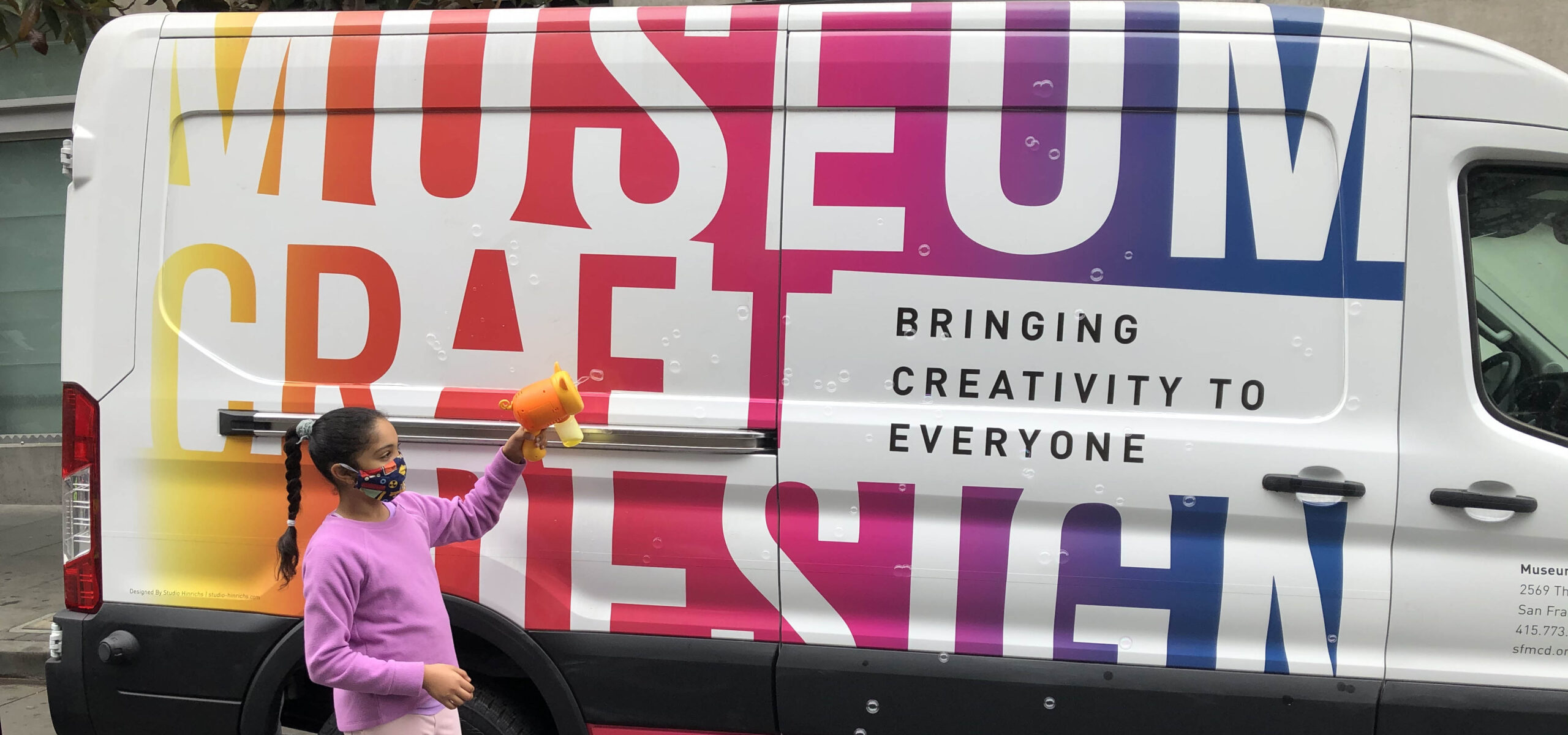 Keep your eyes peeled for the bright, colorful Mobile MakeArt van–out and about and bringing creativity to everyone! Whether distributing MakeArt Kits for food banks and school programs or delivering in-person community experiences at local neighborhood events, MCD continues to build on its history as one of the first museums to present pop-up experiences across San Francisco. 
MCD Mobile MakeArt is available for both public and private events.
THE DESIGN OF MOBILE MAKEART
Designed to easily bring MCD's studio experiences to where people live, work, and play, MCD Mobile MakeArt will build and expand on the success of MCD's long-standing MakeArt program to serve thousands of new families and children at schools, libraries, community centers, parks, and festivals across the Bay Area. 
In May 2020, MCD formalized a collaboration with long-time partners NOW Hunters Point, Bayview Opera House, and Envelope A+D to begin distribution at the Hunters Point Family Food Giveaway to families with children in the household. Since that time, MCD has distributed MakeArt Kits to almost 1,500 families and hundreds of masks for frontline workers at SF Marin Food Bank, in tandem with essential food bank resources provided by the SF Market. In order to reflect a broad range of artistic processes, MCD MakeArt Kits are designed to include high-quality, compelling, and sometimes unexpected materials.
Funding for the Museum of Craft and Design's MakeArt programs is provided by the special interest license plate featuring the image of Snoopy, with permission and support from Peanuts Worldwide (Section 5169 of the Vehicle Code) for the Museum Grant Program under the California Cultural and Historical Endowment. Additional support for MakeArt is made possible in part by the Institute of Museum and Library Services.