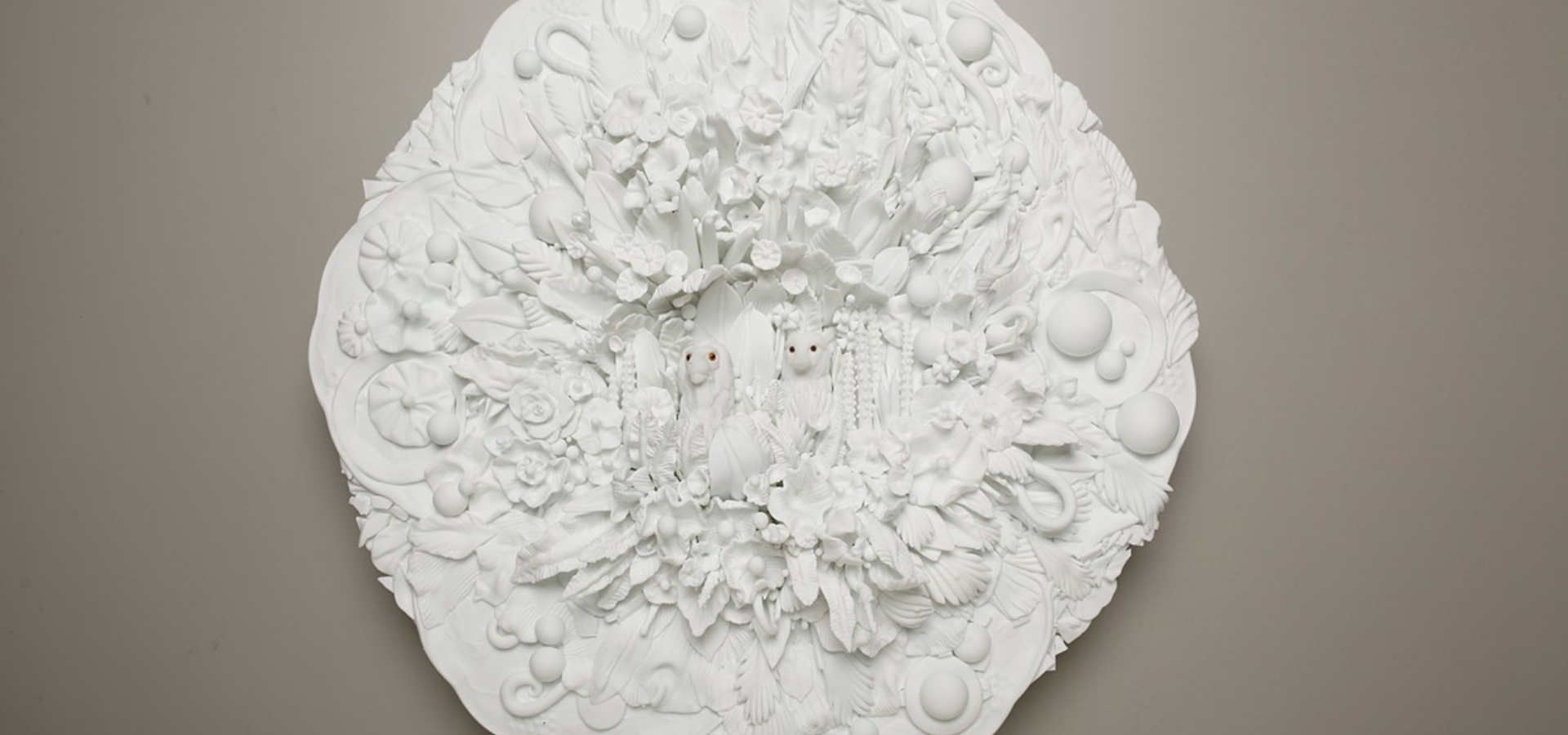 Amber Cowan: Second-Life Glass
October 11, 2014-January 5, 2015
Guest Curator 
Marc D'Estout
Supported in part by grants from GLANC (Glass Alliance for Northern California) and CGAF (Clay & Glass Arts Foundation). The Museum of Craft and Design's exhibitions and programs are generously supported by the Windgate Foundation and Grants for the Arts.
Amber Cowan's pieces are made by re-working discarded, up-cycled or unwanted pressed glassware produced by some of the best known, but now-defunct glass factories in America. Simultaneously subversive & patriotic the objects explore the texture of material seduction and recount the history of US glass manufacturing; tracing its rise, glory, demise, and its influence on society.
Cowan "reincarnates" objects currently relegated to the aesthetic dustbin of history. Porcelain, wood, marble, and even human flesh are subtly roused in the material. Seen as animate structure the forms become somewhat menacing in scale and texture. Using repetition and viral accrual, the work is viscerally sensual, teetering between beautiful and sinister. Although the pieces in their original state will no longer be looked at as objects of desire, their reincarnated life tells an honest story about their past glory and forlorn future.
Above image: Amber Cowan, The Lion and the Fox, 2014. Image courtesy of the artist.
Amber Cowan's sculptural glasswork is based around the use of recycled, upcycled, and second-life American pressed glass. She uses the process of flameworking, hot-sculpting, and glassblowing to create large-scale sculptures that overwhelm the viewer with ornate abstraction and viral accrual. With an instinctive nature towards horror vacui, her pieces reference memory, domesticity, and the loss of an industry through the re-use of common items from the aesthetic dustbin of American design. The primary material used for her work is glass cullet sourced from scrap yards supplied by now defunct pressed glass factories as well as flea-markets, antique-stores, and donations of broken antiques from households across the country.
Cowan lives and works in Philadelphia where she received an MFA in Ceramics/Glass from Tyler School of Art and Architecture of Temple University. She was the recipient of the 2014 Rakow Commission from The Corning Museum of Glass and her work can be found in the permanent collection of The Museum of Art and Design in New York, The Toledo Museum of Art, and The RISD Museum.