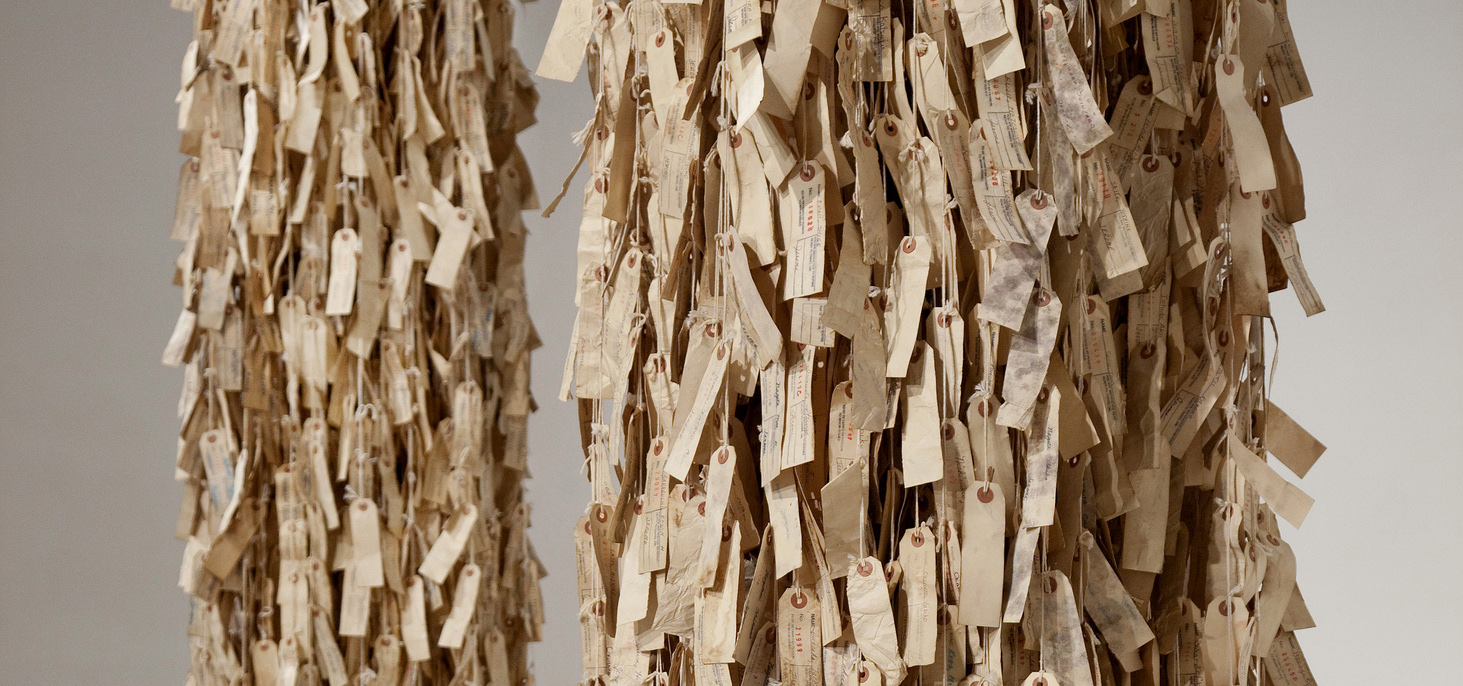 Wendy Maruyama Executive Order 9066 and The Tag Project
September 30, 2014–January 5, 2015
The exhibition and catalog were organized by The Society of Arts and Crafts in Boston and generously funded by the Windgate Foundation.
On February 19, 1942, President Franklin D. Roosevelt signed Executive Order 9066 authorizing the internment of 120,000 American citizens and resident aliens from Japan. They were told to pack what they could carry and were forcibly relocated to one of ten camps setup by the government in seven states throughout the country. As a third-generation Japanese-American, the San Diego-based artist Wendy Maruyama was deeply affected by this history and has created a body of work that reflects on this period.
Wendy Maruyama Executive Order 9066 and The Tag Project is composed of three integrated elements: a series of wall-mounted sculptural cabinets, ten sculptures created from replicas of the paper identification tags that internees were made to wear, and a selection of objects that were used or made by people interned in the camps.
Above Image: Wendy Maruyama, The Tag Project/Executive Order 9066, 2012. Image courtesy of the artist.
Wendy Maruyama received a BA from San Diego State University and an MFA from Rochester Institute of Technology. Maruyama has exhibited her work nationally and internationally. Her work is included in the permanent collections of the Victoria and Albert Museum, London; the Museum of Fine Arts, Houston; the Queen Victoria Museum and Art Gallery, Launceston, Australia; the Museum of Fine Arts, Boston; the Philadelphia Museum of Art; the Museum of Arts and Design, New York; the Mint Museum of Art, Charlotte, North Carolina; Fuller Craft Museum, Brockton, Massachusetts; Mingei Museum, San Diego; and the Oakland Museum of Art. Maruyama is the recipient of several prestigious awards, including the California Civil Liberties Public Education Grant, numerous National Endowment for the Arts Grants for Visual Artists, the Japan/US Fellowship, and a Fulbright Research Grant to work in the UK.