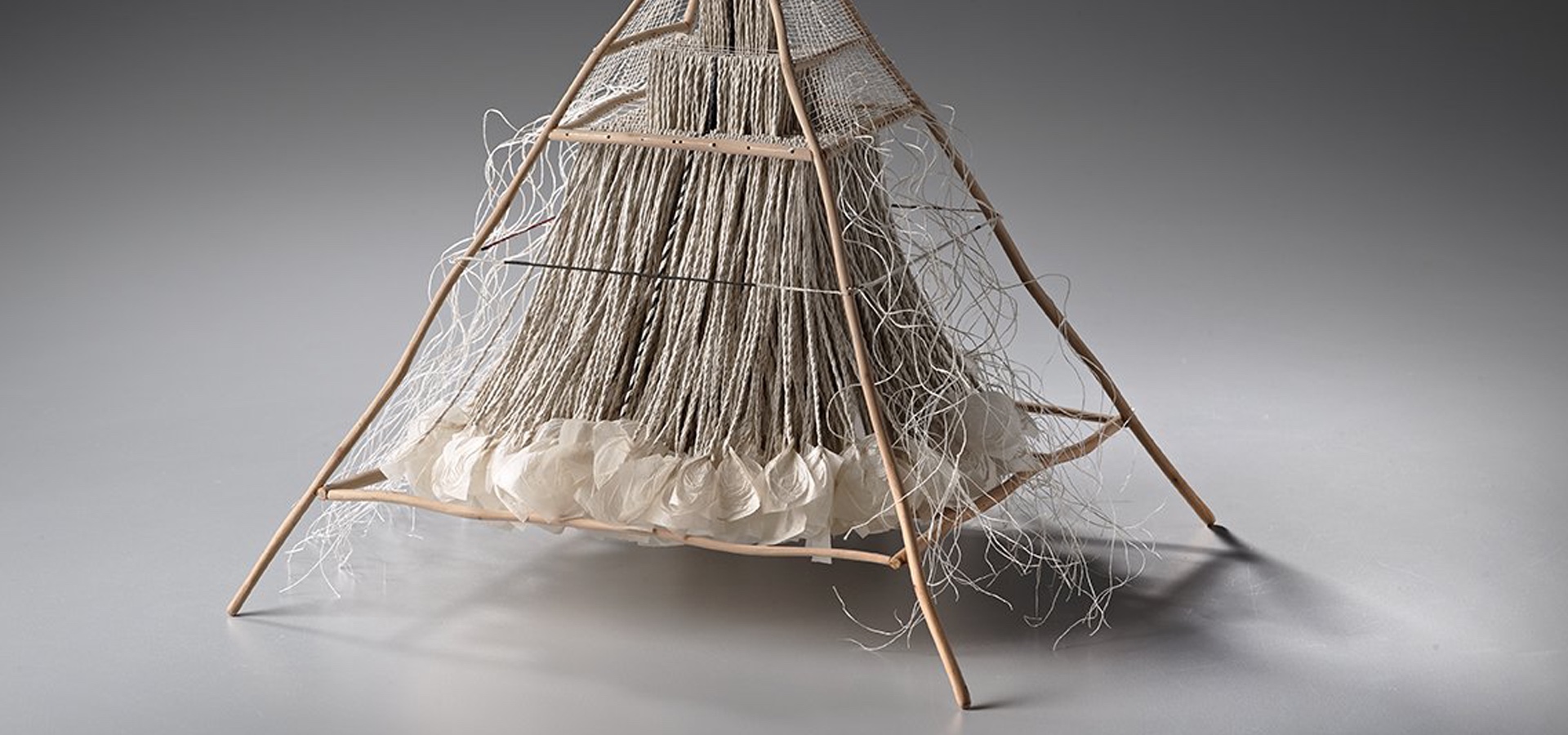 Anchors in Time: Dominic Di Mare presents selected works completed over the past five decades by one of the Bay Area's foremost artists in the contemporary craft movement. Dominic Di Mare (1932–) received acclaim for pioneering dimensional weaving in the 1960s, cast paper in the 1970s, and mixed-media sculpture from the 1970s through the 1990s. Among his most alluring sculptures are carved hawthorn branches with delicate feathers, beads, paper, and horsehair. These are simple materials. But in Di Mare's hands, they were transformed into intensely poetic works. During the past few decades, the object maker resets his compass to explore luminous watercolor on paper in a singular way. He made precise cutouts in his unique artist's books to provide alluring clues for subsequent pages, while his flat watercolors have such dense compositions that there is an illusion of dimensional realms.
While his mastery of a wide range of media is stunning, it is the continuity of personal references—his very own sea of ideas—that makes Di Mare's work so compelling and meaningful. Central to his work is a private, sea-borne mythology in which universal symbols, materials, and processes relate to childhood experiences in Monterey, CA, as a son of a Sicilian-American fisherman.
Dominic Di Mare, Ancient Tides, 1932, 1978. Collection of Daniel and Hilary Goldstine.
Born in 1932 in San Francisco, Dominic Di Mare a self-taught studio weaver, is a major force in American fiber art. In the 1970s his work shifted from weaving to enigmatic, often startling mixed-media assemblages made using natural fibers, feathers, and hand-formed rag paper, which demand introspection on the part of the viewer. Di Mare attended San Francisco State University and taught for 17 years in the San Francisco public school system. His work is in many private and public collections, including the S.C. Johnson Wax Collection, Wisconsin; the Lannan Foundation, New York and Florida; the International Paper Co.; and the Museum of Arts and Design, New York. Dominic Di Mare lives and works in Tiburon, California. A recipient of the American Craft Council's Gold Medal (1999), Di Mare was awarded two fellowships from the National Endowment for the Arts (1987 and 1981.) His work is represented in significant museum collections, ranging from the Fine Arts Museums of San Francisco to the Metropolitan Museum of Art in New York.
Anchors In Time: Dominic Di Mare is presented in conjunction with the 176-page book of the same title, featuring over 100 color images and essays by guest curator Signe Mayfield,  W. S. Di Piero, and Michael W. Monroe. The Anchors In Time book can be purchased online or in the museum store. This research was supported by a Craft Research Fund grant from the Center for Craft, Creativity & Design, Inc.