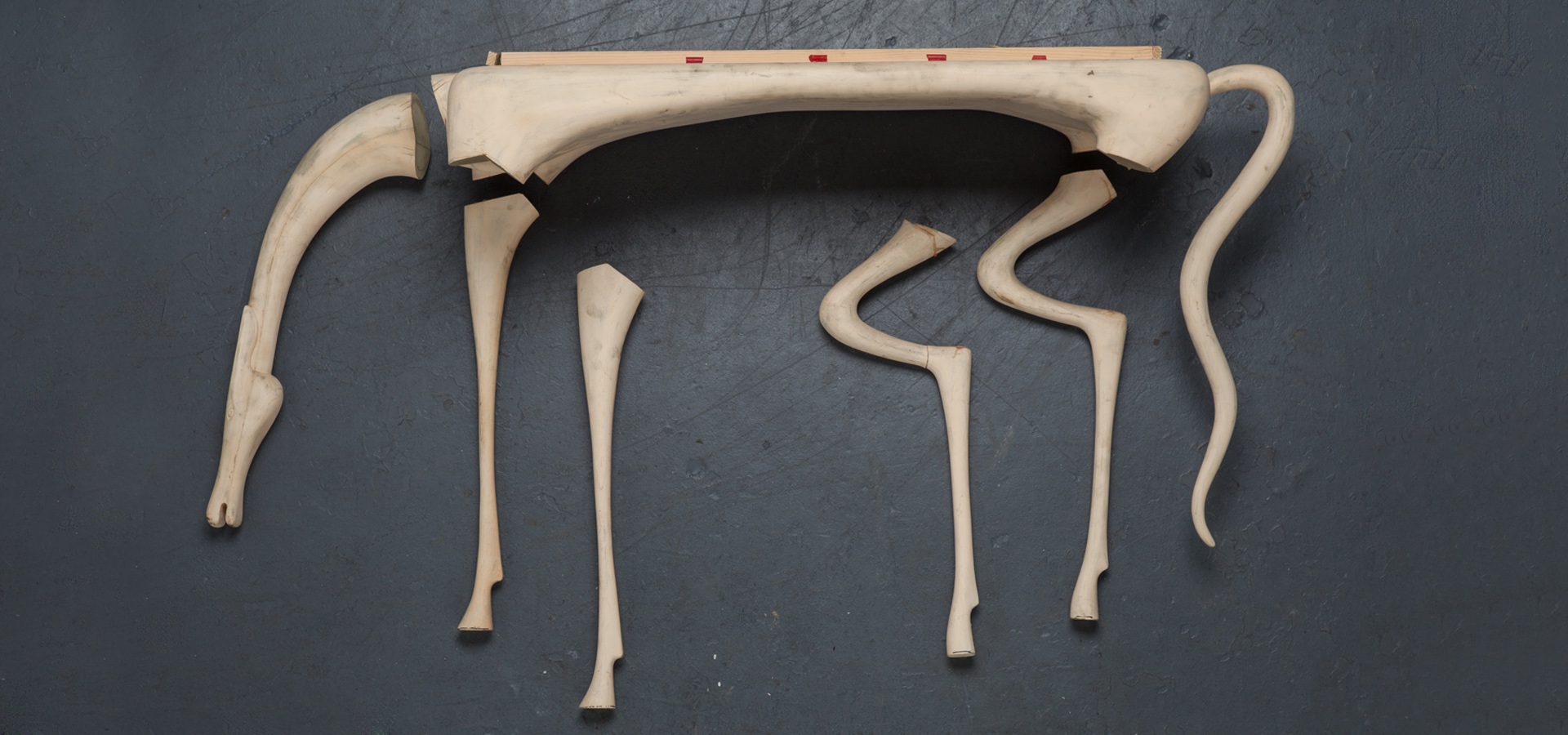 JUDY KENSLEY MCKIE: CAST OF CHARACTERS
June 2–October 28, 2018
Guest Curator:
Glenn Adamson
Assistant Curator:
Ariel Zaccheo
Generous support has been provided by: Bernice and Warren Wollman, Studio Hinrichs, the Anne and Ronald Abramson Family Foundation, Gallery NAGA
Judy Kensley McKie is one of America's most beloved furniture designers and makers. Working in her studio in Massachusetts, she has developed animated and personable forms that captivate people of all ages, while also impressing peers for their formal finesse and technical expertise. Particularly iconic, within her oeuvre, are her zoomorphic works: benches that assume the form of monkeys or alligators, tables held up by obedient-looking dogs or alert hares. These pieces are influenced by the style of Art Deco, but have an offbeat charm all their own; they somehow manage to achieve a sleek sophistication while also recalling a hand-drawn children's book.
Even the best artists sometimes need help, and this was the case for McKie when – encouraged by her colleague, the Bay Area furniture artist Garry Knox Bennett – she began to work in cast bronze. This required specialist fabrication skills. Enter a key player in the story: the Italian immigrant and master artisan Piero Mussi, whose Artworks Foundry is one of the top workshops in its field nationwide. Beginning in the early 1990s, McKie collaborated with Mussi and his skilled moldmakers, casters, and finishers to realize her furniture. The foundry preserved a full record of this creative partnership, keeping not only examples of finished work in bronze, but other objects from the making process, including sketches, hand-carved models, and casting molds.
Drawn from the Artworks Foundry archive, Judy Kensley McKie: Cast of Characters will be the first museum exhibition ever to focus exclusively on the creative collaboration between a single artist and a specialist art foundry. By placing emphasis on this partnership, it shows that art today is often the work of many hands, and reveals the technical repertoire that lies behind these consummately crafted objects.
To make the story come alive for visitors, the exhibition will include a full range of preparatory materials and finished works, as well as photographs of the process and the foundry itself, personal reflections from Piero Mussi, and other technicians at Artworks Foundry. The installation will be arranged in two sections: an array of finished bronze works; and an area that looks at the process, which will include a video made at Artworks Foundry as well as sketches, models, and molds.
Judy McKie, Grazing Horse Table original foam carving at Artworks Foundry. Image courtesy of Henrik Kam
Through playful, sculptural furniture that is distinctly carved and painted in animal forms, Judy Kensley McKie has become a prominent figure in the American studio furniture movement. McKie began making furniture in the early 1970s following completion of her painting degree at the Rhode Island School of Design; although her designs are informed by formal training as an artist, she is essentially self-taught as a craftsman. In her animal motifs, McKie makes reference to the design of indigenous cultures and primitive, totemic animals of Precolumbian, African, and Native American art, which are either carved into the wood or painted upon the surface. McKie strives to create furniture that is not only sculptural, but functional as well; her decorative furniture, which is often cast in bronze, marble, resin, and stone, functions as both an artistic form and a useful piece of furniture.
A publication is available online at shop.sfmcd.org or in the museum store. The exhibition publication features a lead essay by guest curator Glenn Adamson, an interview with Piero Mussi and his team, and a technical explanation of contemporary bronze casting process by MCD's Ariel Zaccheo, who is also serving as project curator for the exhibition.