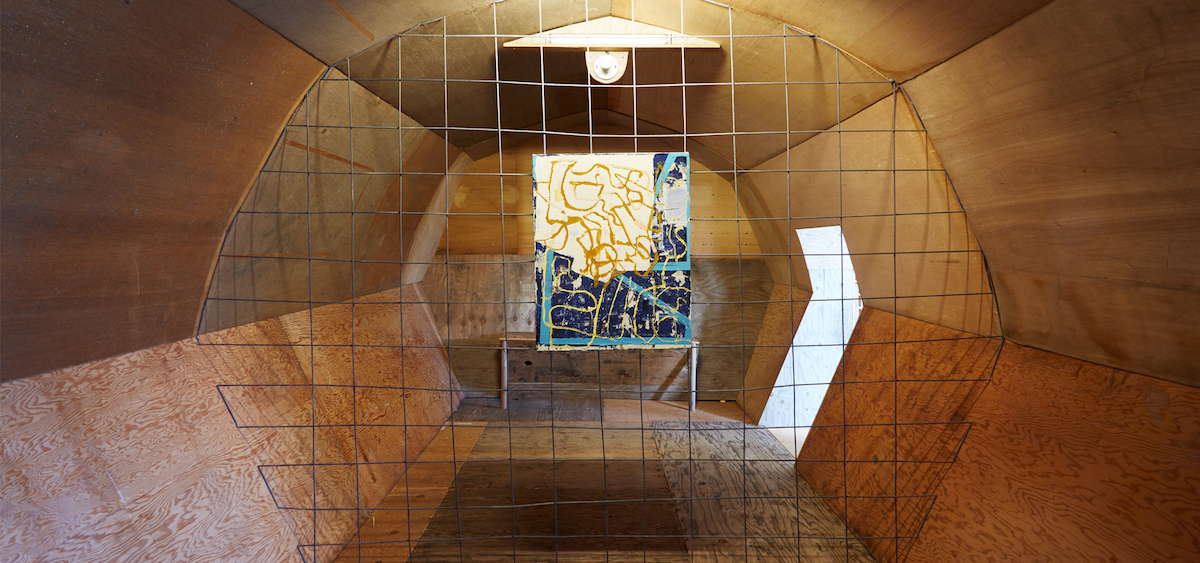 ARCHITECTURAL PAVILIONS: EXPERIMENTS AND ARTIFACTS
June 24, 2017–January 7, 2018
Guest Curator:
Mariah Nielson
Architectural Pavilions is generously supported by Alice and Steve Kaplan
Media Sponsors:

Promotional Partner

This exhibition presents digital and handmade architectural pavilions by Bay Area, national and international architects. The work included in Architectural Pavilions: Experiments and Artifacts will transform the galleries of the Museum of Craft and Design into an immersive architectural environment, demonstrating a range of projects from small-scale models to full-scale installations.
An architectural pavilion is traditionally defined as a free-standing structure – an object of pleasure. Pavilions are typically constructed for temporary events or display and their unorthodox forms contribute to their spectacular appearance. "Pavilions," as described by London-based practice Carmody Groarke, "are not defined by the conventional characteristics of building, that of shelter or utility, but instead offer architects the opportunity to speculate about architecture and urbanism in precise and conceptual ways."
The content included in the exhibition is diverse – material samples, drawings, films, models, mock-ups, and full-scale installations reflect the broad range of techniques that architects employ to build pavilions at variant scales. This exhibition addresses architecture's physical and collaborative processes through the presentation of digital and handmade pavilions by eight architectural studios: Carmody Groarke (London); DOSU Studio Architecture (Los Angeles); Future Cities Lab (San Francisco); Jay Nelson (San Francisco); Materials & Applications (Los Angeles); SITU Studio (New York); UC Berkeley Architecture students, Prof. Lisa Iwamoto (Bay Area) and Warren Techentin Architecture (Los Angeles).
Jay Nelson, West Portal, San Francisco, 2012. Image courtesy of the artist
FEATURED ARCHITECTURE STUDIOS
Carmody Groarke is a London-based architectural studio established by Kevin Carmody and Andrew Groarke in 2006. A strong emphasis is given to a critical design process – the practice resists predetermining architectural solutions to a client's brief prior to a thorough investigation of each project's unique circumstances. The studio works on a diverse range of commissions in the UK and abroad for private, commercial, and cultural clients. Completed projects in London include a studio for British artist Antony Gormley, the 7 July Memorial in Hyde Park, the Royal Institute of British Architects (RIBA) Architecture Gallery, and Frieze Art Fair London, 2011 – 2013. Current projects include the Windermere Jetty Museum in the Lake District,
 a new Members' Room for the Victoria & Albert Museum in London, and the refurbishment of the Dorset County Museum in Dorchester.
Future Cities Lab is an experimental art and design studio, based in San Francisco, California. Since 2005, founding principals Jason Kelly Johnson and Nataly Gattegno have collaborated on a range of award-winning projects exploring the intersections of art and design with advanced fabrication technologies, robotics, responsive building systems, and public space. The studio is made up of an adventurous team of interaction designers, architects, technologists, artists, lighting designers, digital craftspeople, urban ecologists, and more.
Jay Nelson is an architect, artist, and craftsman who uses salvaged wood and plywood to construct temporary and permanent mobile and static structures that are often autonomous and sometimes site-specific. He built his studio in San Francisco, where he drafts plans for houses, surf buggies, tree houses, camper vans, and surfboards. Nelson studied painting at the California College of the Arts and received his MA in Art from Bard College. His work has been exhibited nationally and internationally and he recently completed two installations for Facebook Headquarters in Menlo Park, CA. 
SITU is an unconventional architecture practice using design, research, and fabrication for creative and social impact. Client-specific, adaptive, and driven by a diversity of deep knowledge, SITU is untethered from any stylistic or formal agenda. The practice is composed of three divisions—Studio, Research, and Fabrication—that work collaboratively while providing individual capabilities and services. A diverse team of specialists, all dedicated to exploring and crafting spaces at multiple scales, work across a dedicated creative studio and full-featured fabrication workshop. Clients and collaborators come from an equally varied collection of sectors including museums, art centers, and academic institutions; civic, social, and professional organizations; developers, high-end commercial companies, and residences. SITU was founded in 2005, in Brooklyn, NY, and is currently based in the Brooklyn Navy Yard.
DOSU Studio Architecture was founded in 1999 by Doris Sung. Currently, Sung is working on developing smart thermobimetals and other shape-memory alloys, which are unfamiliar materials to architecture, as new materials for the "third" skin (the first is human flesh, the second clothing, and the third architecture). These materials have the ability to curl when heated, which allows the building skin to respond for purposes of sun-shading, self-ventilating, shape-changing, and structure-prestressing. Sung's work has been funded by the national AIA Upjohn Initiative, Arnold W. Brunner Grant, Graham Foundation Grant, Architectural Guild Award and USC ASHSS and URAP Awards.
IwamotoScott Architecture is a San Francisco-based architecture practice committed to pursuing architecture as a form of applied design research. The firm engages in projects at multiple scales and in a variety of contexts consisting of full-scale fabrications, museum installations and exhibitions, theoretical proposals, competitions, and commissioned design projects. IwamotoScott's recent projects include Voussoir Cloud, SCIArc Gallery, Los Angeles; ORDOS100; Hydronet, the winning scheme for City of the Future: San Francisco 2108; REEF, PS1 Young Architects Program 2007; and Jellyfish House – a theoretical house design incorporating ambient technologies for the Vitra Design Museum's exhibition OPEN HOUSE.
Materials & Applications (M&A) was founded in 2002 by Jenna Didier as a collaborative space for experimentation and research in the parking lot of her Silver Lake home. Since then, propelled by a community of artists, architects, and designers, including Director Emeritus Oliver Hess and Program Director Bruce Chan, and the incredible commitment of their staff, interns, and volunteers, M&A remains one of the only independent spaces in Los Angeles for art and architecture dedicated to foregrounding emerging ideas and activating interest in the latest ideas in architectural design through built, material, real and temporary architecture. 
Warren Techentin Architecture is an award-winning, multi-disciplinary office, which believes that architecture and urbanism must embrace design strategies that fulfill the needs of their clients while also considering the larger design context, community, and environment. Their work explores the unseen conditions of a site and seeks to uncover and leverage its latent possibilities to create buildings and environments that aspire to be site-specific, atmospheric, unique, and surprising.