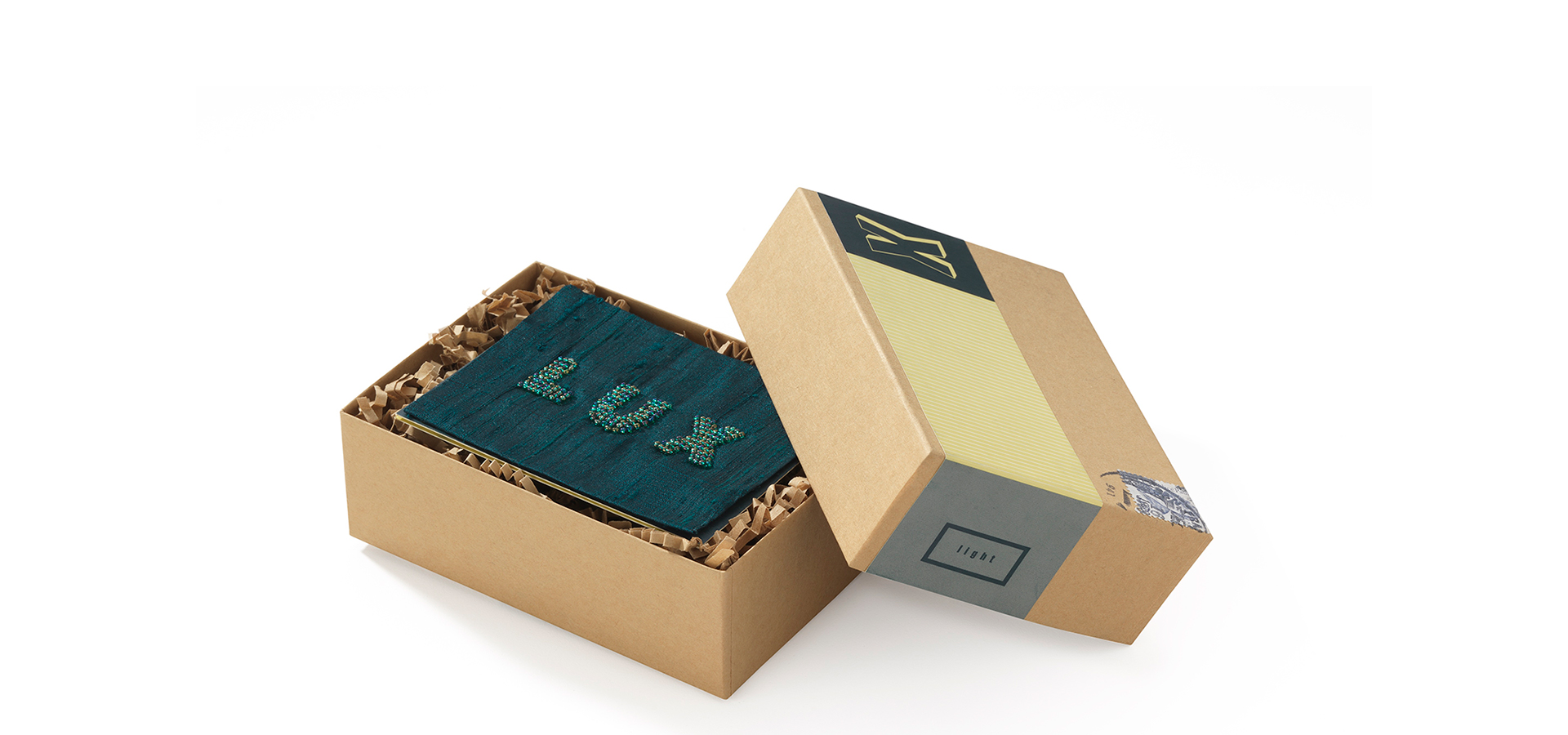 Encoded Holidays: Gary Hutton x Tom Bonauro
April 1–August 15, 2021
Guest Curator:
Gary Hutton
Major support for Encoded Holidays is provided by Chara Schreyer and Gordon Freund, Barbara Waldman, Diane Zack, and Sally Liu.
The Museum of Craft and Design's exhibitions and programs are generously supported by the Windgate Foundation and Grants for the Arts. Additional support is provided by Robyn and John Horn, Hunter Douglas, and Dorothy Saxe.
A 30-Year Multi-Media Project by Two Bay Area Design Visionaries
For 30 years Bay Area designers Gary Hutton and Tom Bonauro collaborated on holiday cards sent to a glittering international list of clients, friends, and fans of Hutton's interior design practice. These yearly projects, which the designers refer to as "sculptures-in-a-box", are better understood as conceptual art practice that engages with, but is not bound by traditional notions of craft and design.
Encoded Holidays: Gary Hutton x Tom Bonauro advances material innovations and graphic design virtuosity while managing to be joyful, expressive, and relentlessly new. Each year features different, unexpected materials like graphite, aluminum, brushes, or glass to establish an elided visual language embedded with mystery and wintery feeling.
Lifting the curtain on their creative process, this exhibition reveals that projects are abstracted snapshots of Hutton's recent history; autobiography from a detached, transpersonal distance that is further transformed by experiments in materiality, beauty, and design.
Gary Hutton and Tom Bonauro, LUX, 1999. Photo courtesy Kevin Hecht Photography
All visitors to MCD need a daily admission ticket, even those receiving free admission.
Tickets may be purchased at the front desk or online up to 60 days in advance. Reserving tickets online is not required, but encouraged.
To view in full-screen, please click the icon on the bottom right corner. You will need to disable ad-blocking software in order to view it.
Gary Hutton
Gary Hutton's subversively beautiful modern work and 40-year career, live at the intersection of interior design and fine art. Working with the formal rules of beauty and light, he delivers projects with clarity, lushness, emotion, and delight. Hutton is a son of California who is often referred to as the "dean of west coast design". Formally trained in studio arts and interior design, his small, artful practice creates relevant, trendsetting interiors coveted by tastemakers in many fields and by clients in search of curated living. Hutton's talent and engagement with process have always been admired by industry insiders. Recently, broader audiences are celebrating his creativity, innovation, problem-solving, and resolved interior design work. Client projects vary from small city apartments to multi-year new construction. Hutton's practice has the unique experience in evolving shelter challenges like advanced technology, entertainment, and security systems. Concurrently, his studio has high-level expertise in sustainability standards and design for off-the-grid living.
Tom Bonauro
As an art director and graphic designer, Tom Bonauro has been employing his alternative viewpoints to an array of notable projects since 1979. These projects span the full range of visual design, from dreamlike objects in motion in his film loops for SFMOMA's memorable installation of Gnomon, to a sexy media campaign for Todd Oldham Jeans, to the conceptual program ID's for MTV's House of Style and the PBS show Life 360. Bonauro's work has been published in a variety of high-profile books and publications, including; New American Design, California Design, San Francisco Design, Typography Now, The Graphic Edge, and Wear Me: Fashion and Graphics Interaction, and in periodicals including ID, Print, Graphis, Paper, Vanity Fair, Interview, Communications Arts, Blueprint, and Dwell. His work has been exhibited at the British Design Museum, Pratt University, The Cooper Hewitt, and Quotidian Gallery among others. His work has taken him on a trajectory that merges his graphic, film, and three-dimensional design.