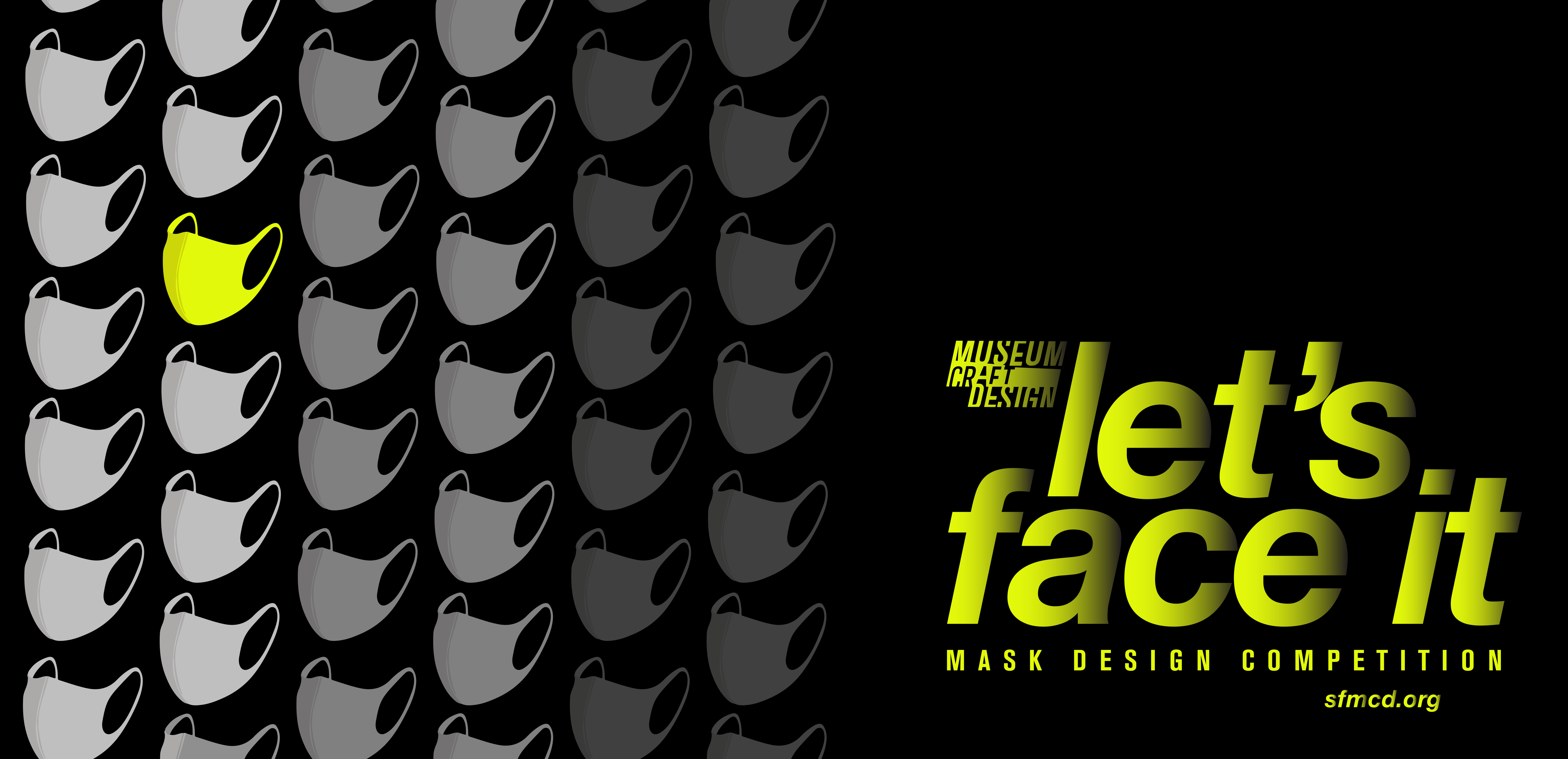 <div class="featuredcaption"></div>
Let's Face It
Virtual Exhibition
On May 11, 2020, the Museum of Craft and Design launched Let's Face It, an international mask design competition. We received 363 entries from 17 countries, with participants ranging from 4 years old and up. Thank you to everyone who participated. Check out the winners below and keep scrolling to see all the entries in our Global Community Gallery.
"The masks were wildly creative bespoke creations that employed humor, intricate craft, digital design, fashion, uncommon and recycled materials, and social and political meaning to test what a mask can be. The winners were projects that combined multiple elements of craft, form, and meaning to create masks that will provide health and safety while promoting other societal and cultural value in this time where we are at risk of losing so much of who we are. In times of distress like these, it is more important than ever for arts and cultural institutions like MCD to continue to create the space and promote ideas that can shape our collective optimism and the future. The winners of this competition are a varied and inspiring demonstration that this is our charge." –MCD Let's Face It jurors Marcel Wilson and JoAnn Edwards
For every mask submitted, MCD will donate a functional mask to the San Francisco Marin Food Bank. We are thrilled to donate 363 masks to our neighbors at the food bank and know they will be distributed to those in need.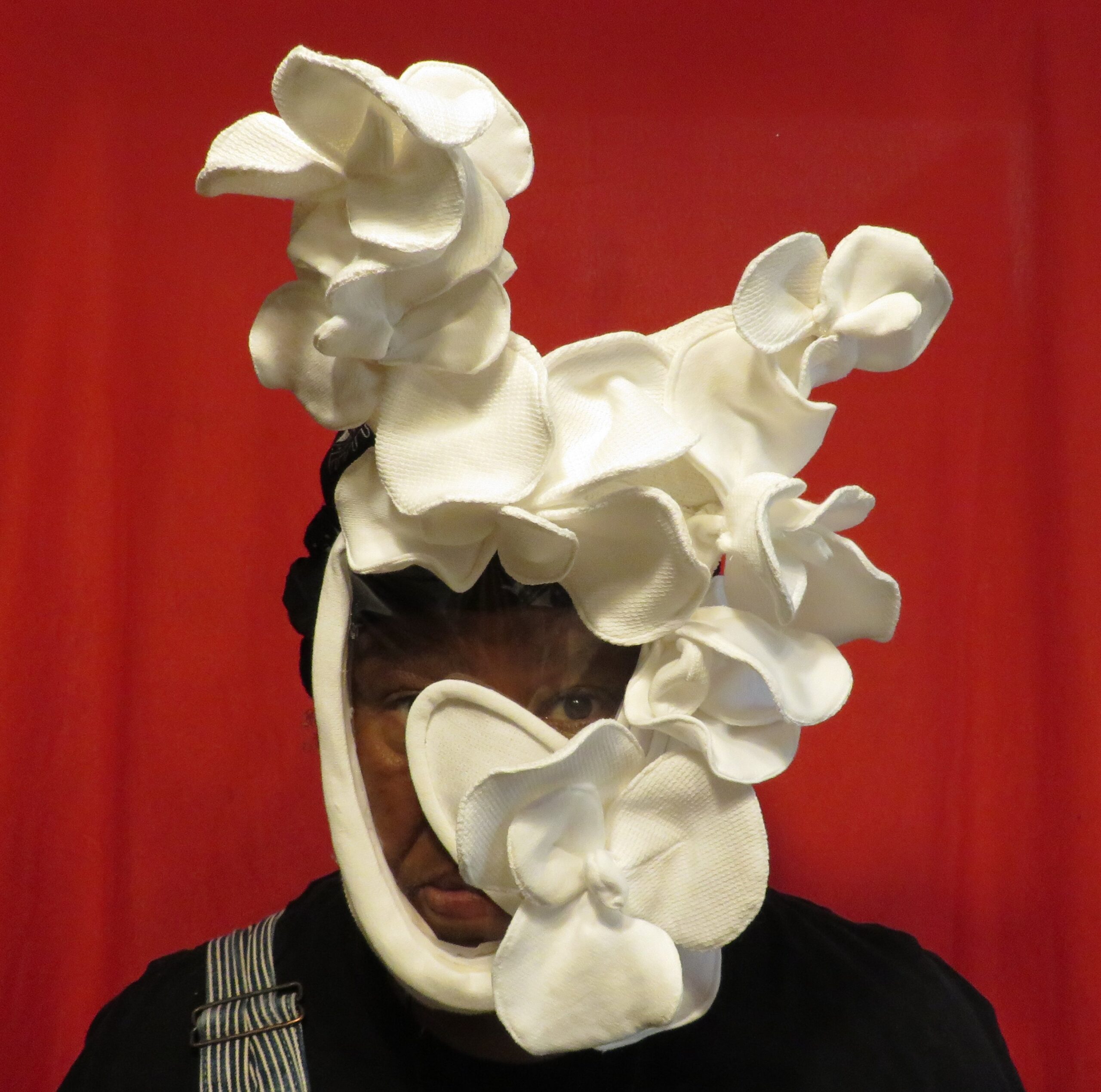 Patsy Pitts
California, USA
I created this mask to show how during the Covid-19 pandemic, our masks have become our faces, the first image we present to the public. The design of this mask is meant to convey a refined yet bombastic personality. This is an avant-garde piece made from fabric orchids with a clear plastic faceplate. It is functional and prevents germ transmission.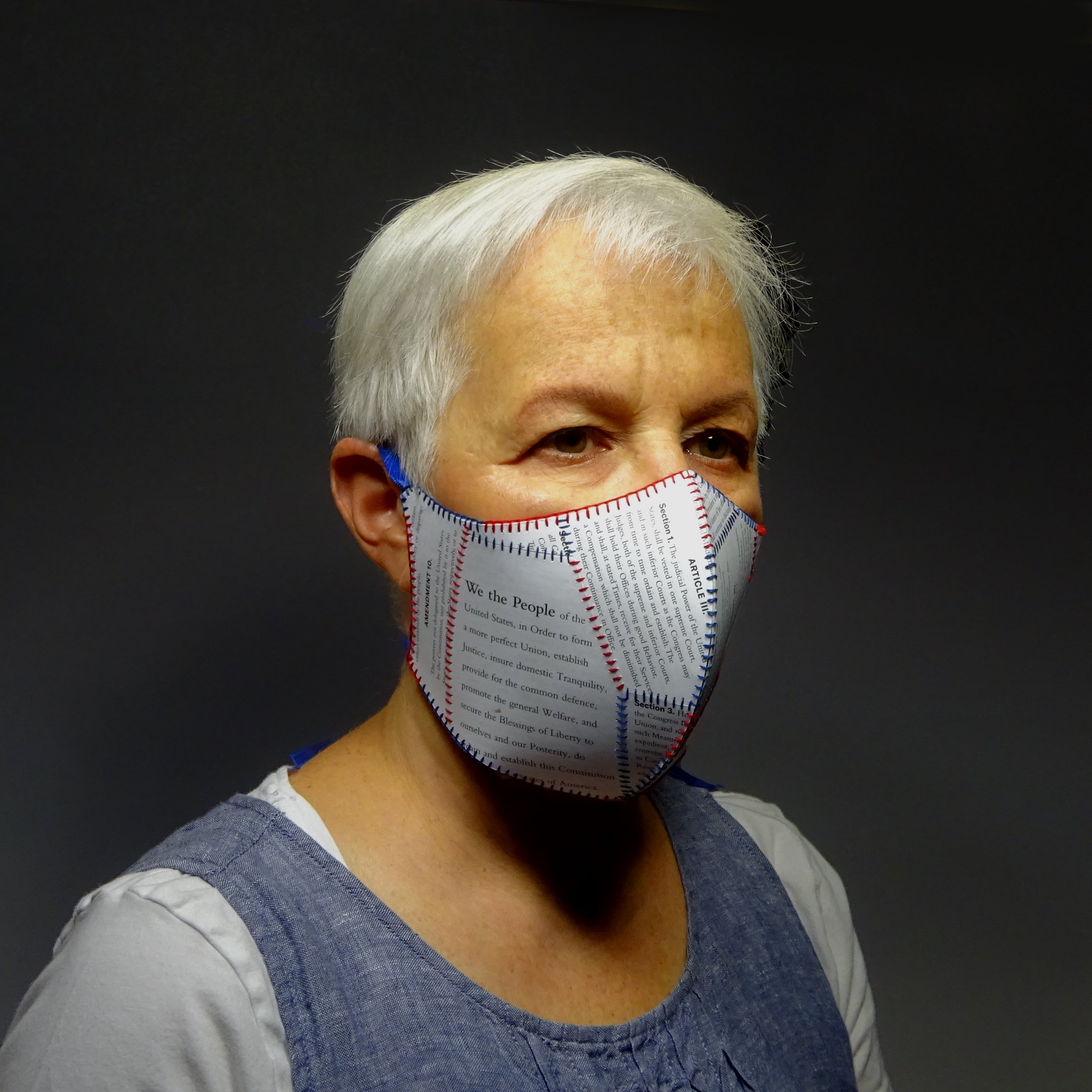 Karen Krieger
Pennsylvania, USA
"Life Support" is a paper mask constructed and stitched from the ACLU pocket version of the US Constitution, archival paper substructure, and embroidery floss.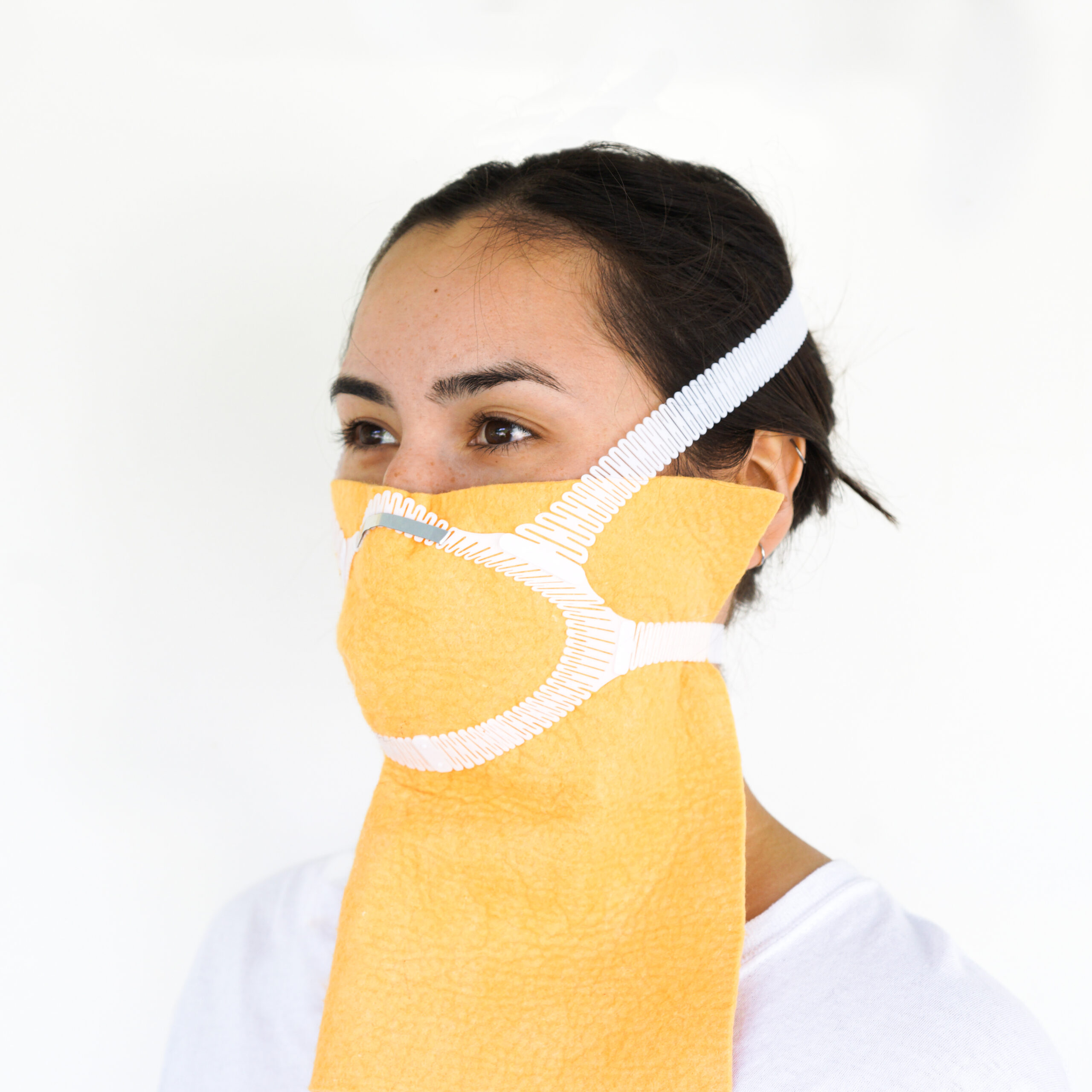 Sabin Lab
New York, USA
This 3D-printed mask design acts as a fabric fitter to turn any material — fabric, felt, paper towel — into a viable face mask. The cuts in the design create a flexible "living hinge" that allows the 3D-printed material to take on double curvature for a secure, comfortable, and custom fit to the face. The mask is broken into parts that snap together in order to fit a standard 3D printer. Anyone with a printer can rapidly produce these custom-fitted masks in under two hours, allowing an informal network of makers to augment gaps in the supply line in times of crisis.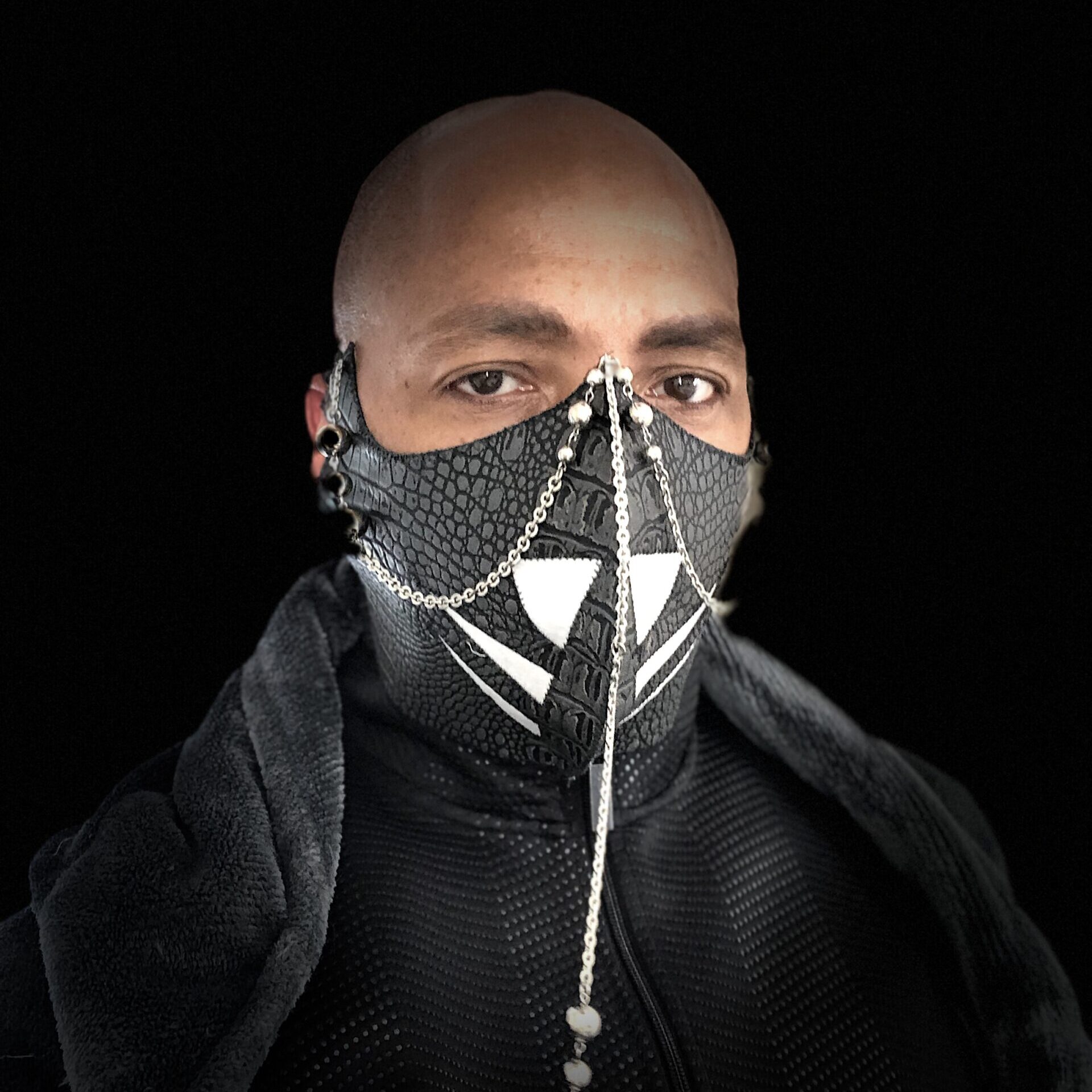 Bobby Cushman
Arkansas, USA

I am working with faux skins, fabric, metal chains, and steel beads. I wanted to make masks that are a departure from the norm. The toughness of the faux alligator is "protective" while the menacing design suggests "keep your distance".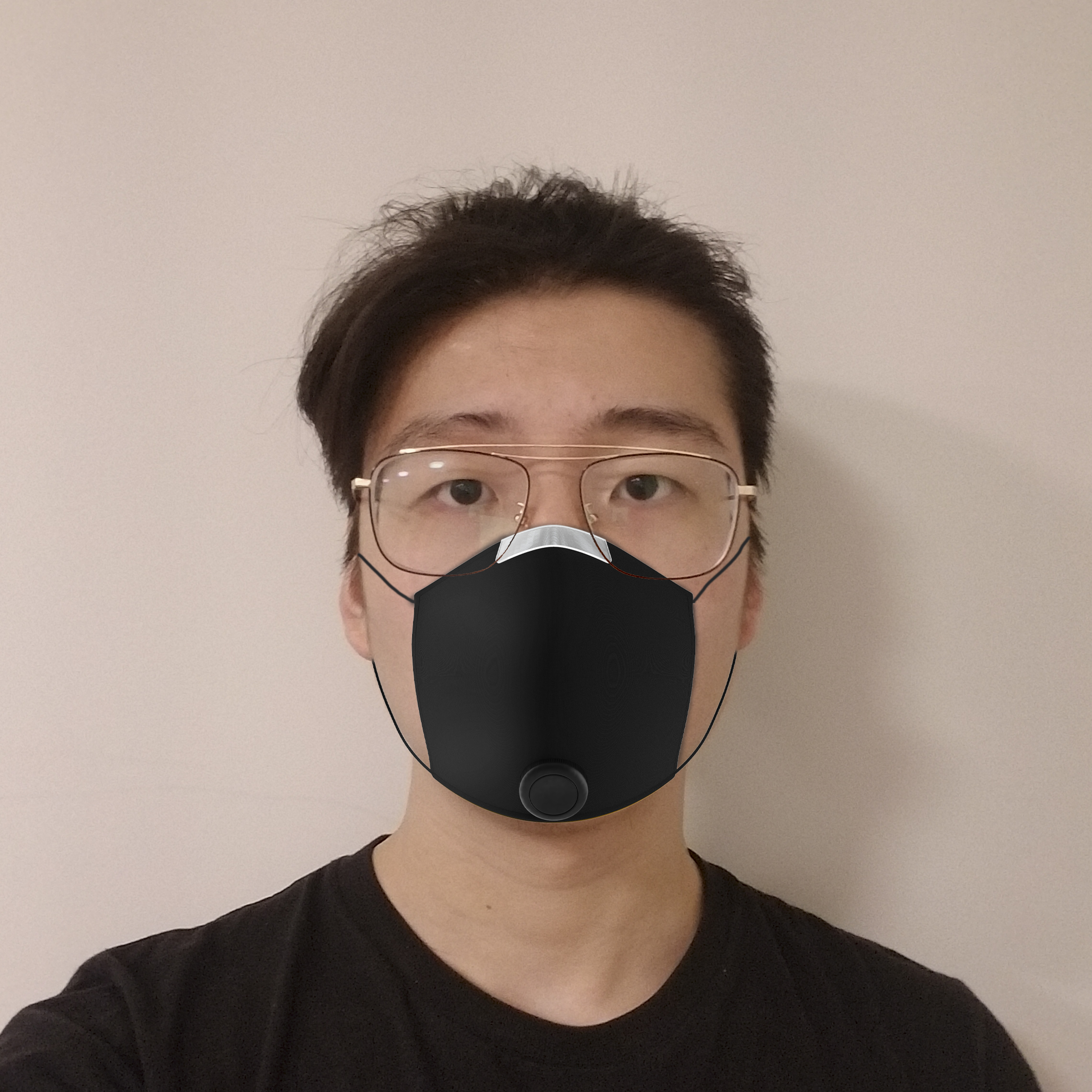 Haokun Yao
Shanghai, China

The mask is designed to solve three main problems. First, you can know how clean your mask is by seeing the color of the lining changing through the transparent part on the upper edge. If the color turns from white to black than it should be replaced. Second, you can adjust the length of the ear loop by twisting the disk to fit yourself. Third, you can use the base to easy clean your mask. You put the dirty mask on the base and close the lid. The high-temperature steam inside the base would help kill the virus.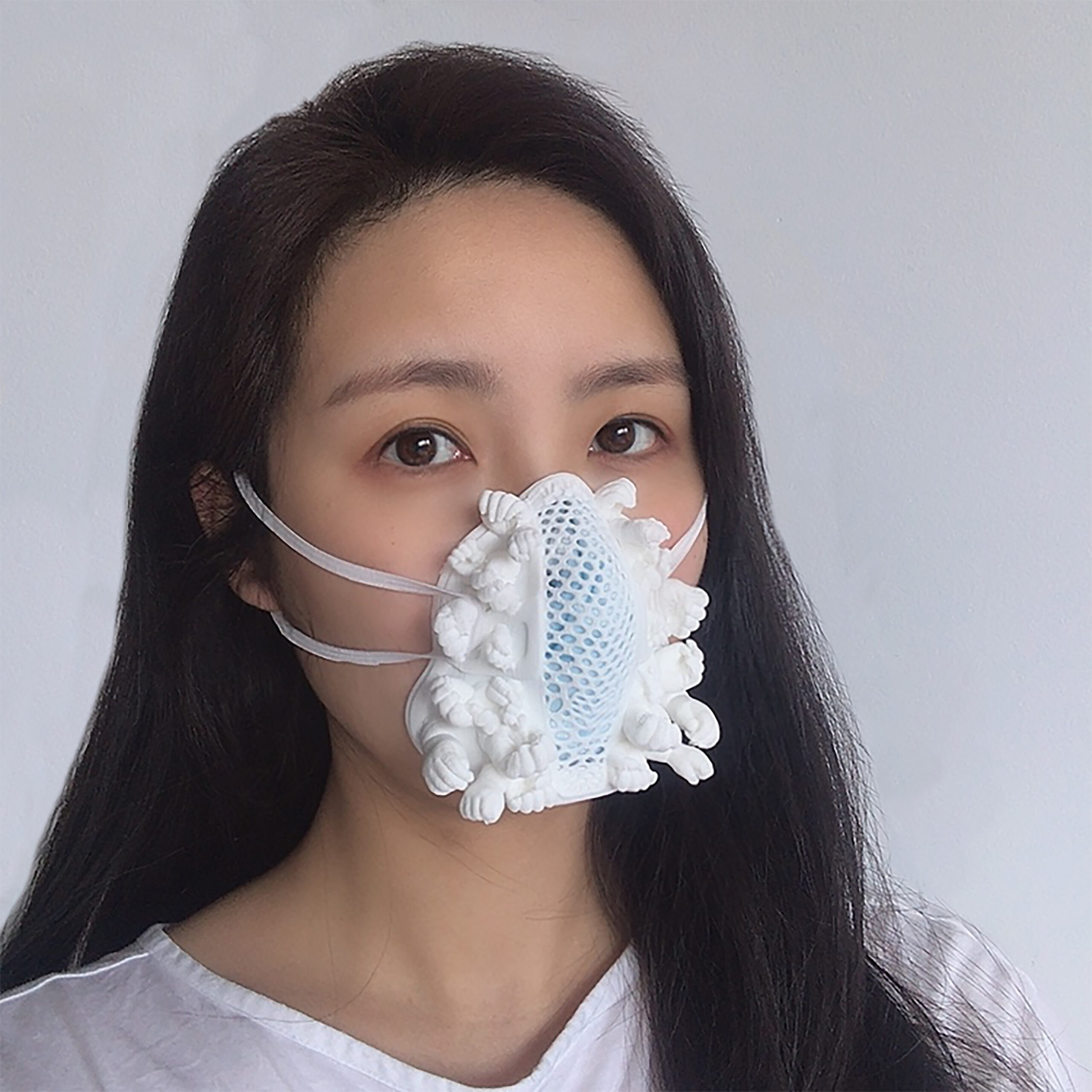 Dasol Hong
New York, USA

Our lives were dramatically changed after the COVID-19 outbreaks. Touching your face with hands becomes a taboo, and wearing a mask/face-cover when you go out is the new norm. In this series of work "Baby: Personal Protective Equipment(PPE)", you can find small baby hands on top of the mask. These are molded and cast of my child's hand when he was 3-month old. Through the combined image of a hygiene mask and the baby's hand, as a symbolic representation of the most harmless and purest, visualizing the harmonization of the irony and incongruity of the reality that we have faced through the lens of objection.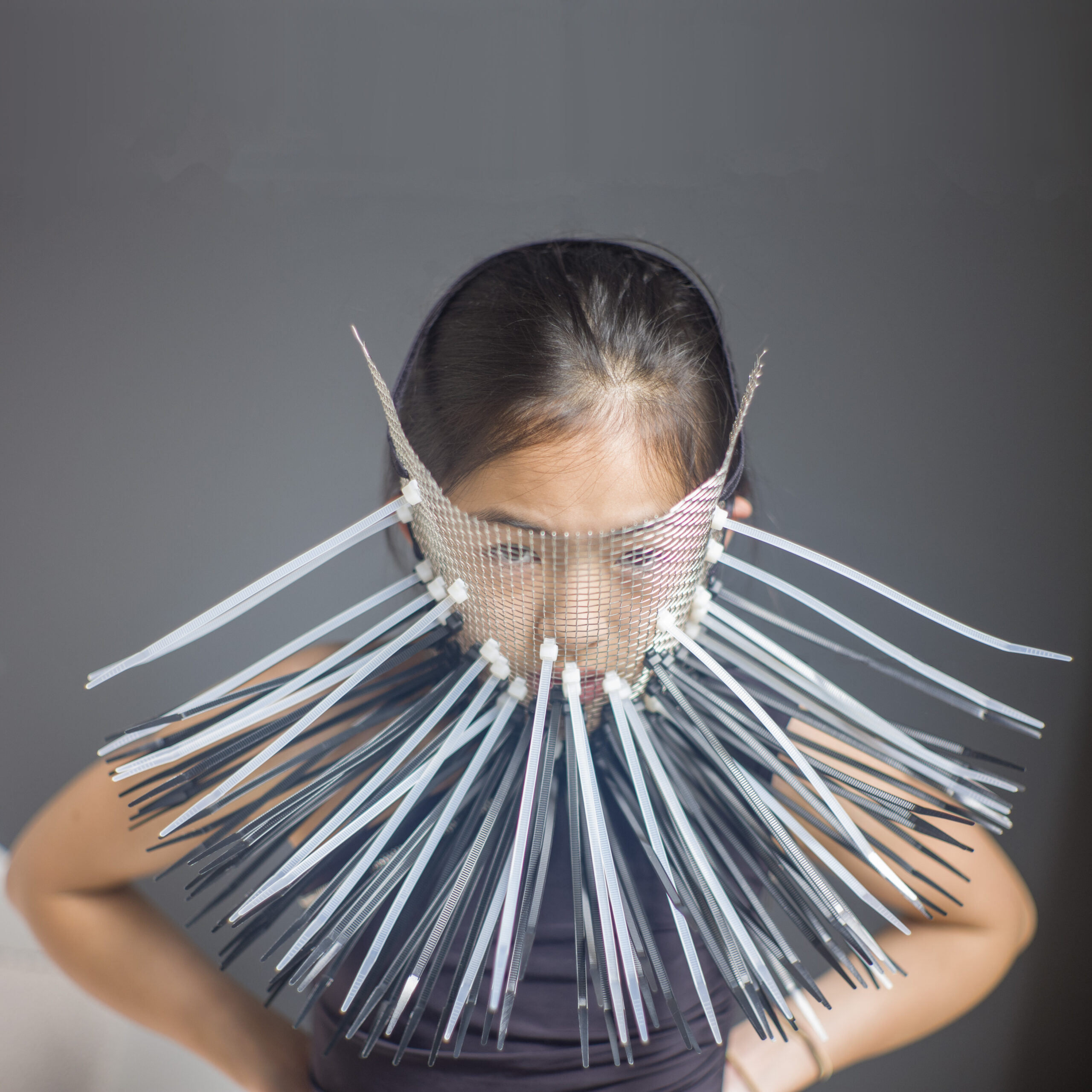 Ashlyn So
California, USA

Inspired by the coronavirus symbol and social distancing, this avant-garde mask made out of wire mesh and zip ties just as spiky as the virus itself symbolizes our determination to fight COVID-19. After making about 600 masks for frontline workers, I want to feel powerful and strong with this new design. For true functions, a regular mask can be worn behind this mesh.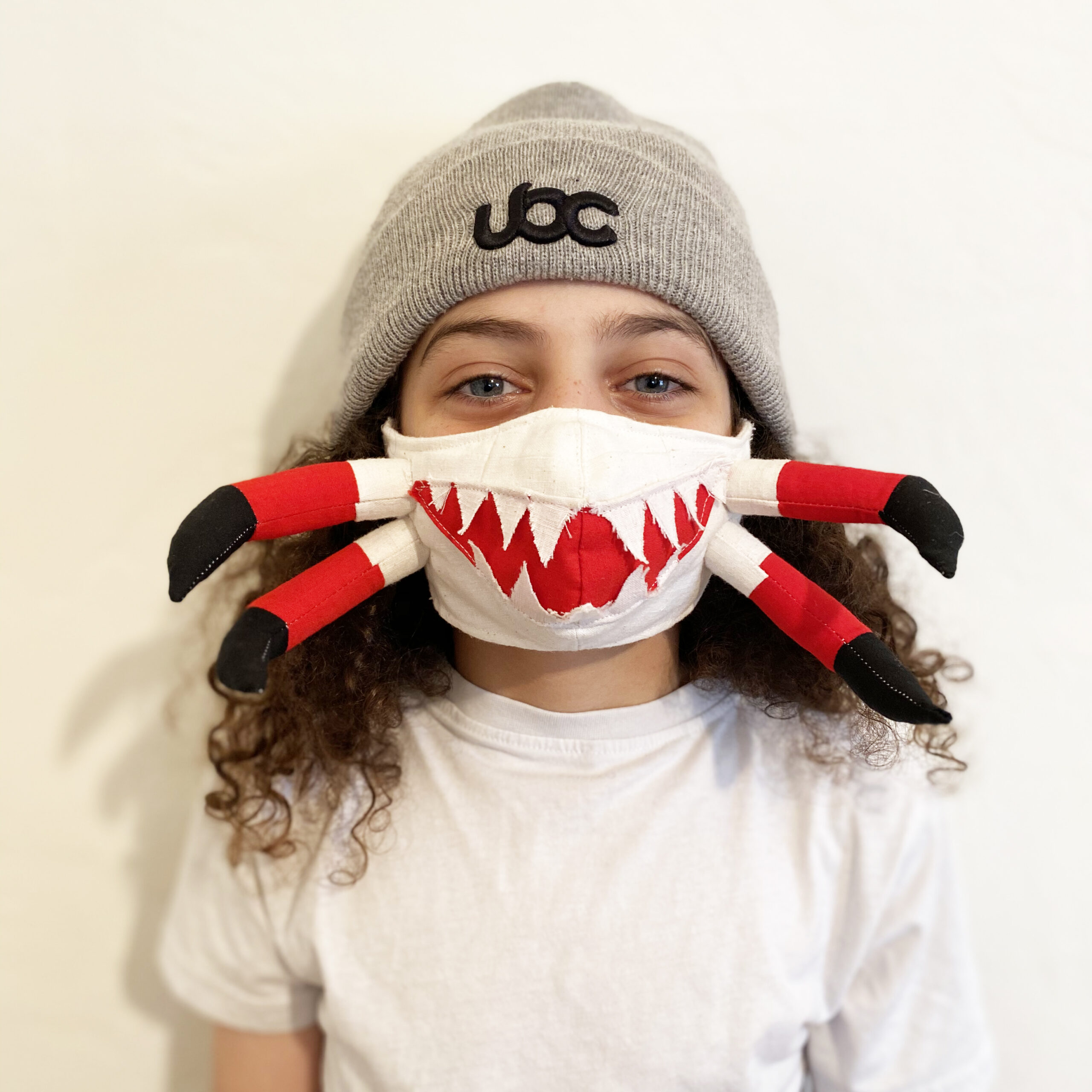 Young Designer, 2nd Place
Nevo Leon
California, USA

My mask is inspired by the Reaper Leviathan from my favorite video game, Subnautica. It's a very scary creature that uses its four mandibles with black claw tips to grip onto your submersible and fling it around. Then it lets out an ear-splitting shriek and nearly breaks your submersible! These powerful creatures are one of the most feared creatures in the game.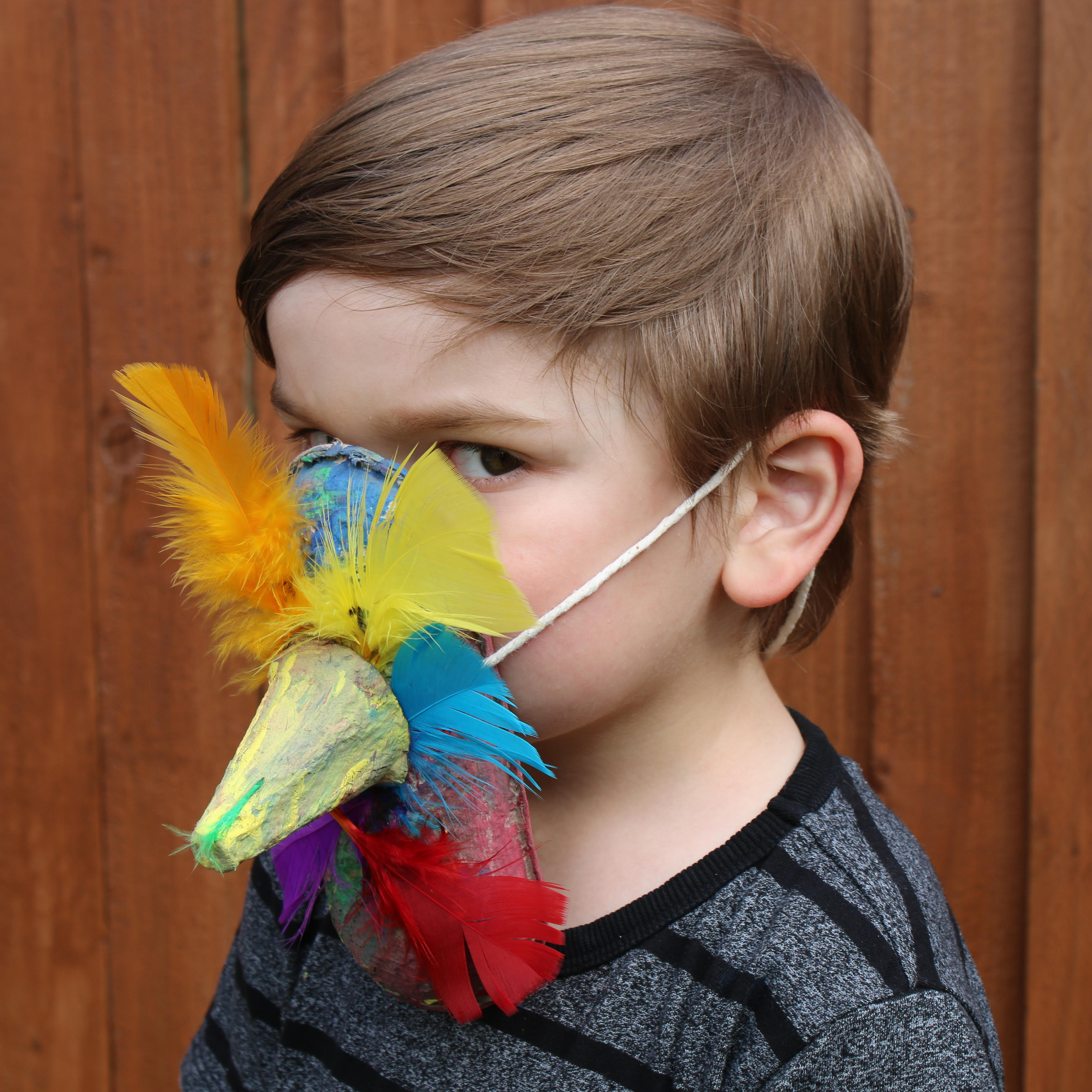 Young Designer, Honorable Mention
Vaughan Borain
England, United Kingdom

When I was creating my masks I told my mother my mask had to make people smile. I wanted lots of colours and when I found the colourful feathers in my room I knew I wanted to create a duck's face. Near where we live in St. Albans is a beautiful place called Verulamium Park. Here my brother and I always follow the ducks because they bring us so much joy. I always look at their different colours and I wonder why I can't paint them with more colours. I wanted others to smile and laugh like we do when we run after the ducks and they look back at us. When I finished my mask my mother also explained 'duck' symbolizes protection and connection to community, which made me smile.