San Francisco (February 7, 2023): The Museum of Craft and Design announces Fight and Flight: Crafting a Bay Area Life, on view April 15–September 3, 2023. A timely examination of the Bay Area arts ecosystem, this exhibition features 23 Bay Area artists who have stuck it out during the crises of our times: a pandemic, gentrification, high cost of living, limited access to resources, insurrection, and racist, xenophobic, and transphobic violence. Their responses are evident in their artworks. From them, we get a sense of what it takes to make it in the Bay Area now.
Curated by Jacqueline Francis and Ariel Zaccheo, Fight and Flight is about the struggle to live and work in the Bay Area where, despite the lack of affordable housing and studio space, the participating artists' histories are nuanced expressions of the determination to remain. Over several months, Francis and Zaccheo visited artists in their studios and via Zoom, engaging in conversations about their Bay Area lives and careers and asking: "How, if at all, does your art practice relate to the Bay Area?" In dialogue with the artists, they discussed the relevance of "home" and "place" in their work. The artists spoke of conflicting and complex feelings: grief and frustration over erasure and invisibility; enjoyment of and inspiration from the Northern California landscape; and gratitude for friends, peer groups, and chosen families.
Francis comments, "For a long time, artists have ingeniously crafted a life in the Bay Area. For some of those who decide to move on, the careers and relationships started here are central to their sensibilities as makers." Consciously uplifting communities that are historically underserved and underrepresented in museum collections and exhibitions, Fight and Flight primarily features African American, Latinx, LGBTQIA+, and AAPI artists.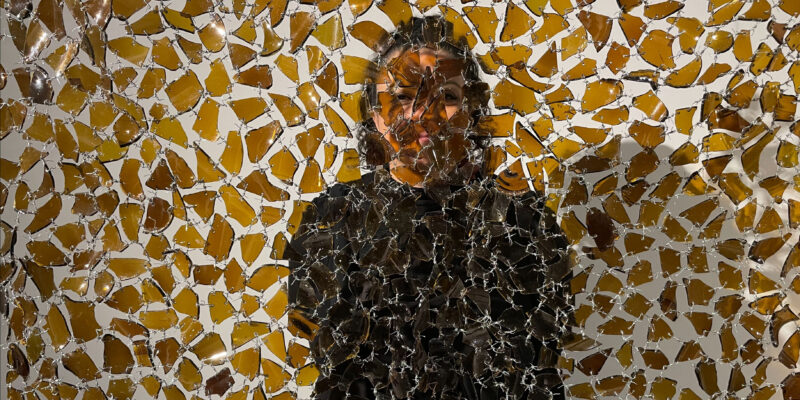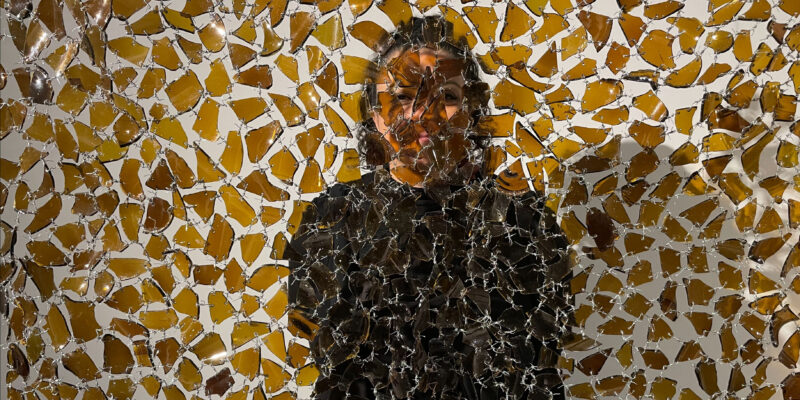 Nasim Moghadam, Fabric, 2021-22, beer and wine bottles, wire. Photo courtesy of the artist.
Nasim Moghadam, Iranian-born art educator and multidisciplinary visual artist, moved to the Bay Area in 2010. Her work focuses on discrimination, hyphenated identity, and the constraints on women, their bodies, and their voices. Moghadam's work creates narratives inspired by the efforts of women worldwide who are defending their basic, unalienable rights. When discussing her artwork and living in the Bay Area, Moghadam mentioned the struggle of studio space and affordability; but for her, the weight of community care is greater than the complications of living here. She has found a welcoming community and wouldn't be able to express the themes and concepts within her work if it weren't for having moved to the Bay Area.
Francis and Zaccheo identified local artists and collectives working across a multitude of craft mediums and processes. Intentionally, the selected artists' work questions the totality of what "craft" can encompass: from the traditional (textiles, ceramics) to installations, graphite on paper, sound, and the written word. The exhibition's subtitle, Crafting a Bay Area Life, denotes action: crafting refers not only to the creation of art but also designing a creative life, whether or not the artist identifies as a craftsperson.
Related Tactics (Michele Carlson, Weston Teruya, and Nathan Watson), the future now, 2020. Curated by Astria Supurak, commissioned by University of San Francisco, Thacher Gallery. Photos courtesy University of San Francisco.
The artist collective Related Tactic's artwork, the future now, is a series of multilingual, site-responsive posters that "illuminate facets of Black life in the city." Originally installed in 2020 in multiple sites within walking distance along the 3rd Street corridor of San Francisco's Bayview neighborhood, the posters served as prompts to explore national politics and encourage community dialogue.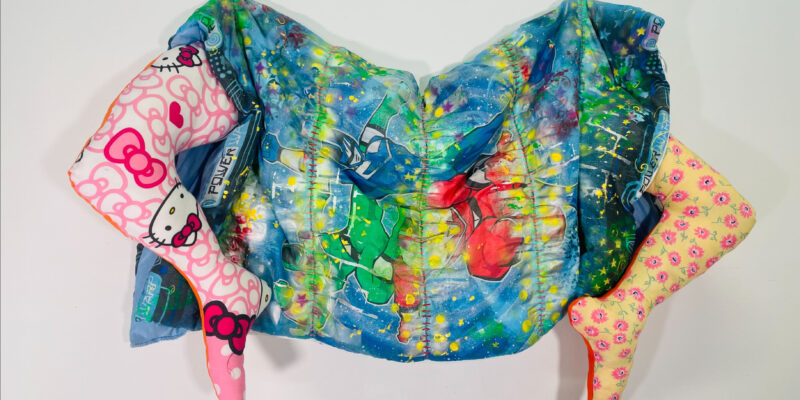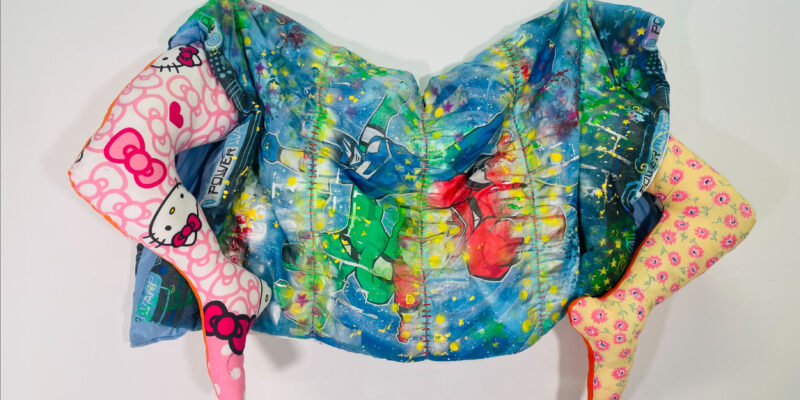 Alexander Hernandez, Light as a Feather, 2022. Photo courtesy of the artist.
San Francisco-based artist Alexander Hernandez uses textiles and found objects in his mixed-media art practice. Having been born in Mexico and raised in Colorado, the Bay Area evokes a nomadic sense for Hernandez, but he is inspired by the grit of the city and community he has found. Craft is a safe space where his love of U.S. pop culture and Mexican culture coexist. His work explores intersectional identities rooted in immigrant experiences, gender expectations, HIV+ survival, and queer sensibilities.
Recent narratives have placed San Francisco and its surrounding urban areas "in the shadow" of larger art metropolises like Los Angeles or New York. The Bay Area finds itself in the penumbral margins of the art world conversation. So too is craft often marginalized or footnoted in the canon of art history. To survive and thrive in the margins is a radical act that occasionally requires the will to fight. Fight and Flight: Crafting a Bay Area Life positions the Bay Area as a uniquely advantageous site for makers of craft.
A multilingual digital catalog, accessible on the exhibition website and via QR code at MCD will go live in early June of 2023. This catalog will act as an online repository for interviews, writings, and photographs of artists' studio practices.
Participating Artists:
Libby Black, Craig Calderwood, Erica Deeman, Cheryl Derricotte, Ala Ebtekar, Liz Harvey, Angela Hennessy, Alexander Hernandez, Liz Hernández, Cathy Lu, Michelle Yi Martin, Adia Millett, Nasim Moghadam, Richard-Jonathan Nelson, Ramekon O'Arwisters, yétúndé ọlágbajú, Woody De Othello, Related Tactics, Charlene Tan, Margaret Tedesco and Leila Weefur, Lauren Toomer, Jenifer K Wofford
Fight and Flight: Crafting a Bay Area Life is generously supported in part by the Phyllis C. Wattis Foundation and the National Endowment for the Arts.
The Museum of Craft and Design's exhibitions and programs are generously supported by the Windgate Foundation and Grants for the Arts. Additional support is provided by Hunter Douglas.
Top image: Adia Millett, SUN (Quilted Ancestor), 2022, quilted fabric, feathers. Photo courtesy of the artist.
###
Press/Media Preview:
Friday, April 14, 2023 | 5:00 PM–7:00 PM
Press Info: Images, artist bios, headshots, and additional information can be found here.
To RSVP for the press preview, schedule a private tour, interview requests, or for more information, contact Sarah Beth Rosales, Marketing and Communication Director, Museum of Craft and Design at sbrosales@sfmcd.org or 415.773.0303.
About Jacqueline Francis
Jacqueline Francis is an art historian, curator, and educator. She is the author of Making Race: Modernism and "Racial Art" in America (2012) and co-editor of Romare Bearden: American Modernist (2011). She is a co-founder of the Association for Critical Race Art History. Her curatorial projects include "side by side|in the world" (2019, San Francisco Art Commission) and "Where Is Here" (2016, Museum of the African Diaspora, San Francisco). She is the Chair of the Graduate Program in Visual & Critical Studies at California College of the Arts in San Francisco.
About Ariel Zaccheo
Ariel Zaccheo has been proud to call San Francisco home since 2011. She has worked with MCD since 2013, assisting with 40+ exhibitions. She has been MCD's curator since 2020. Zaccheo is also co-curator of the Artists' Television Access (ATA) Window Gallery since 2013, and now serves on the ATA Board of Directors. Her research focuses on contemporary craft applied to queer and feminist studies. Recent curatorial projects include Mode Brut (2021, Museum of Craft and Design) and Interior/Exterior (2019, Museum of Craft and Design). Zaccheo served as juror for Craft Nouveau (2022, Blue Line Arts), and Bridging the Gap: Contemporary Craft Practices (2019, Arrowmont School of Arts and Crafts). Her writing has appeared in Surface Design Journal, Contemporary Art Review Los Angeles, Art Practical, Fiber Art Network, and American Craft Magazine.