Holly Hanessian and Michael Austin Diaz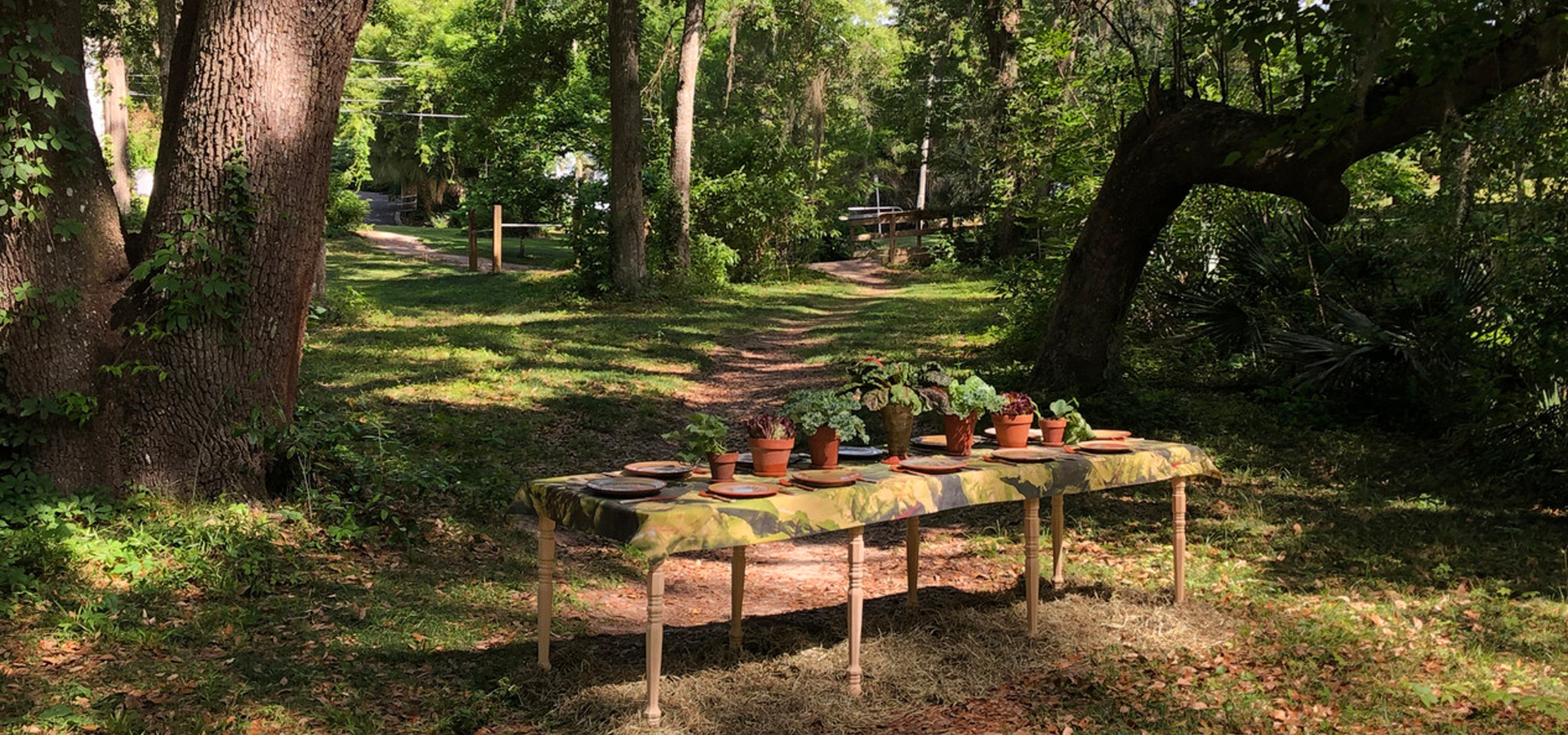 New Histories: The Gadsden Farm Project
Ceramics, printed linen, live plants, wood and sound
In the 1940's, Gadsden County was home to 67 Coca-Cola Millionaires and a thriving $100,000,000.00 agricultural shade tobacco economy. Now, it's one of the poorest counties in the State of Florida. This project presents the stories of 12 people who embody the agricultural demographics of Gadsden County. Working with the State of Florida Folklorist and Photographer, we recorded stories of first-generation immigrant farm-workers and others who raised livestock and grew crops, chronicling their perseverance, personal triumphs, and obstacles. Each interview is now archived at the State Library and Archives of Florida and at Southern Foodways Alliance. Each collaborator received a handmade commemorative plate honoring their labor.
Artwork produced from the project was premiered in the exhibition, "Craft as Social Practice" reflecting a rich, sensual, material world (sight/sound/smell.) The show included a dinner table embedded with speakers playing excerpts of their stories; the sweet smell of alfalfa hay laying underneath; a cross-section of a greenhouse containing handmade plates, two 30-minute video loops of the farmers; and an adobe floor that smells of tobacco.
Holly Hanessian and Michael Diaz, New Histories: The Gadsden Farm Project, 2019. Image courtesy of Michael Diaz and Becki Rutta
Michael Austin Diaz is an interdisciplinary artist and designer from the United States. His practice explores landscape and local identity through generative engagement, field work, and material culture. His individual and collaborative projects are realized through public interventions and gallery installations.
Holly Hanessian engages participants in community-based art projects that focus on at-risk populations affected by food insecurity and environmental degradation. The artwork she creates sits at the intersection of design, craft, and contemporary art. Her recent projects range from participatory activities that honor local farmers living in food deserts to those that advocate for positive environmental changes.