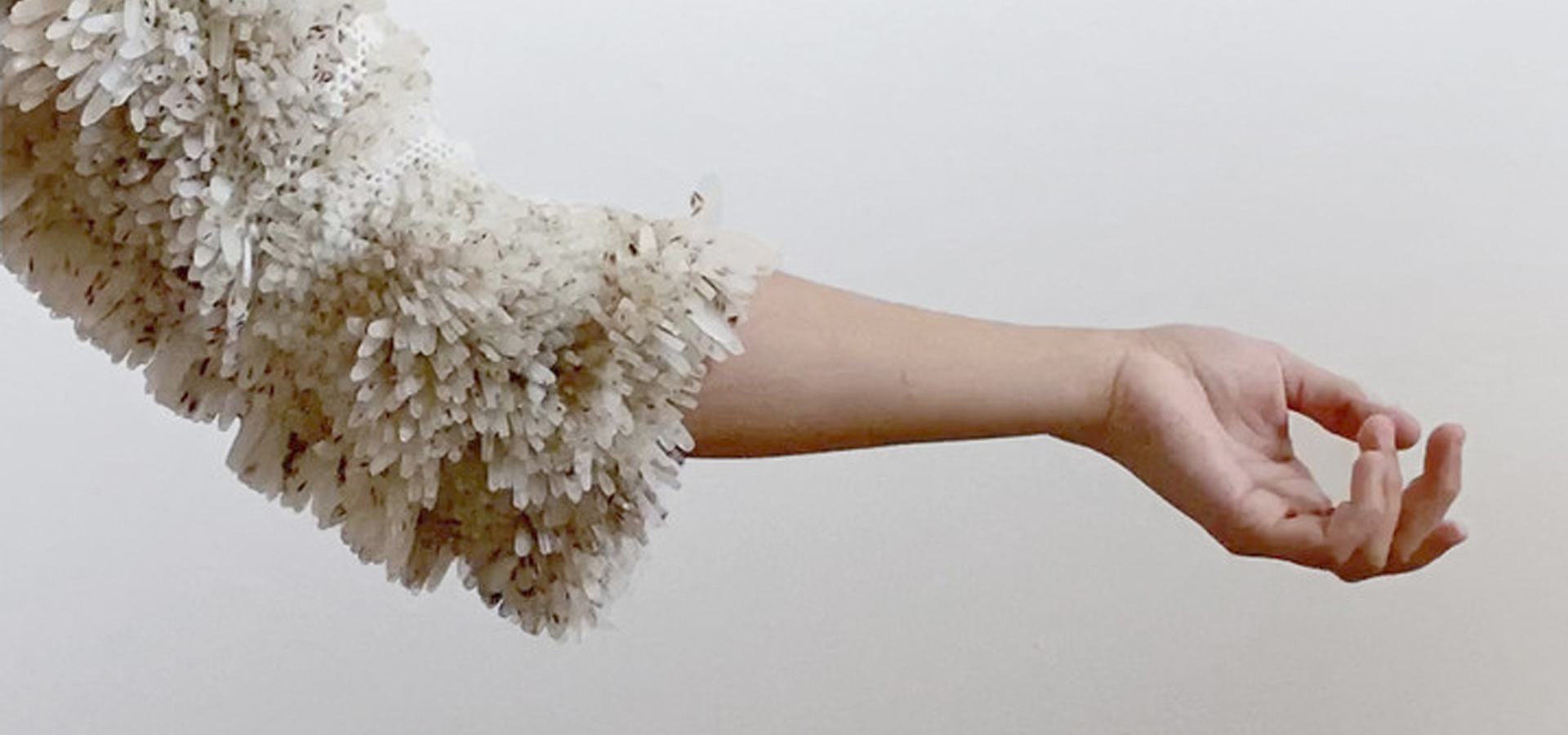 Wool, Isomalt Beads, Seeds
In a world that is in an extreme time of opposition, vast environmental change, and lack of empathy, the world cries out for a new future. We as humans are all connected together through collective land and plant life and as they dwindle and change, taking care of them and each other in our current state becomes more radical of ideas and values. YOUR LAND IS OUR is a project that takes back systematically destroyed soil for new frontiers through textile. The armor garments are a new future, a vision that holds our environment to its highest value; providing traditionally marginalized people with the power to change the way that we operate in the world. The textile is seen as a conceptual power, through the impermanent handcrafted beads that hold seeds that tell stories of migration and are seeds known for resilience–perennial seeds that can repair dirt to soil and sustain communities. With water, the beads dissipate, exposing the raw seeds to grow into the earth. "When the textile is worn on a body like my own- underrepresented and dismissed gives me and many others the power to "take back " land for our future," Jacob Olmedo.
Jacob Olmedo, YOUR LAND IS OUR LAND, 2020. Image courtesy of the artist
Jacob Olmedo intertwines textiles, objects, wearables, and hydroponics to convey social and environmental commentary stemming from his own circumstances and identity as a queer artist, the son of a Mexican-immigrant father, and a climate activist.  Occupying a hybrid American identity, his work gravitates towards blending certain craftwork, both traditional and contemporary, exposing deeply personal statements about being human. Slow-paced, hand-centric, labor-intensive methods such as combining lush beadwork and delicately knit fabric structures connect him with my Latinx identity. Reminding him of his father – once undocumented, and the many unseen Latinx laborers in America. Often drawn to materials and techniques that transform the wearer and allow for intentional transparency, Olmedo asks for the meaning of the object to be about the relationship it has with what is not always easily visible but underneath; body, skin, land, and soul. Olmedo the 2020 winner of the International Talking Textiles Award earned his MFA and BFA from the Parsons School of Design and has recently exhibited at Mana Contemporary, Gregg Museum of Art and Design, and NYC Design Week. Olmedo's work has also been seen in press outlets such as Dezeen, Vogue Italia, PBS, and Forbes.