Justin Rothshank & Isaac Scott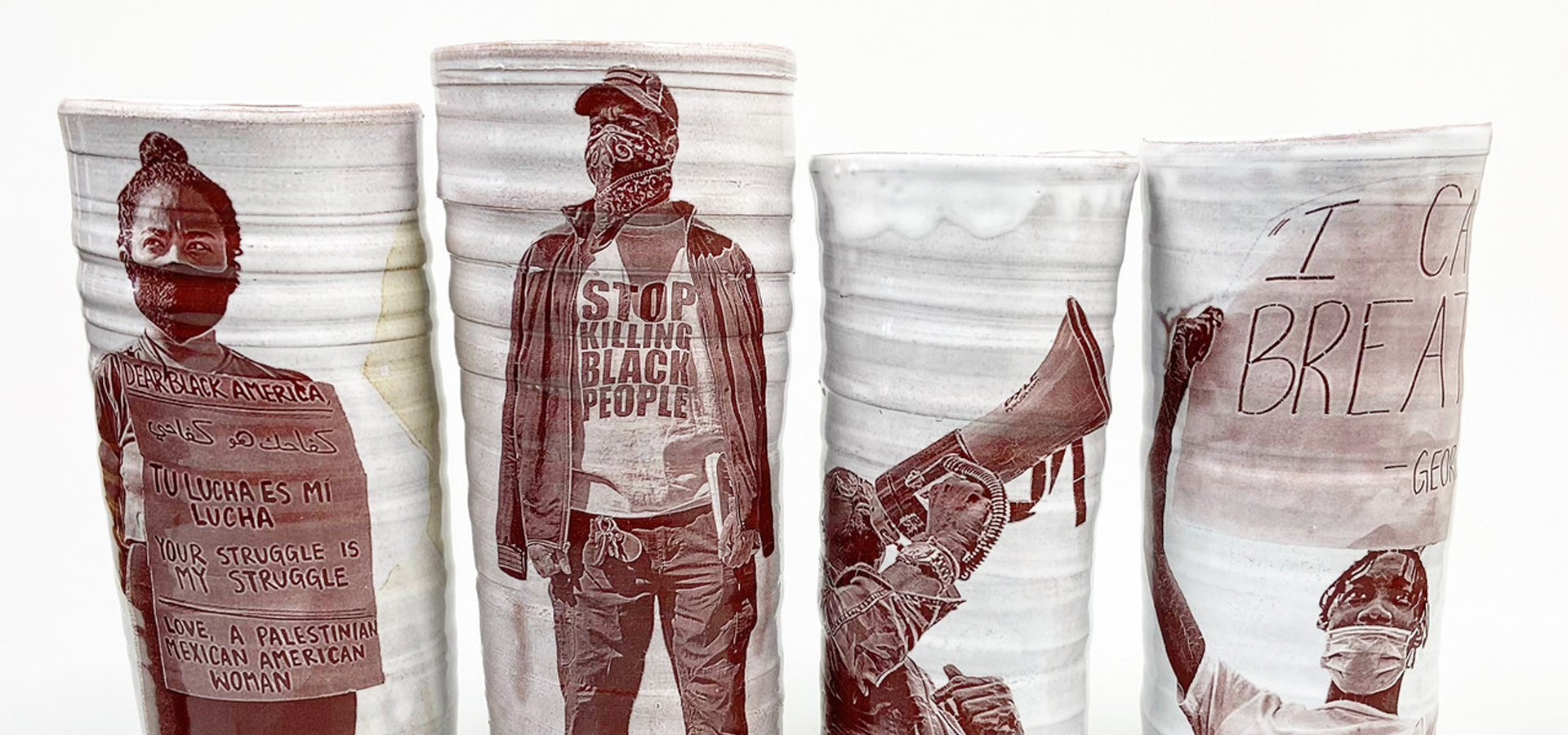 Earthenware, glaze, decals
These works are a collaboration between Isaac Scott and Justin Rothshank. Isaac spent the spring and summer of 2020 participating in and photographing the protests in Philadelphia in support of Black Lives. As a Philadelphia resident, Isaac's images represent his activism in a movement occurring all around him. Because of covid, Isaac's access to a clay studio was limited, and his chosen medium switched to photography.
Justin spent the spring and summer in his hometown of Goshen, Indiana, far removed from protests, but working on political pottery of his own as a way to educate himself, and those around him on the importance of the changing political landscape.
These collaborations represent a coming together of different forms of activism in the midst of a pandemic and political turmoil.
Justin Rothshank and Isaac Scott, Protest Vases, 2020. Image by Isaac Scott, Vase/Decal by Justin Rothshank, image courtesy of the artist
Purchase this artwork and others from the Call & Response exhibition online at MCD's Artists Marketplace.
ARTIST MARKETPLACE
Justin Rothshank is a studio potter working in Goshen, Indiana since 2009.
He is the author of Low Fire Soda, a book published in 2020 by Ceramic Arts Network that also includes a corresponding video release. In 2012 Justin released an instructional DVD titled Ceramic Decals: New Ideas and Techniques, published by Ceramic Arts Daily. In 2001 Justin co-founded the Union Project, a nonprofit organization located in Pittsburgh, PA, where he served as Associate Director and Principal Artist until 2009. In 2019 Justin was selected by Traditional Arts Indiana as a Master Artist. In 2014 Justin was awarded an Individual Artist Grant by the Indiana Arts Commission. He was presented with an Award of Excellence by the American Craft Council in February 2009. In 2007 he was recognized by Ceramics Monthly Magazine as an Emerging Artist. He has also been awarded an Alcoa Foundation Leadership Grant for Arts Managers, a 2007 Work of Art Award from Greater Pittsburgh Arts Council, the 2005 Decade of Servant Leadership Award from Goshen College, and was named to Pittsburgh Magazine's 40 under 40 in 2005.