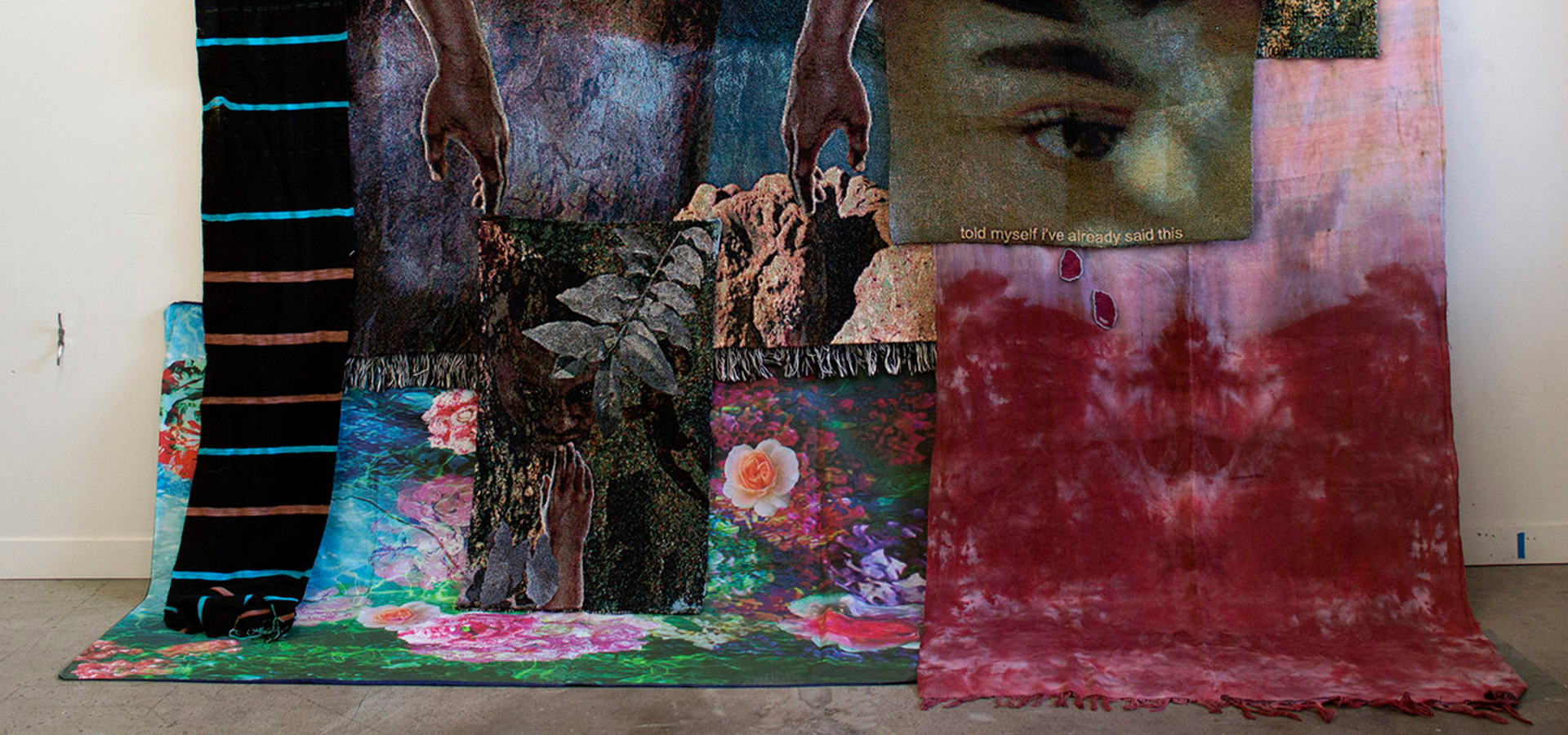 Foolish to believe this is their future when we've only just arrived
Hand dyed Hand woven cotton, jacquard woven cotton
The Black body and craft can be intermeshed to depict our western culture's speculative future no matter how foreign the idea of Black craft is outside of the American Low country. Through the hybridizing of traditional craft practices like embroidery, weaving, and quilting along with digital art, the Black body is reimagined as a place for futuristic progress. Thereby creating images of the Black Diaspora far removed from continued historic depiction as servile and without agency, but instead as visual and culturally complex individuals. The work is balanced visually between the dichotomy of Backness as an expansive unknowable monolithic void and a chromatically intense generator of culture.
Where does wisdom lie, how does understanding spring forth, and within in which bodies are the auguries for change, adaptation, and growth present that we ignore? Within our present U.S culture, there is a revival of introspective searching for community, empathy, and futuristic equanimity. The answers to how do we as a country live present, equitable, considerate lives are constantly searched for but rarely mined for within the Black community. However,
the Diaspora through its evolution and adaptation to the cultural stressors of life and maintenance of sympathetic interconnectedness holds the answers to these questions. Like a series of branching nerves and interlacing threads in a tapestry, people of the Diaspora nurture a multi-generational storehouse of lived wisdom concerning community, perseverance, and transformation.
However, the Black body Is continuously viewed as just a site for cultural pain, but what does Black pain reflect on the larger culture. How does this uninterrupted legacy of hardship affect the very way we as people of the diaspora see the world and navigate it emotionally? How does this inherited stress both drive our advancement as generators of culture and hinder our full development as a people?
Richard-Jonathan Nelson, Foolish to believe this is their future when we've only just arrived. Image courtesy of the artist
Click on the images to expand.
Richard-Jonathan Nelson, Strung up from branches once enfolded and entrancing; Foolish to believe this is their future when we've only just arrived, On tender hooks a temperamental translation, Rages first flush blossomed and stifled by civilities breath, Regardless of hallucinatory recollection, the body is never unbound, 2019. Images courtesy of the artist
Purchase this artwork and others from the Call & Response exhibition online at MCD's Artists Marketplace.
ARTIST MARKETPLACE
Richard-Jonathan Nelson is a multi-disciplinary artist who uses textiles, video, and digital manipulation to create alternative worlds of speculative identity. His work is multi-layered, chromatically intense, and mixes images of the natural world with reference to hoodoo, queer culture, and Afro-Futurism. He uses his constructed worlds to examine the overlapping spheres of culturally perceived identity and the emotional memory of what it means to be a queer black man. Thereby creating a limbic space free from the weighted excepted western cultural reality, and able to examine the unspoken ways systems of power persist.