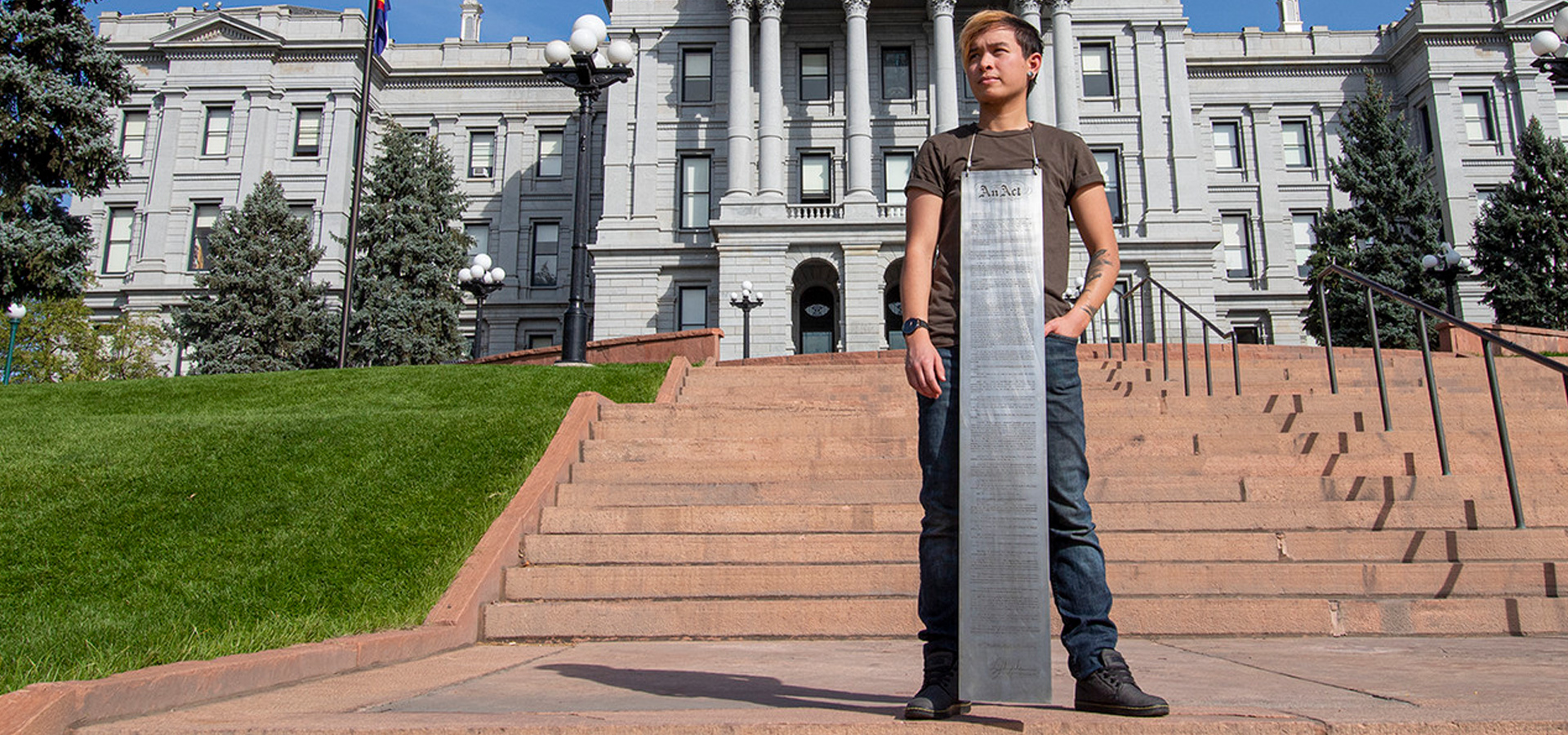 An Act. An Action (Necklace)
An Act. An Action. is a multifaceted work about felon disenfranchisement. A large-scale necklace showcases the text of Colorado House Bill 19-1266. This bill was passed in 2019 and restored voting right to parolees, effectively re-enfranchising nearly 10,000 individuals in Colorado. The text of the bill is etched onto a steel panel. Its weight and materiality represent the cold, anonymous, industrialized nature of the incarceration system and the burden it places on our most vulnerable communities: people of color and those living in poverty. Whereas this necklace acts as a marker of the legislation that has been passed, its tone is not celebratory in nature, as there is still much work to be done. Bills such as HB 19-1266 are only passed if individuals put pressure on their elected officials to do so.
Punitive ideology reinforces the "out of sight, out of mind" view of our incarcerated neighbors; they are viewed as a blight on society who are rightfully paying for their crimes, locked away for their punishment and our safety. For this reason, a second steel plate was etched, this time distilling the text of HB 19-1266 down for the purposes of creating a call to action for individuals to advocate for voting rights. Beginning in September 2020, Leslie Boyd traveled to various government buildings in Denver, Colorado to print this plate by hand. Each print requires 30 minutes of a repetitive rubbing motion to transfer the ink. This rubbing suggests intense care and determination but also brings to mind mundane acts like the laborious task of scrubbing a floor. This seemingly futile act produces imperfect prints, and her vulnerable position in these public forums facilitates a space for dialogue. Dialogue about labor and care, doing work that is difficult and often dishearteningly incremental, voting rights, and freedom.
Leslie Boyd, An Act. An Action (Necklace), 2020. Image by Lizeth Hernandez
Purchase this artwork and others from the Call & Response exhibition online at MCD's Artists Marketplace.
ARTIST MARKETPLACE
Leslie Boyd (she/they) is an artist and educator whose practice sites itself on the body. Her research interests include cultural appropriation, social practice, gender, and contemporary US political identities/affiliations.
In 2018 Leslie established the database Making Progress: Resources for Social Justice in Craft, with the aim to compile a comprehensive collection of resources for artists, educators, and students interested in craft as activism or social practice.
Leslie lives in Denver, CO where they are an Assistant Professor of Art at Metropolitan State University of Denver.