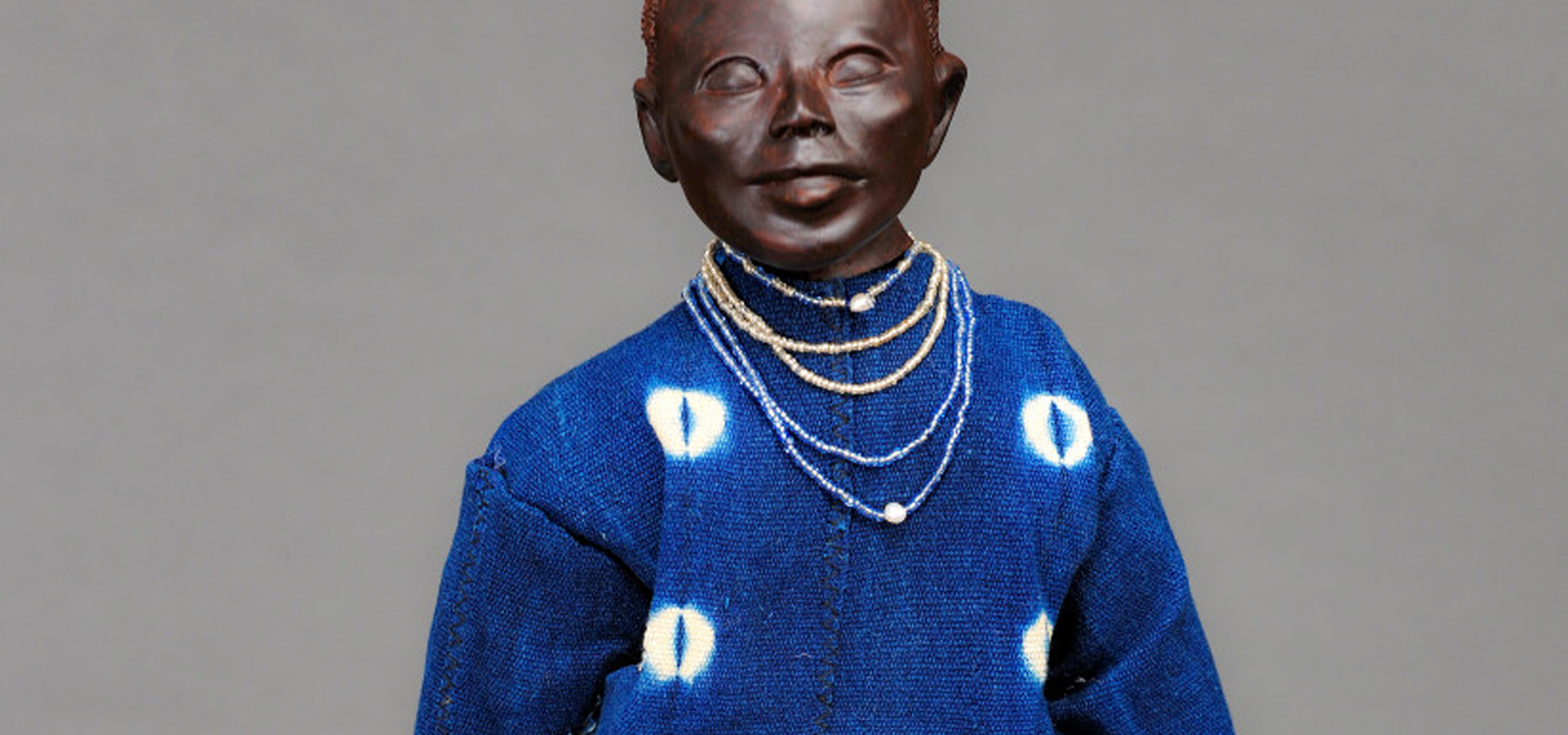 Porcelain, mud cloth, beads
Kimberly Camp began making dolls in 1982 with Kimkins, soft sculptures individually painted and dressed in traditional African and transitional African American dress. They represented ten+ ethnic groups, a buffalo soldier and conjurer. In 1989 she started with one-of-a-kind dolls made from clay bodies, fabric, fibers, beads, pearls, leather, wood, etc. Most are hand-sculpted of paper clay, stoneware, porcelain, etc. She sculpted four dolls and had slip molds made from them that allow her to create in series cast in porcelain. Camp continues to use both approaches, as well as soft sculpting with textiles. Dolls are by their nature an immediate tool for activism because they use a basic human instinct, affiliation, that captures every viewer's attention. We immediately seek eye to eye contact as infants, before we even know what eyes are. In 2016, fueled by the last administration she created her immigration series, highlighting the colors, patterns, and textures of the countries being banned from the US (which was 1/4 the population of the continent of Africa.) Albeit new leadership, hostility against immigrants is still widely held. Camp plans to continue to create dolls that speak to the cultural contributions of the people who have made our nation rich with creative expression, which would include the ethnic groups on the continents of Africa and South America–both of which are significant to our understanding of the African diaspora and its relationship to the US.
Kimberly Camp, Adua 1240, 2020. Image courtesy of Jack Ramsdale or Lonnie Graham
Click on the images to expand.
Kimberly Camp, Adua 1240, 2020; Shango, 2019; Oshun, 2020; Paganini, 2020; My Name Means Peace, 2020. Images courtesy of the artist
Purchase this artwork and others from the Call & Response exhibition online at MCD's Artists Marketplace.
ARTIST MARKETPLACE
Kimberly Camp's paintings and dolls have appeared in over 100 solo and group exhibitions. She is the recipient of two NEA fellowships and the Kellogg National Leadership Program Fellowship. Camp served for 25 years as museum CEO, and currently teaches at Rutgers University. She is the founder of Galerie Marie where people can see her work and that of over 200 international artists. She has been featured in Essence, Nouvel Objet, FiberArts, National Geographic World, the Village Voice and Smithsonian. In February, Camp received the 2020 Award of Excellence: Art Makes Us Human award from the American Craft Council.