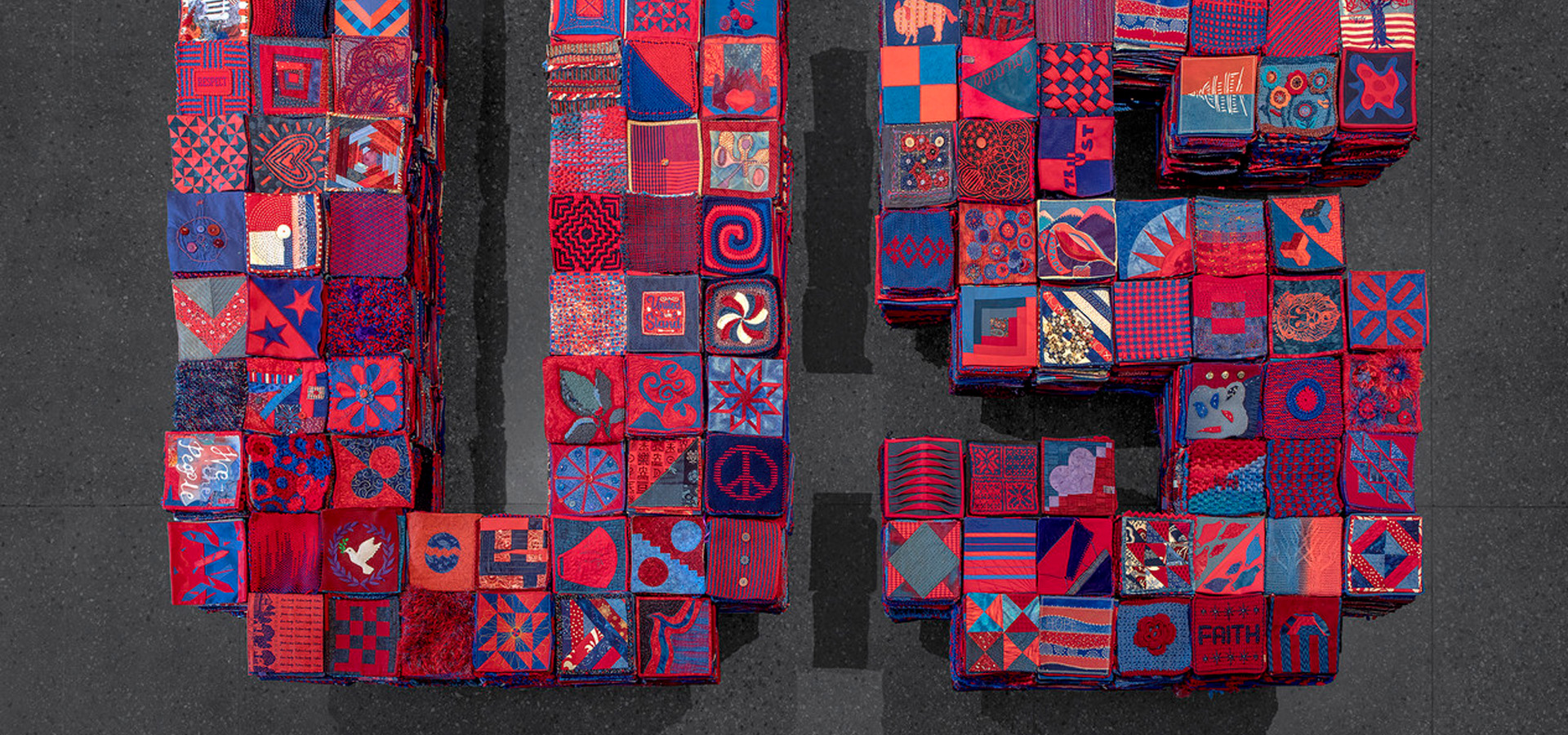 Artist, Ann Morton has conceptualized, developed, and is orchestrating the Violet Protest – a nationwide public engagement project that employs hand-made textiles as tools for protest against political divisiveness, and instead, generates a creative call for national unity.
Focused on values we hold dear, rather than specific political or social issues, the color Violet symbolizes the literal combination of red and blue, familiar symbols of our nation's differing ideologies.
Thousands of makers from across all 50 states, DC, and Canada have contributed 8 x 8-inch squares using a variety of textile processes, and equal parts red and blue, to create their individual messages supporting the core values of the Violet Protest.
• Respect for the other • Citizenship • Compromise • Courage • Candor
• Country over party and corporate influence • Compassion • Creativity
The project goal is to send bundles of between 25- 50 of these individual squares to all members of the 117th US Congress in late 2021/early 2022 as a unique demonstration of protest and to voice our hopes and support for cooperation between lawmakers on both sides of the aisle.
As of the end of March 2021, the Violet Protest has nearly 2000 makers signed up to make over 14,500 individual squares, equaling 27 squares for each member of Congress and representing over 64,000 hours of hand labor.
The Violet Protest is first on live exhibit at Phoenix Art Museum – March 10 – September 5, 2021. The exhibition opened with approximately 9500 squares on display, with new squares being added each week for the duration of the show.
Ann Morton, Violet Protest, 2021. VP Squares images courtesy of the artist; Exhibition images by Bill Timmerman, Timmerman Photography
Ann Morton's work exploits traditional textile techniques as conceptual tools for aesthetic, social communication to examine a society of which we are all a part – as bystanders, participants, victims, and perpetrators. Driven by a desire to make right, the work Morton reflects her own handwork but also orchestrates the handwork from a wide variety of community participants through public interventions that seek to harness the power in the act of making and to socially engage the hands of many to create a larger whole.
After a 35+ year professional career as a graphic/environmental graphic designer, Morton earned an MFA in 2012 from Arizona State University's Herberger Institute – School of Art. Currently, Morton is a practicing artist and an instructor at Mesa Community College, and previously at Arizona State University and Paradise Valley Community College and in metropolitan Phoenix. Morton's work has been recognized, published, and shown nationally and internationally. Morton is currently represented by Lisa Sette Gallery in Phoenix, AZ.
Selected publications include: FiberArts Magazine, 1000 Artisan Textiles (Quayside Publishing Group), American Craft Magazine, Surface Design Journal, and the National Endowment for the Arts Creative Placemaking, 2017.