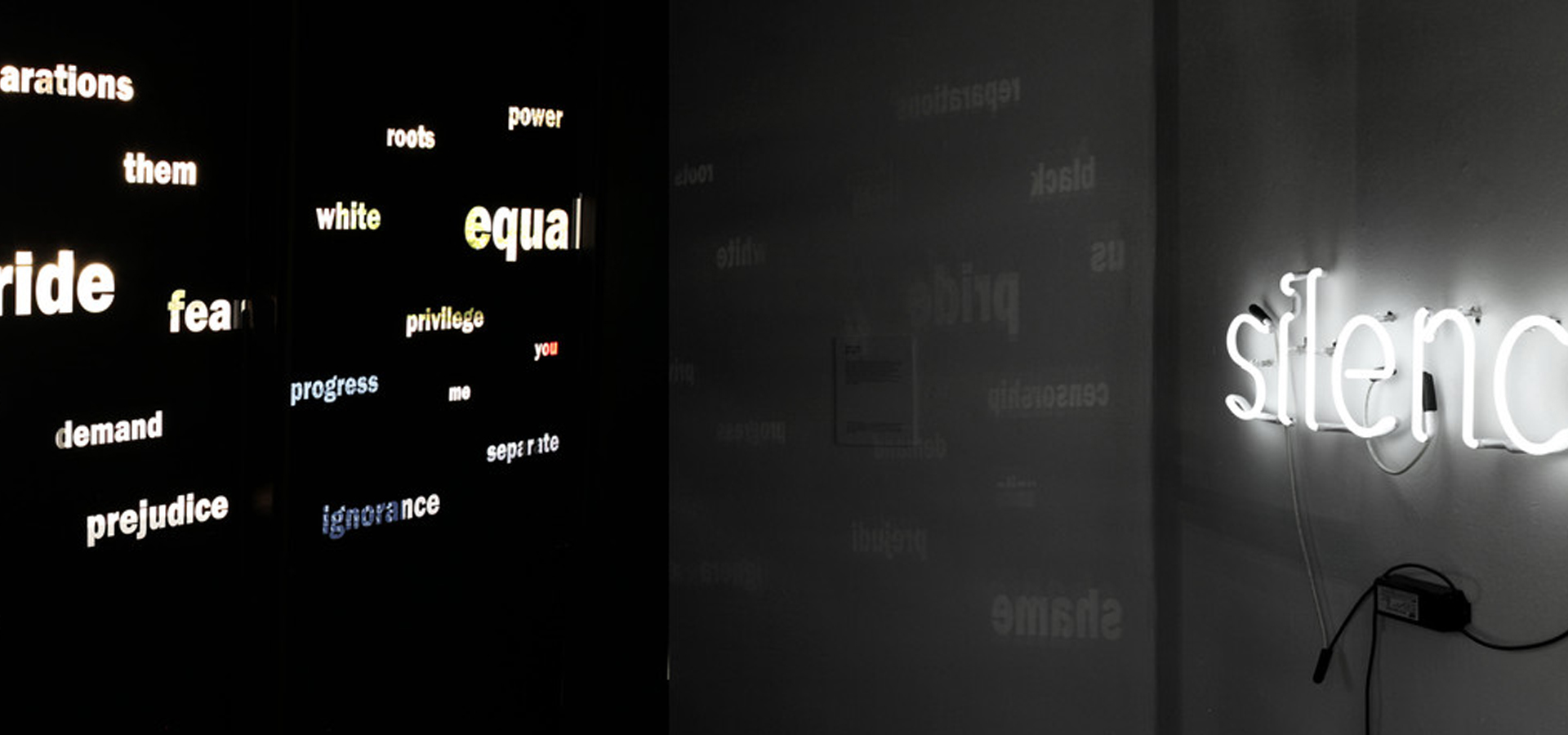 Neon, Vinyl, Glass Enclosure
This installation was first created in 2016 for the vestibule at the Chrysler Museum of Art Glass Studio. Made from a neon sign viewed through the negative space of the front window blacked out with vinyl.
Statement:
While the term 'White Silence'[1] is not a new concept, it has come to the forefront of dialogue surrounding the current political landscape of the United States. More recently, the 'Black Lives Matter' Movement has called on all Americans to question the role they personally play in the plight of racism today. The 'Fight or Flight' response has been coined as an instinctual response to the confrontation that has been wired into our DNA. This installation calls on viewers to question where they stand on the idea of institutionalized racism and how they feel about the concept of 'White Privilege'.
Kimberly McKinnis, Fight or Flight?, 2016. Image courtesy of the artist
Purchase this artwork and others from the Call & Response exhibition online at MCD's Artists Marketplace.
ARTIST MARKETPLACE
Kimberly McKinnis is an artist, arts educator, and curator originally from Southern California. She holds a BFA in studio art with a concentration in glass and an MFA in Exhibition Design both from the California State University in Fullerton, California. In her personal studio practice, she utilizes a variety of media including silver, glass, video, and performance. Her work has been exhibited nationally and internationally including in publications such as the annual New Glass Review by the Corning Museum of Glass. She currently resides in Norfolk, Virginia, and is currently an adjunct faculty member at Old Dominion University, The Governor's School for the Arts, and is a member of the glass studio team at the Chrysler Museum of Art.