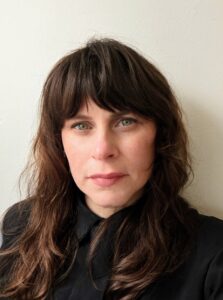 San Francisco, CA (April 1, 2022) – The Museum of Craft and Design (MCD) is pleased to announce Sarah Kermensky as the museum's new Development Director. Kermensky will oversee and build the museum's growing development department. Through strategic operational planning and leadership for the development team, she will be heading up the museum's fundraising campaigns and events, donor stewardship, and MCD's membership program. With over 15 years of professional experience, Kermensky has a rich history of working with nonprofits and spearheading fundraising strategies alongside being a passionate volunteer for the community.
Kermensky comments, "The Museum of Craft and Design's commitment to providing access to creativity is an asset to the Bay Area. I am excited to be joining a staff dedicated to bringing interactive programs to the local community and welcoming visitors from around the globe to experience the museum's engaging exhibitions."
Prior to joining MCD, she directed the fundraising efforts at Creative Growth Art Center in Oakland. She has also served as the Development Director at the Headlands Center for the Arts where she led fundraising strategy and implementation for an artist residency organization in Marin Headlands National Park. MCD's Executive Director, JoAnn Edwards notes, "We are thrilled to have Kermensky join our team and are confident her leadership skills, passion for the arts, and creative approaches will be an invaluable asset to MCD."
###
Media Contact:
Sarah Beth Rosales, Marketing and Communications Director, sbrosales@sfmcd.org
About the Museum of Craft and Design
The Museum of Craft and Design (MCD) is San Francisco's only museum devoted to craft and design. Founded in 2004, MCD showcases designers, makers, and artists through an exciting and distinctive series of craft and design-focused exhibitions and public programs. Through inspired exhibitions and experiential programs, MCD explores the creative process and current perspectives in craft and design. Learn more at sfmcd.org
Visitor Information
The Museum of Craft and Design is located at 2569 Third Street (between 22nd and 23rd), in the historic American Industrial Center in San Francisco's vibrant Dogpatch neighborhood. MCD is a North American Reciprocal Museum (NARM) member, a Blue Star Museum, and participates in Museums for All and ROAM. MCD offers free admission to our nation's active-duty military personnel, first responders, and their families.