San Francisco (April 14, 2022)–The Museum of Craft and Design is pleased to present Iris Eichenberg: Where Words Fail—the first mid-career survey of German artist Iris Eichenberg whose work addresses relevant issues such as identity, gender, and Heimat—a German word denoting the personal happiness and inner peace found upon reaching a safe haven. Where Words Fail will be on view from June 25 to October 30, 2022.
Having lived in Germany, the Netherlands, and now the United States, artist and educator Iris Eichenberg brings a critical international perspective to her jewelry and metalwork. Guest curated by  Davira S. Taragin, Where Words Fail is divided into four themed sections: Place, Self, Place & Self, and Community, each pulling from works across the artist's career, including new work, jewelry, objects, and installations.

Iris Eichenberg, Set of Three Brooches and Holder from the "Heimat" series, 2004. The Susan Grant Lewin Collection, Cooper Hewitt, Smithsonian Design Museum, acc. no. 2016-34- 23-a/s.
Photo courtesy of Cooper Hewitt, Smithsonian Design Museum / Photographer: Matt Flynn.
As the section titles suggest, Eichenberg's practice is guided by her unique multicultural perspective as well as a relentless interrogation of materiality in order to identify the craft process and combination of materials that best suit the idea at hand. Unlike other artists who have lived in multiple European capitals and choose to inject aspects of diverse culture into their works, Eichenberg's sojourn in America has made her increasingly aware of her "Germanness." However, this response to her heritage has always been complicated by a sense of guilt and responsibility for a past with deep cultural and historical implications. This is seen in artworks such as Eichenberg's poignant "Heimat" series, which celebrates the Germany of her grandmothers. Patchwork-quilt fields bordered by forests, the ancestral timber farmhouse filled with warm, welcoming evidence of hard-working women, and old family photographs provide recurring motifs for her works that range in scale.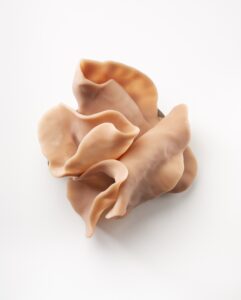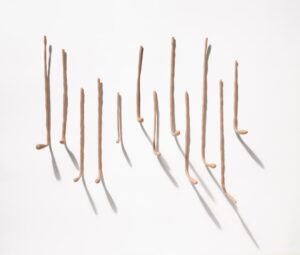 Iris Eichenberg, Untitled Flower (Brooch) from the "Flowers and Birds of Michigan" series, 2010 (left),
Finger (detail), 2013 (right). Photos by Tim Thayer.
In today's world with its outcry for social justice, Eichenberg's work is exceptionally relevant, embracing timely topics such as gender and queer identity, the search for a safe welcoming haven, and reality. As an emigrant and queer artist, Eichenberg defines herself in each of the unfamiliar environments she inhabits through ambiguous terms, relying on the sensorial language that is an outgrowth of the materials and processes she employs. Over the past twenty years, the artist increasingly has turned to more explicit images of women's sexual organs. While she has always employed banal forms, some of her more recent work introduces a new level of intense, albeit poetic physicality, which assumes even greater sensuality. This is present in works such as Finger (2013), a wall-mounted grouping of elongated polymer digits, that celebrates touch as well as her queer identity.​​
Guest Curator Davira S. Taragin states, "Over the past quarter-century, as an educator and prolific artist who lectures and conducts workshops worldwide, Eichenberg has been instrumental in molding and shaping art jewelry today. This exhibition will, hopefully, mark the beginning of much-needed scholarship on this seminal figure within late twentieth- and twenty-first-century art."
Assembled for the first time for West Coast audiences from international private and public collections and Eichenberg's extensive archive, Iris Eichenberg: Where Words Fail presents thirty-eight works that demonstrate Eichenberg's examination of self, including the impact of place and community. Learn more about Iris Eichenberg: Where Words Fail at sfmcd.org.
Iris Eichenberg: Where Words Fail is made possible, in part, by the Susan Beech Mid-Career Artist Grant from Art Jewelry Forum. This exhibition is generously supported by Goethe-Institut San Francisco, the Consulate General of the Federal Republic of Germany, and Barbara Waldman. The Museum of Craft and Design's exhibitions and programs are generously supported by Grants for the Arts. Additional support is provided by Hunter Douglas and Dorothy Saxe.
After showing at the Museum of Craft and Design, Where Words Fail will travel to the Lowe Art Museum at the University of Miami where it will be on view from October 19, 2023–January 14, 2024.
Top Image: Iris Eichenberg, Field, 2022. Photo by Tim Thayer.
 ###
Press Preview: Thursday, June 23, 2022, 5:00–7:00 PM. To RSVP or for more information and interview requests, contact Sarah Beth Rosales, Marketing and Communication Director, Museum of Craft and Design at sbrosales@sfmcd.org or 415.773.0303.
About Iris Eichenberg
Born and raised on a farm on the outskirts of Göttingen, Eichenberg initially followed expectations and trained as a nurse. After practicing for several years, she decided to pursue a career in art. Eichenberg moved to Amsterdam and, in 1988, enrolled at the Gerrit Rietveld Academie, where she found herself in an open, creatively tolerant environment surrounded by students, some of whom have become leaders of Dutch design, craft, and art. In her 1994 graduation exhibition, she set forth her mature aesthetic: silver and knitted wool jewelry that address the body and life. A trailblazer in the use of knitted yarn forms in jewelry, she subsequently became an adjunct professor at the Rietveld, then full professor, and head of its jewelry department from 2000 to 2007. In 2006 Eichenberg was named Artist-in-Residence at Cranbrook Academy of Art in Bloomfield Hills, Michigan, a position that she still holds today. She divided her time between the two schools until 2007 when she established her residency at Cranbrook.
Museums have been interested in Eichenberg's work since the beginning of her career.  In 1966, Amsterdam's Stedelijk Museum acquired its first object by this artist; it now owns numerous examples dating from her years in The Netherlands. Today, her work is included in such notable public collections as CODA Museum (Apeldoorn, the Netherlands), Cooper Hewitt, Smithsonian Design Museum (New York), Die Neue Sammlung (Munich), The Metropolitan Museum of Art (New York), the Museum of Arts and Design (New York), The Mint Museum (Charlotte, North Carolina), The Museum of Fine Arts Houston (Texas), the National Swiss Museum (Zurich), the Rijksmuseum (Amsterdam), and the Schmuckmuseum Pforzheim (Germany). Eichenberg has organized numerous exhibitions, lectured extensively, and conducted workshops worldwide, influencing countless international jewelry artists.
About Davira S. Taragin
Davira S. Taragin was formerly curator at the Detroit Institute of Arts and the Toledo Museum of Art, and director of exhibitions and programs at the Racine Art Museum. An independent curator, she currently serves as Consulting Curator to the Lowe Art Museum, University of Miami where she continues to help build and interpret its contemporary holdings of glass, ceramics, and art jewelry. Iris Eichenberg: Where Words Fail is one of more than fifty exhibitions that she has organized over her career. These shows include examinations of the work of such notables as Romare Bearden, Wendell Castle, Viola Frey, Linda MacNeil, and Albert Paley and the first scholarly investigation of Israeli jewelry for American audiences. Since the millennium, her focus has been on women artists. From 2011 to 2019, Taragin served as a consultant to Ball State University—first for its David Owsley Museum of Art on the reinstallation of its noteworthy decorative arts and design collection and then for its School of Art.
A prolific writer with a specialty in glass, Taragin has written extensively on the work of Dale Chihuly; her texts formed the basis of the first monograph in French on the artist which was published in 2013 by the Musée des beaux-arts de Montréal. Taragin has received commendation for several of her publications including Women's Tales: Four Leading Israeli Jewelers (2006) which was selected as a finalist for the ForeWord Book of the Year Award.
About the Museum of Craft and Design
The Museum of Craft and Design (MCD) is San Francisco's only museum devoted to craft and design. Founded in 2004, MCD showcases designers, makers, and artists through an exciting and distinctive series of craft and design-focused exhibitions and public programs. Through inspired exhibitions and experiential programs, MCD explores the creative process and current perspectives in craft and design. Learn more at sfmcd.org.
---
Visitor Information
The Museum of Craft and Design is open Wednesday to Saturday from 10:00 AM–5:00 PM and Sundays 12:00–5:00 PM. Masks will be required for all visitors and available at the front desk if needed. For more information on MCD's safety policies and to purchase tickets visit sfmcd.org/visit.
The Museum of Craft and Design is located at 2569 Third Street (between 22nd and 23rd), in the historic American Industrial Center in San Francisco's vibrant Dogpatch neighborhood. MCD is a North American Reciprocal Museum (NARM) member, a Blue Star Museum, and participates in Museums for All and ROAM. MCD offers free admission to our nation's active-duty military personnel, essential workers, first responders, and their families.