San Francisco, CA (February 3,  2021) – The Museum of Craft and Design presents Encoded Holidays: Gary Hutton and Tom Bonauro from February 26-August 25, 2021*. Over a thirty-year period from 1987-2017, Bay Area designers Gary Hutton and Tom Bonauro collaborated on annual holiday cards often referred to as "sculptures-in-a-box." Each year featured different, unexpected materials like graphite, aluminum, brushes, or glass, to establish a cryptic visual language embedded with mystery and wintery mood. The 2014 holiday card titled Maybe, with its unique use of brushes, and 2009's card, Seems to Appear, use of graphite, showcase the breadth of materials and textures Hutton and Bonauro worked with.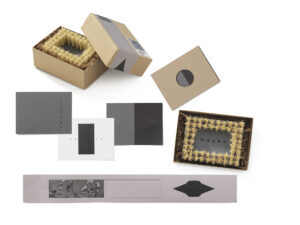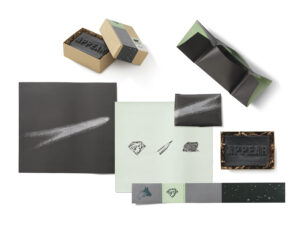 Hutton remarks, "The holiday cards are a direct link to my personal interests and professional work in concept and practice. They combine the thinking found in fine art painting and sculpture plus subject matter expertise in materials, craft, make, collaboration and design. The 2009 "Seems to Appear" card is a great example because it has a dark, formal beauty and also a function, (cast graphite means you can write with it)."
Encoded Holidays provides a unique opportunity for the public to see a retrospective of Hutton and Bonauro's collaboration that has otherwise been exclusive to clients, family, and friends. Featuring 30 pieces, one for each year of the project, the exhibition highlights how their work advances material innovations and graphic design virtuosity while managing to be joyful, expressive, and relentlessly new.
*A virtual 360º degree video recording of the exhibition will be available online at sfmcd.org in early March. MCD will open its galleries with Encoded Holidays when allowed in compliance with San Francisco's guidelines. Learn more at sfmcd.org
###
For more information and interview requests, contact Sarah Beth Rosales at [email protected] or 415.773.0303.
About Gary Hutton
Gary Hutton's subversively beautiful modern work and 40-year career, live at the intersection of interior design and fine art. Working with the formal rules of beauty and light, he delivers projects with clarity, lushness, emotion, and delight. Hutton is a son of California who is often referred to as the "dean of west coast design". Formally trained in studio arts and interior design, his small, artful practice creates relevant, trendsetting interiors coveted by tastemakers in many fields and by clients in search of curated living. Hutton's talent and engagement with process have always been admired by industry insiders. Recently, broader audiences are celebrating his creativity, innovation, problem-solving, and resolved interior design work. Client projects vary from small city apartments to multi-year new construction. Hutton's practice has the unique experience in evolving shelter challenges like advanced technology, entertainment, and security systems. Concurrently, his studio has high-level expertise in sustainability standards and design for off-the-grid living.
About Tom Bonauro
As an art director and graphic designer, Tom Bonauro has been employing his alternative viewpoints to an array of notable projects since 1979. These projects span the full range of visual design, from dreamlike objects in motion in his film loops for SFMOMA's memorable installation of Gnomon, to a sexy media campaign for Todd Oldham Jeans, to the conceptual program ID's for MTV's House of Style and the PBS show Life 360. Bonauro's work has been published in a variety of high-profile books and publications, including; New American Design, California Design, San Francisco Design, Typography Now, The Graphic Edge, and Wear Me: Fashion and Graphics Interaction, and in periodicals including ID, Print, Graphis, Paper, Vanity Fair, Interview, Communications Arts, Blueprint, and Dwell. His work has been exhibited at the British Design Museum, Pratt University, The Cooper Hewitt, and Quotidian Gallery among others. His work has taken him on a trajectory that merges his graphic, film, and three-dimensional design.
About the Museum of Craft and Design
The Museum of Craft and Design (MCD) is San Francisco's only museum devoted to craft and design. Founded in 2004, MCD showcases designers, makers, and artists through an exciting and distinctive series of craft and design-focused exhibitions and public programs. As a non-collecting institution, the museum actively collaborates with artists, designers, museums, and universities, as well as design venues and practitioners to create inspirational experiences in the world of craft and design for visitors of all ages. Learn more at sfmcd.org
Visitor Information
Aligning with local and federal guidelines, and social distancing recommendations for the containment of COVID-19, the Museum of Craft and Design is temporarily closed, but you are invited to Create and Connect with [email protected].
The Museum of Craft and Design is located at 2569 Third Street (between 22nd and 23rd), in the historic American Industrial Center in San Francisco's vibrant Dogpatch neighborhood. MCD is a North American Reciprocal Museum (NARM) member, a Blue Star Museum, and participates in Museums for All and ROAM. MCD offers free admission to our nation's active-duty military personnel, essential workers, first responders, and their families.