On view through March 20, 2016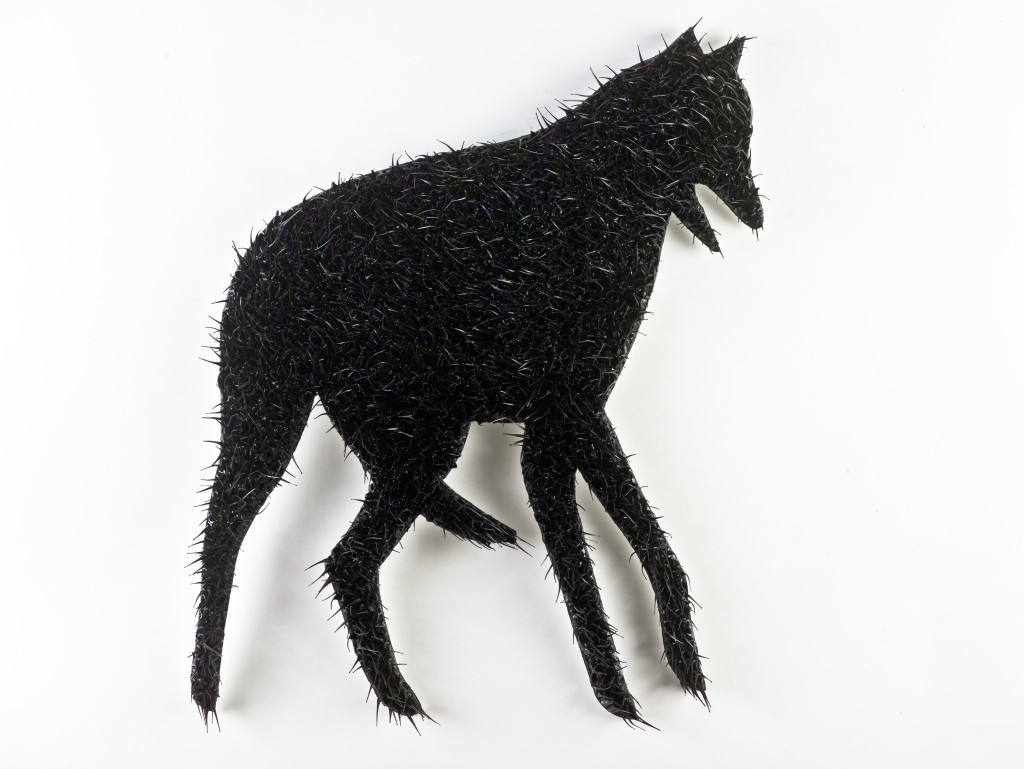 August 2015, San Francisco, CA –
The Museum of Craft and Design is pleased to feature the upcoming exhibition, Without Camouflage: Dafna Kaffeman and Silvia Levenson opening September 26, 2015. Kaffeman and Levenson both examine current key political and social issues, taking the medium of glass beyond its convention as a craft and loading it with meaning. Kaffeman and Levenson developed their aesthetics independent of one another, but they share a commonality: they maintain that broad, sweeping political and social turmoil are often the results of the actions of a few individuals. The mirrors they hold up to society sometimes reveal experiences that are painfully personal.
Represented primarily with recent work exemplifying her mature aesthetic, for this exhibition Dafna Kaffeman has created two new Wolves: spikes of lampworked glass that are adhered to aluminum with silicon to evoke the wolf's tactile skins. Said by the artist to "represent man's inner fears", the Wolves also serve as metaphors for the numerous players in the Arab-Israeli conflict. In addition to Wolves, Without Camouflage will feature Kaffeman's most recent, multipart minimalistic environments, consisting of framed expanses of felt decorated with hand-embroidered Arabic and Hebrew texts that the artist often extracts from the media or public demonstrations, and which she counterbalances with spare lampworked glass flora and insects. Kaffeman's intention is to remain objective, but to focus attention on the social and political complexities of life in Israel. Placed next to groupings of small drawings of flora and insects sewn on felt or rendered in pencil on paper, these boxed compositions of embroidered texts and drawings form environmental sculptures that are lyrical and poetic. For Kaffeman, however, there is a distinction between what is seen at first glance and the complex meaning revealed later after the viewer comprehends the text.
Kaffeman's focus on message rather than materiality is a direct outgrowth of her studies at Amsterdam's Gerrit Rietveld Academie, first in the 1990s as part of an exchange program with Jerusalem's Bezalel Academy of Arts and Design, and then in the early 2000s as a graduate student in its Sandberg Institute. Kaffeman now heads the Glass Studies program at Bezalel Academy of Arts.
Silvia Levenson's featured work brings together a series of recent installations that have never been previously exhibited as an ensemble. Raised in a politically active Russian-Jewish family, Levenson is a passionate crusader against oppression and an ardent feminist. In 1981, she and her family were forced to flee Argentina—then under the control of the military dictator Jorge Rafael Vela—for Italy, where she remained and became an independent Studio artist. Trained in graphic design in Argentina, Levenson was first introduced to glass through a series of workshops that she attended in Europe in the late 1980s.
Mentored by Louise Bourgeois, whose New York salons she attended during the first decade of this century, Levenson learned from the French-American sculptor the importance of using art work to relive, express, and hence, come to terms with both one's personal experiences and feelings and the dark histories of previous generations. Without Camouflage features a selection from Levenson's most recent series, Strange Little Girls, in which she juxtaposes life-size, cast-glass figures, clothed in hand-sewn dresses, with two-dimensional, kiln-formed glass panels of contrasting sizes. Through these works of art, Levenson explores her personal experiences with domestic violence and life as a child in politically unstable climes; more broadly, she addresses feelings of alienation and estrangement felt by many children today.
Like many artists working in glass today, both Kaffeman and Levensen stress message over medium; they find their needs best served by combining glass with other materials. It's significant, however, that Kaffeman and Levensen have largely resisted the contemporaneous international trend–especially prevalent in Israel–of using video for social and political commentary.
Without Camouflage was organized by the David Owsley Museum of Art, Ball State University in conjunction with The Marilyn K. Glick Center for Glass. Developed in partnership with
###
Exhibit Curator: Davira S. Taragin
Exhibit Design: Ted Cohen
Registrar and Curatorial Assistant: Ariel Zaccheo
The Museum of Craft and Design's exhibitions and programs generously supported by the Windgate Charitable Foundation and Grants for the Arts/San Francisco Hotel Tax Fund.
For more information or interviews contact: Wendy Norris, Norris Communications
(415) 307-3853 or wendy@norriscommunications.biz
About the Museum of Craft and Design
The mission of the Museum of Craft and Design is to be a beacon of innovation and inspiration, showcasing exceptional examples of contemporary work in the fields of craft and design by offering engaging exhibitions and public programs that change the way in which we see our modern lives.
2569 Third Street
Between 22nd and 23rd Streets, American Industrial Center,  San Francisco, CA