July 27–December 1, 2019
VIP & Press Preview | Friday, July 26, 2019
San Francisco, May 7, 2019– The Museum of Craft and Design is pleased to present Interior/Exterior opening on July 27, 2019, an exhibition that examines structures, "rooms" and objects, which are neither fully interior nor fully exterior. This exhibition exposes the permeability between the categories of public and private space. Looking beyond the neat closure of four walls, Interior/Exterior will feature site-specific installations, temporary structures and sculptures by Julie Alpert, Benjamin Armas and Ori Carino, Macon Reed, Kathy Sirico and Kaori Yamashita. 
Curator, Ariel Zaccheo, notes "This exhibition sheds light on the already punctured nature of privacy and interiority in built structures, and aims to show how identity and community shape (and are shaped by) our built environment."
Interior/Exterior becomes a portal that invites people to question their relationship to the spaces they inhabit, and positions structures and shelters as permeable, active bodies. Objects of the home–no longer just containers–become active shapers of our social space. San Francisco-based Kathy Sirico's work seeks to build radical empathy, weaving narratives of memory, desire and loss in a world threatened by climate catastrophe through experimental collage-based practices, while Julie Alpert's installations address nostalgia, decoration and our ideas of memory and experience by distorting the interior of a room using craft materials and hardware store supplies.
New York-based artists Benjamin Armas' and Ori Carino's work lays bare the bones of a wall in a minimized scale. Hinting at demolition, the wood is ragged and unfinished, and in some cases, burned. The hollowness and destruction of the object signals the end of its intended use as a social space, but also implies a new beginning, either in its abandonment or in its potential demolition. Armas' and Carino's work serves as a haunting visual emblem of gentrification, felt deeply in their home-state of New York and in San Francisco, as many rent-controlled buildings have burned, creating space for new development. San Francisco-based Kaori Yamashita follows on this theme with an installation using mortar, wood and plaster that undermines the physical imposition of a brick wall.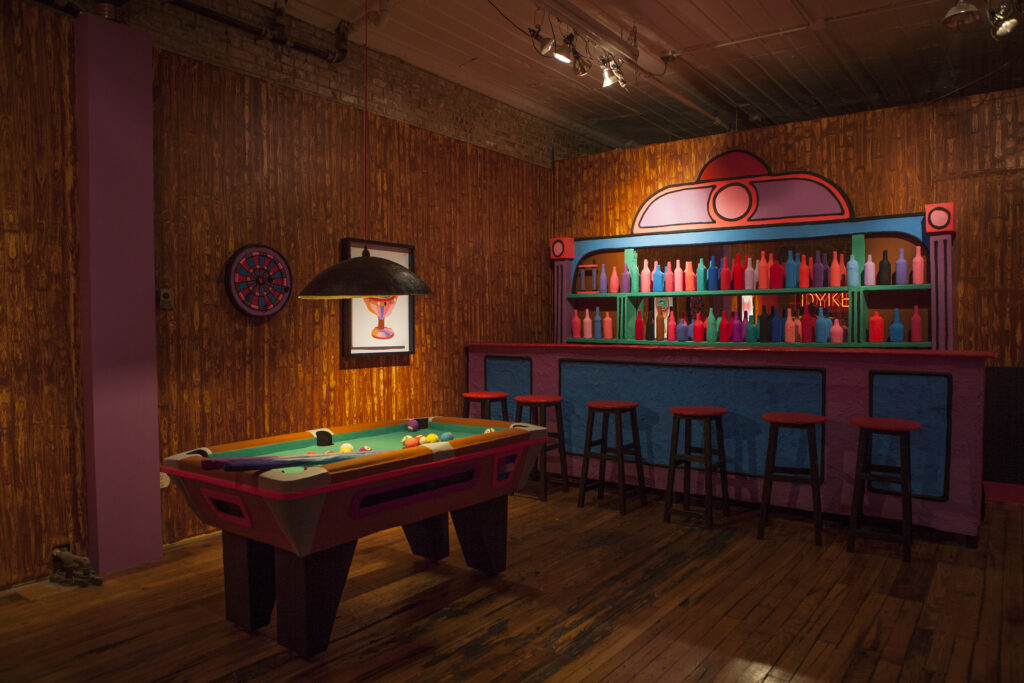 Macon Reed, Eulogy for a Dyke Bar, 2015/16, Mixed media
Additionally, created from simple materials, cardboard, plaster and wood, Massachusetts-based Macon Reed's Eulogy for the Dyke Bar is an immersive installation questioning why once-thriving queer female spaces are in decline, and the necessity of public gathering spaces in community formation. During the exhibition run her work will be aligned with programming that highlights the loss of queer female spaces in the Bay Area.
"MCD values creatives who are risk-takers driven to inspire the world. Interior/Exterior artists pose questions around public and private spaces, gentrification, memory and climate control supporting MCD's mission to be a welcoming place for spirited conversation and an experiential understanding of creative expression," states Executive Director, JoAnn Edwards.
###
VIP & Press Preview
July 26, 2019 | 5:30pm–7:00pm
Related Events
MCD Opening Day Curator Walkthrough with Ariel Zaccheo
July 27 | 12:00 PM–1:30 PM
Interior/Exterior exhibition checklist and images available here.

About the Artists
Julie Alpert
Julie Alpert was born and raised in the Washington, DC, suburbs and has lived in Seattle since 2006. She has a BA from the University of Maryland and an MFA from the University of Washington. She is the recipient of a Pollock-Krasner Award, two MacDowell Colony Fellowships, a Virginia Center for the Creative Arts Fellowship, two Artist Trust GAP grants, an Artist Trust Fellowship, The New Foundation Residency Program Grant, and The Roswell Artist in Residence Fellowship. In 2015, she was commissioned by the Seattle Art Fair to create a 54-foot installation at MadArt Studio. She is a 2017 Peripheral Vision Press Fellow with an upcoming critical essay by Lisa Volpe, Assistant Curator of Photography at Museum of Fine Arts, Houston.
Benjamin Armas
Benjamin Armas was born in Caracas, Venezuela, in 1985 and emigrated to New York in 1996. Armas comes from a family of noted artists, including his grandfather, writer and critic known as the master of the modern fable, Alfredo Armas Alfonzo. He studied Architecture at the Pratt Institute, Brooklyn, New York and has since worked on building projects, sculpture, photography and installations.
Ori Carino
Ori Carino was born in a loft and functioning art gallery on Houston Street in Manhattan, New York, in 1982, and raised among several pivotal artists of the 1980s Post-­Dada art movement of the Lower East Side. By 12, Carino was painting murals in the street. He went on to study painting and installation at the School of the Museum of Fine Arts, Boston, producing his first major Brick Sculpture in his Block 421 Project (2003). His work is in several important collections including the Pao Collection in Hong Kong and the Venet Collection in New York. In 2007, Carino met artist Benjamin Armas and began producing collaborative work in sculpture, installation, and painting.
Macon Reed
Macon Reed is an artist working in sculpture, installation, video, radio documentary, painting, and participatory projects. Her work has shown at venues including PULSE NYC Special Projects, BRIC Media Arts, ABC No Rio, The Kitchen, Art F City FAGallery, Chicago Cultural Center, Mana Contemporary, Roots & Culture, Museum of Contemporary Art Chicago, ICA Baltimore, and Athens Museum of Queer Arts in Greece. Reed completed her MFA at the University of Illinois at Chicago as a University Fellow in 2013 and received her BFA from Virginia Commonwealth University in 2007. Most recently Reed was an artist in residence at the Skowhegan School of Painting and Sculpture and a Research Fellow at Eyebeam Center for Art+Technology.
Kathy Sirico
Kathy Sirico is a San Francisco-based visual artist working at the intersection of sculpture, painting, textiles, and installation to examine narratives around climate change. Sirico holds an MFA from the San Francisco Art Institute and a Bachelor of Science from Skidmore College. She was a 2018 Artist-in-Residence at the Vermont Studio Center, a 2017 Artist-In-Residence at the Lucid Art Foundation, and a 2016 Artist-In-Residence at Recology. She is currently the Emerging Fellow at Gallery Route One. Her work has been exhibited throughout San Francisco, New York, and Chicago.
Kaori Yamashita
Based in the Bay Area, Yamashita graduated with a BA from Tama Art University in Tokyo, Japan. She has shown her work internationally, with solo exhibitions at Bass & Reiner, San Francisco, Künstlerhause Bethanien, Berlin, FEMTE, Tokyo, the Shionoe Museum of Art, Kagawa, and the Red Mill Gallery, Vermont, and group exhibitions in Taiwan, Scotland, Czech Republic, Korea and the United States. She has been awarded artist's residencies at the Künstlerhaus Bethanien in Berlin, ZK/U, Berlin, the Aomori Contemporary Art Centre, Japan, Uijae Art Studio in Gwangju, Korea and the Vermont Studio Center in Vermont, USA.
About Ariel Zaccheo
Ariel Zaccheo received an MA in Exhibition and Museum Studies from the San Francisco Art Institute in 2013 and a BA in Art History from the University of Utah in 2011. She currently works as the Assistant Curator at the Museum of Craft and Design. Ariel also is the co-curator of ATA Window Gallery, a volunteer-run exhibition space in the busy Mission district of San Francisco. Her research is focused on queer and transgressive visual art strategies, with a specific emphasis on craft and video as media for radical activism.
About the Museum of Craft and Design
The Museum of Craft and Design (MCD) is the only museum in San Francisco devoted to craft and design. Founded in 2004, the MCD showcases designers, makers and artists through an exciting and distinctive series of craft and design-focused exhibitions and public programs. As a non-collecting institution, the museum actively collaborates with artists, designers, museums and universities, as well as design venues and practitioners to create inspirational experiences in the world of craft and design for visitors of all ages.
Media Contact
Sarah Beth Rosales, Marketing and Communication Director, MCD
[email protected] or 415.773.0303
Upcoming Exhibitions

Dead Nuts: The Search for the Ultimate Machined Object
July 27–December 1, 2019
The machinist is among the most exacting craftsmen. At the extreme confluence of precision, accuracy, invention and design, machined objects continue to inspire makers because they represent the finest work and the purest forms. Dead Nuts will present objects that makers and enthusiasts themselves have proposed as "the ultimate machined object." The exhibition is guest curated by David Cole.
Survival Architecture
December 18, 2019–May 20, 2020
Art Works for Change invites visionary architects and artists to consider artistically interpretive solutions and prototypes for emergency shelter in a climate-constrained world. Large-scale and portable interactive architectural installations, models, photography and drawings impress the importance and sociocultural relevance of emergency and survival housing in the age of climate change. Through invention, artistic playfulness and innovation, artists will explore materials, technology, culture and social activism to create a pioneering exhibition. The exhibition is guest curated by Randy Jayne Rosenberg of ArtworksforChange.org. 
Linda Gass: and then this happened…
December 18, 2019–May 20, 2020
Bay Area multimedia artist Linda Gass creates stitched paintings and works in glass to question the relationship between humans and their environment. Informed and inspired by her extensive research on the impact of changing waterways, sea level rise, fire, and drought in California and the American West, Gass's work uses beauty to shed light on difficult issues.
Top Images: Benjamin Armas and Ori Carino, 12:47 am, 2018, acrylic paint and ash on canvas (left); 1:50 am, 2018, brick, mortar, wood, paint, paper, resin (right).