The Museum of Craft and Design showcases cutting-edge, custom motorcycles from around the globe
The Museum of Craft and Design (MCD) presents MOTO MMXX, opening August 22 and on view through January 3, 2020. Originally slated to open in May of 2020, MOTO MMXX was delayed due to the COVID-19 pandemic. MCD is implementing strict protective measures, including sanitation stations and directional signage to safely welcome visitors to view MOTO MMXX once the state mandate is lifted. Masks will be required by everyone, including children over two years old, to enter the museum. A virtual 360º recording of the exhibition is be available at sfmcd.org. MOTO MMXX is a cutting-edge custom motorcycle exhibition showcasing innovative, international builders, such as Jens vom Brauck (Germany), Jack Watkins (Poland), Jay Wen (United Kingdom), and Kurosu Kaichiroh (Japan); as well as photos, sketches, and renderings that reveal the creative process behind these unique builds.
The Museum of Craft and Design's Executive Director, JoAnn Edwards notes:
"MOTO MMXX teases us with a contemporary evolution of neat, sculptural packages of transportation, featuring hand-built motorcycles from an international A-list. Iconically California-driven, motorcycles embody West Coast culture as a source of identity, a way of life, a measure of freedom, and a way of embracing the ride of life. MOTO MMXX will no doubt spark imaginations and trigger a much needed diversion from our current troubled times."
Reflecting a broad range of techniques that builders employ, guest curator Hugo Eccles offers a glimpse behind the curtain of the custom motorcycle scene, allowing visitors the ability to experience both the finished 'design' and the 'craft' behind the glossy machines. Co-founder and director of Untitled Motorcycles, Eccles has built custom motorcycles for both private clients and for factory brands such as Ducati, Triumph, Yamaha, and Zero. Of the exhibition, Eccles comments:
"It's fascinating to see how different builders approach and execute their work. We are truly lucky to have a number of European builders involved. Some builds have never been exhibited in America before, and although they might be familiar to followers of motorcycle blogs, there's no replacement for seeing actual motorcycles 'in the metal' in person."
MOTO MMXX will challenge the audience's perception of the traditional motorcycle and highlight possible directions that the industry is going, can go, or should go. In choosing the builders, Eccles wanted to represent the spectrum of 'custom': from the wholly traditional handmade to computer-aided design and manufacturing, utilizing state-of-the-art technologies like computer-numerically-controlled (CNC) machining and 3D printing. Whether generated by hand or digitally, the motorcycles on display offer insight into contemporary and forward-thinking processes.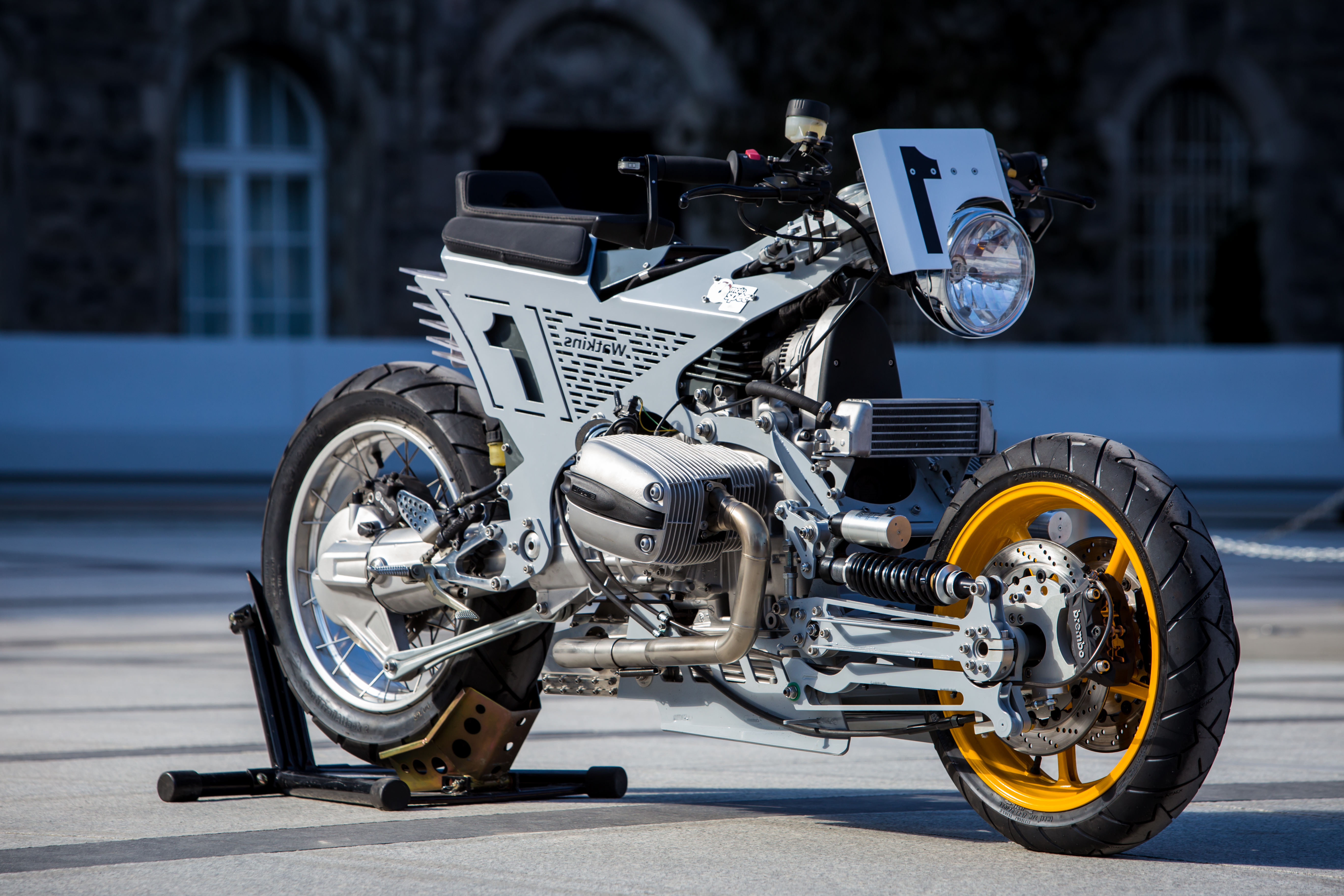 Jack Watkins, Watkins Motorworks, M001, 2018
One example of a custom builder utilizing state of the art technology is Watkins Motorworks' Jack Watkins, a Gdańsk University of Technology lecturer with a Ph.D. in mechanical design. Watkins designed and built the M001 utilizing his skills in 3D technology and was able to achieve some near-impossible tasks such as getting the engine mounting points right and manufacturing his own jig to weld everything together. Nearly everything on the M001 is meticulously custom made; it took four years just to design the front end of the M001. Powering this technological marvel is a BMW R 1150 RT engine from 2002.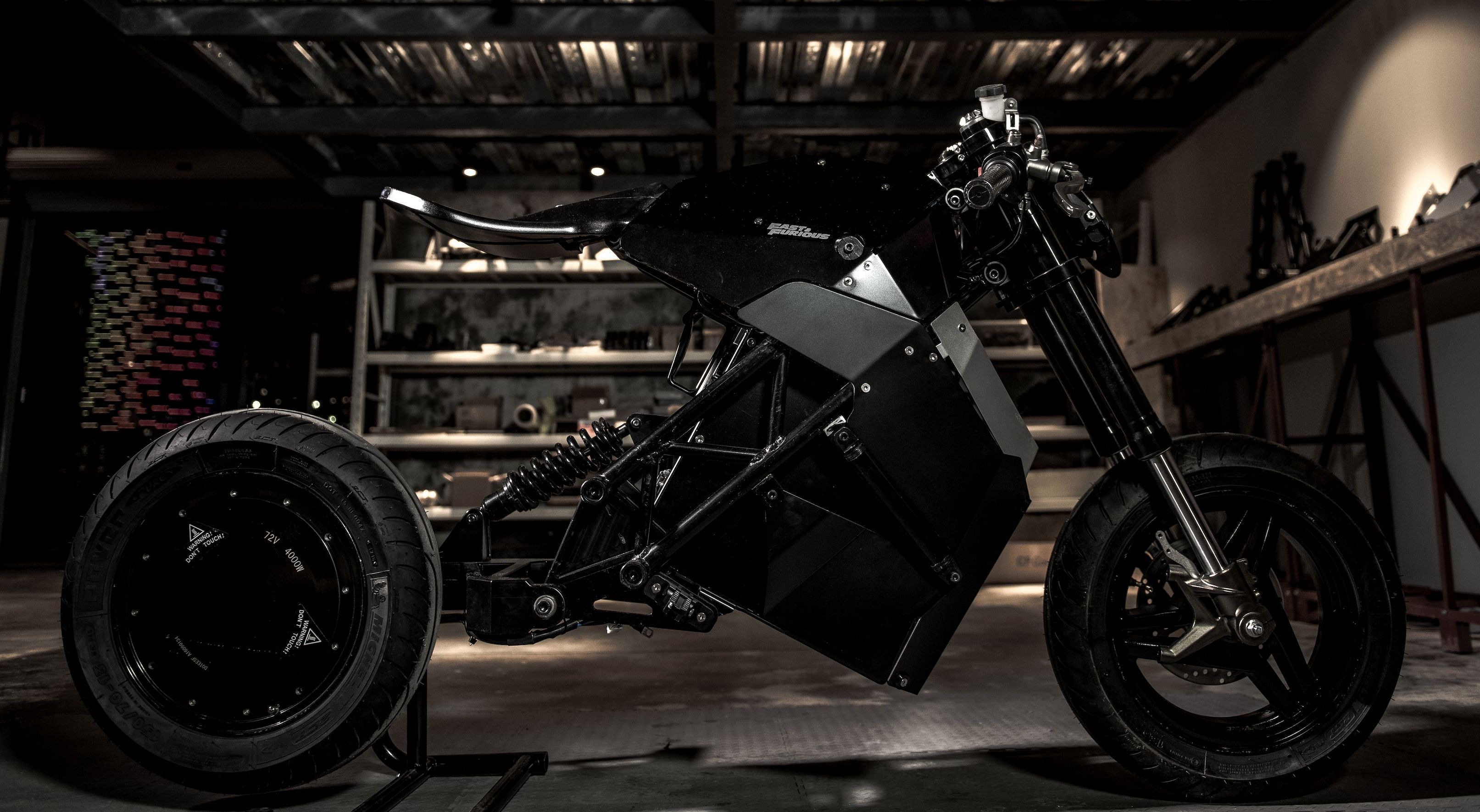 Jay Wen, ETT Industries, H1L (Fast and Furious), 2017
MOTO MMXX will feature extraordinary electric motorcycles such as the H1L (also known as the Fast and Furious motorcycle), created by UK based ETT Industries. Debuting for the first time in the US, the H1L was produced alongside Universal Pictures as a licensed product to support the film the Fate and the Furious (alternatively known as Fast and Furious 8). With the continual rise of electric motorcycles as a credible alternative to the internal combustion engine and never-ending advancements in technology, new opportunities have presented novel challenges for motorcycle builders. In describing the H1L, ETT states:
"With new technology comes new aesthetics and with that, a new language begins to evolve between rider and environment. H1L (a first of its kind, limited-edition electric motorbike) tears down what we know and boldly tells us what is coming, what to expect, and most importantly, where we are going."
Eccles has included an expansive array of builders in MOTO MMXX, including globally-acclaimed designer, Joey Ruiter who will showcase a brand new build, No_Moto. Ruiter is known for pushing through the boundaries of the norm and stripping back the traditional so radically, that the result is jaw-dropping. No_Moto is no exception.
MOTO MMXX will highlight twenty category-defying motorcycles from the past decade; each motorcycle is a one-off or a prototype for future batch runs. All the motorcycles presented are working and rideable, some built for speed, some for beauty, and some as a provocation. Each custom motorcycle in Moto MMXX provides visitors a new vision of what is possible in this industry.
Participating Builders
Alexandru 'Bibu' Maslin, DesmoBIBU; Jens vom Brauck, JvB-moto; Matt Chambers, Jordan Cornille & Jason Cormier, Curtiss Motorcycles; Alex Earle, Earle Motors; Hugo Eccles, Untitled Motorcycles; Aaron & Shaun Guardado, Suicide Machine Co.; Kurosu Kaichiroh, Cherry's Co.; Satya Kraus, Kraus Motor Co.; Ernest Lee, Combat Motors; Mike Mayberry, Ronin; Joey Ruiter, J.Ruiter; J. Shia, Madhouse Motors; Shinya Kimura, Chabott Engineering; Walt Siegl, Walt Siegl Motorcycles; Cristian Sosa, Sosa Metalworks; Kurt Walter, Icon 1000; Jack Watkins, Watkins Motorworks; Bill Webb, Huge Design; and Jay Wen & Jack Beresford, ETT
Top Image: Alex Maslin, desmoBIBU, FrankenBlast, 2017, Image courtesy of Grant Schwingle
###
Press/Influencer Tours by Appointment
Please RSVP to Sarah Beth Rosales at sbrosales@sfmcd.org for time slots and details regarding capacity.
Press Images, checklist, and additional information can be found here.
For more information and interview requests, contact Sarah Beth Rosales at sbrosales@sfmcd.org
Support of MOTO MMXX generously provided by BMW Motorcycles of San Francisco, San Francisco Harley-Davidson, SF Moto Motorcycles and Scooters in San Francisco, Scuderia West, and Marin Speed Shop.
The Museum of Craft and Design's exhibitions and programs are supported by the Windgate Charitable Foundation, Grants for the Arts, Robyn and John Horn, Hunter Douglas, and Dorothy Saxe.
About Hugo Eccles
Hugo Eccles is a British industrial designer and motorcycle builder renowned for his radical, future-forward designs. Eccles is co-founder and director of Untitled Motorcycles, a design company that creates and builds custom motorcycles for both private clients and for factory brands such as Ducati, Triumph, Yamaha, and Zero.
Over his twenty five year career as a professional industrial designer, Eccles led projects for a global clientele that included AT&T, American Express, Alessi, Hewlett Packard, LG, Honda, TAG Heuer, Ford, and Nike. A graduate of the prestigious Royal College of Art in London, Eccles got his start working at global design consultancy IDEO, and later with design superstar Ross Lovegrove. After six years of running his own eponymous studio in London, Eccles emigrated to the US in 2003 to become Global Director of Product Design at Fitch. From there, he went on to head the Arnell Group Innovation Lab in New York. In 2010, he returned to his native UK to work with Sir Terence Conran as MD of Studio Conran, and later Design Director at Native Design. Eccles returned to America in 2014 to establish Untitled Motorcycles in California, the epicenter of custom culture and design.
About the Museum of Craft and Design
The Museum of Craft and Design (MCD) is the only museum in San Francisco devoted to craft and design. Founded in 2004, MCD showcases designers, makers, and artists through an exciting and distinctive series of craft and design-focused exhibitions and public programs. As a non-collecting institution, the museum actively collaborates with artists, designers, museums, and universities, as well as design venues and practitioners to create inspirational experiences in the world of craft and design for visitors of all ages. Learn more at sfmcd.org.
Visitor Information
The Museum of Craft and Design has moved to a timed ticketing system in order to allow visitors to have the best experience viewing the exhibition while maintaining social distancing. Masks will be required for all visitors and available at the front desk if needed. The museum is open Wednesday to Saturday from 10:00 AM–5:00 PM and Sundays 12:00–5:00 PM. 10:00–11:00 AM tickets are dedicated to visitors who are of high-risk during Covid-19. More information on MCD's safety policies and to purchase timed tickets visit sfmcd.org/visit.
The Museum of Craft and Design is located at 2569 Third Street (between 22nd and 23rd), in the historic American Industrial Center in San Francisco's vibrant Dogpatch neighborhood. MCD is a North American Reciprocal Museum (NARM) member, a Blue Star Museum, and participates in Museums for All and ROAM. MCD offers free admission to our nation's active-duty military personnel, essential workers, first responders, and their families.