San Francisco, CA (November 9, 2021)– The Museum of Craft and Design (MCD) is honored to present, The Object in Its Place: As Designed by Ted Cohen, opening February 12 through June 5, 2022. This truly special exhibition celebrates the extraordinary life and career of the San Francisco Bay Area museum exhibition designer Theodore "Ted" Cohen and was primarily designed, rightfully so, by Cohen himself. Originally scheduled to open in Fall 2021, The Object in Its Place was postponed after Ted Cohen's passing this past summer. Guest curator Carol Covington; MCD's Executive Director, JoAnn Edwards; and lead preparator, Ken Edwards, collectively put the final touches on the exhibition to weave Cohen's design narrative and life story together.
As one of the Bay Area's most respected exhibition designers, Ted Cohen created inspirational museum, gallery, and private art environments for collectors for 62 years. The exhibition follows Cohen's published retrospective book The Object in Its Place: The Art of Exhibition Design by Ted Cohen, written by Signe Mayfield, and pays tribute to his life, career, and methods in exhibition design. Cohen handpicked each artwork for the exhibition, creating a selection from some of his favorite places, artists, and collectors giving visitors an inspiring glimpse into the aesthetic "worlds" he created over the years.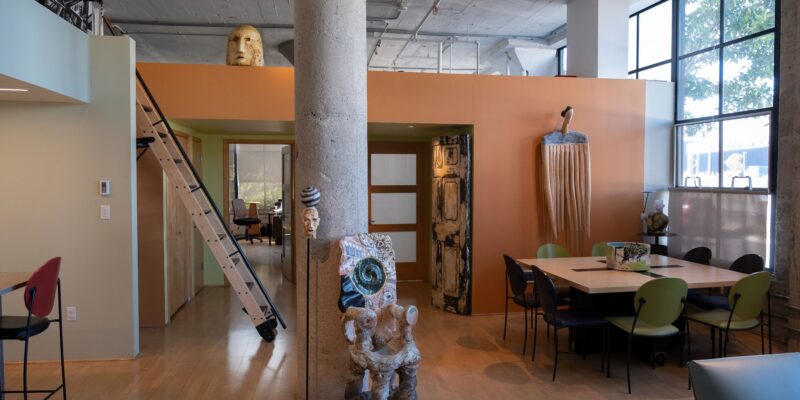 MCD's Executive Director JoAnn Edwards notes, "Ted joyfully and brilliantly designed almost every exhibition for MCD over the course of 17 years, setting the stage to honor art, craft, design, and the creative process. In doing so he brought life to objects and installations, transformed spaces, and nourished our experiences. Ted would re-imagine what a museum exhibition could be by transforming our galleries through his hand-drawn layouts and designs, making room for simultaneous exhibitions. We are humbled to transform our galleries this time around for Ted, a Bay Area treasure and legendary museum exhibition designer, and give him an exhibition of his own."
Culling from past museum exhibitions and private collections all designed by Cohen's discerning eye, this exhibition provides a visual shorthand through many of Cohen's designs. Visitors can get a glimpse into past designs and layouts alongside artworks from corresponding private collections and exhibitions such as the 2018 Anchors in Time: Dominic Di Mare exhibition at the Museum of Craft and Design. The tranquil exhibition design will be represented by images and Wave Rocker (1968), an original Dominic Di Mare sculpture. Additional artworks of wood, glass, fiber, and ceramics by celebrated artists, such as Robert Brady, Viola Frey, Mildred Howard, Clifford Rainey, Therman Statom, Peter Voulkos, Mary White, and many more will be on display.
Cohen's death marked the end of an amazing career, but his legacy will be honored vibrantly through this museum exhibition and tell his story through the very thing that held his passion for so many years. Learn more at sfmcd.org.
The Museum of Craft and Design's exhibitions and programs are generously supported by the Windgate Charitable Foundation and Grants for the Arts. Additional support is provided by Robyn and John Horn, Hunter Douglas, and Dorothy Saxe. The Object in Its Place: As Designed by Ted Cohen is supported by Leslie Selcow.
Above images (top to bottom): Dominic Di Mare, Anchors in Time: Dominic Di Mare, 2018, Museum of Craft and Design. Image courtesy of Henrik Kam. Donna and Ralph Briskin residence. Art consultant: Ted Cohen. Image courtesy of Frank McGrath.
---
A selection of press images can be found here. For more information and interview requests, contact Sarah Beth Rosales, Marketing and Communications Director (MCD) at [email protected].
About Ted Cohen
After graduating from CCA in 1952 on the GI bill, Ted designed hundreds of exhibitions for institutions across the country, including the Oakland Museum, the American Craft Museum (now Museum of Arts and Design) in New York, Stanford Children's Hospital and, of course, the Museum of Craft and Design. He re-imagined the in-home collections of many and was continually being called back to tweak this or that as collections expand, tastes change, or collectors (who become dear friends). Ted was a recipient of the Fulbright Scholarship for travel to New Zealand, and in 2000, the American Craft Council named him an Honorary Fellow, a distinction awarded to those who have made an outstanding contribution to the crafts in America.
About Carol Covington
Curator,  Carol Covington, decided to pursue a career in fine art and graphic design while attending college in Florence, Italy, and London, England through Florida State University where she received her degree in Art History & Visual Communications Design. Carol began her career as an Art Director, then Art Gallery Director, and later became an Independent Curator; during which time her company, Exhibits, produced over 100 exhibitions in public spaces and museums from 1990 to 2010. In addition, she has also been Curator and Producer of permanent, historical exhibitions for many corporations and institutions. Ted Cohen designed many exhibitions for which Carol was Curator and Carol collaborated with Ted to assist in the production of many design elements in his exhibitions over the past 26 years.
About the Museum of Craft and Design
The Museum of Craft and Design (MCD) is San Francisco's only museum devoted to craft and design. Founded in 2004, MCD showcases designers, makers, and artists through an exciting and distinctive series of craft and design-focused exhibitions and public programs. As a non-collecting institution, the museum actively collaborates with artists, designers, museums, and universities, as well as design venues and practitioners to create inspirational experiences in the world of craft and design for visitors of all ages. Learn more at sfmcd.org
---
Visitor Information
The Museum of Craft and Design is open Wednesday to Saturday from 10:00 AM–5:00 PM and Sundays 12:00–5:00 PM. Masks will be required for all visitors and available at the front desk if needed. For more information on MCD's safety policies and to purchase tickets visit sfmcd.org/visit.
The Museum of Craft and Design is located at 2569 Third Street (between 22nd and 23rd), in the historic American Industrial Center in San Francisco's vibrant Dogpatch neighborhood. MCD is a North American Reciprocal Museum (NARM) member, a Blue Star Museum, and participates in Museums for All and ROAM. MCD offers free admission to our nation's active-duty military personnel, essential workers, first responders, and their families.