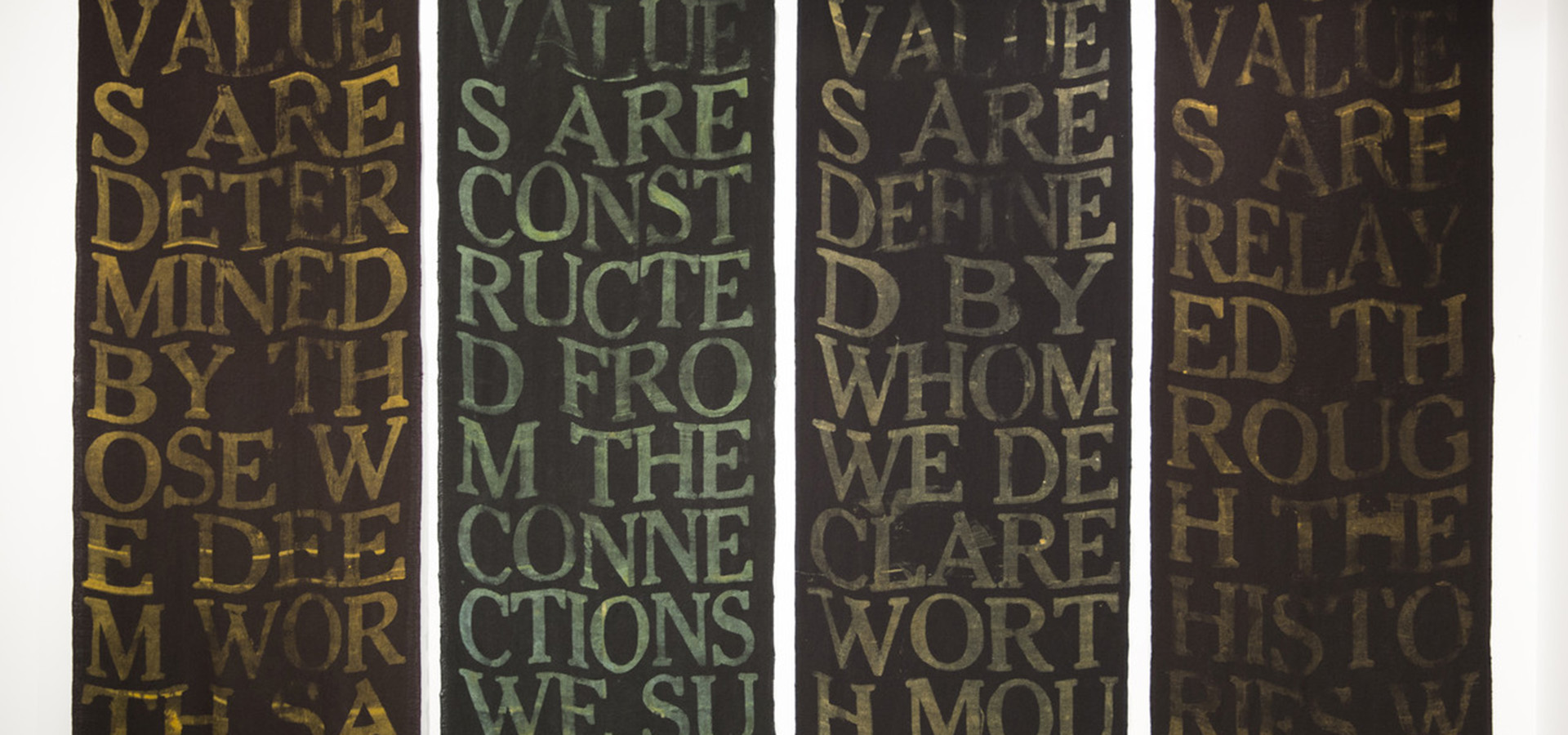 Thiox monoprints on hand-dyed, handwoven Tencel
Hannah Alex Younger's work begins and ends with language, both linguistic and symbolic. Her interdisciplinary, labor-intensive practice is rooted in the political power of words both institutional and populist to achieve poetics through didacticism. These pieces bear witness to traumatic histories, mediating the relation between the literal representation of the object and the pain it signifies, but only indirectly portray. Using the semiotics of form and composed political declarations as source material and visual compositions, Younger strip the language of its artifice of impartiality. Fracturing meaning through the intervention of material or audience, the pieces highlight the construction and fragility of the narratives we build. Her pieces are multifunctional: monumental installations or intimately haptic objects that also serve as interactive works to explore the tactility and semiotics of authority and protest, considering the items, locations, and actors necessary to create a political action.
Hannah Alex Younger, Relational Values, 2017. Image courtesy of artists
Alex Younger is a multidisciplinary artist who graduated Magna Cum Laude from Swarthmore College in 2012 and received her MFA from the School of the Art Institute of Chicago in 2018. She became a sexual assault activist in 2015 after the college adjudication of her case resulted in a punishment of 10 days of probation. Her work focuses on the systems and structures that maintain and support sexual violence, combining research-sourced texts and images with haptic surfaces and display to de-neutralize the sources and achieve poetics through the material's interaction with the didactic content it contains. Alex's work has been shown internationally and across the United States, including Chicago, New York City, St Louis, Philadelphia, Portugal, Ukraine, and Poland. She has taught through the School of the Art Institute of Chicago and Columbia College and is currently one of the first long-term residents with the Studios at Mass MoCA.