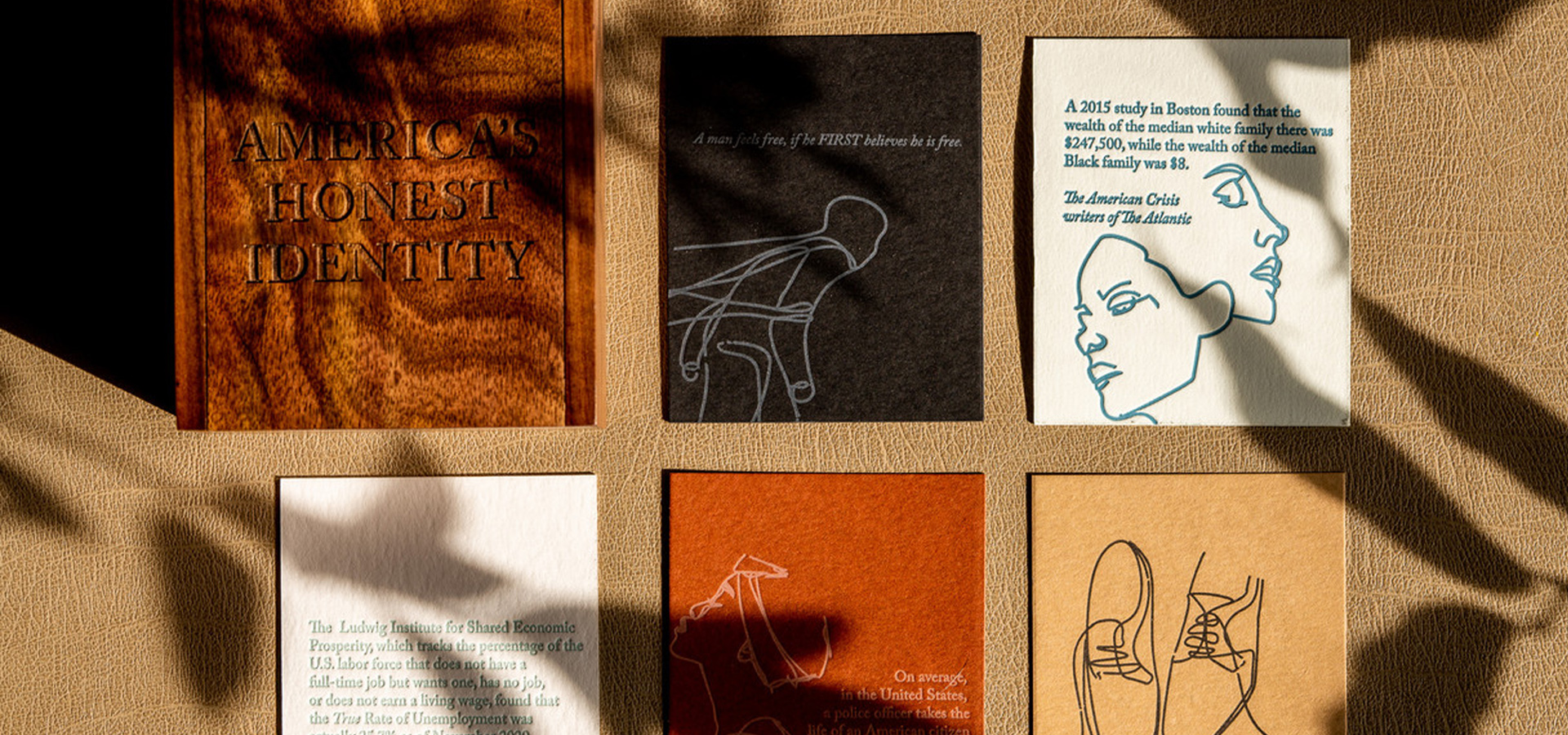 America's Honest Identity
Letterpress, relief printing, social practice
Shavon Morris specializes in a technique that combines heavy relief printmaking, and thoughtful messages, in an attempt to generate critical conversations and community change. Morris' work seeks to boldly personify and depict societal themes that go unaddressed. Recently, Morris completed a public art installation called Keep Third Ward Black. The project was centered on the idea of promised space. Visual messages were pasted throughout Houston's Historic Third Ward Community, (right next to newly developed condos in the area) in an effort to confront and showcase the truth behind "unmet historical promises," and today's reality of gentrification. Consequently, her recent work visually expresses the subconscious reality of being a black woman in an unaccepting white world. This has led her to explore themes centered on identity, faith, escapism, and place. As a result, through the use of debossing techniques, some of Morris' pieces are intentionally void of color, allowing the focus to solely become impression, form, and shadow. The scarcity of pigment also serves as a metaphor for the empty voids created by oppressively homogeneous spaces.
Shavon Morris, America's Honest Identity, 2020. Image courtesy of Crystal Golden, Denver
Purchase this artwork and others from the Call & Response exhibition online at MCD's Artists Marketplace.
ARTIST MARKETPLACE
Since childhood, Shavon Morris has always been interested in the art of words, earning 2nd place in Reading Rainbow's 1997 Young Writers and Illustrators Awards Contest. After graduating with an art degree from Columbia College Chicago in Creative Advertising, Shavon soon left the corporate marketing world in pursuit of something more meaningful. Eventually, she enrolled in Americorps, and became a certified educator, ultimately teaching fifth-graders English and Social Studies in northwest Houston, Texas. Today, she remains inspired by societal reform, literature, syntax, and the textural exploration of paper and printing. In January of 2021, Morris completed an Artist Residency with The Printing Museum Houston and was then featured in Shoutout HTX, a local magazine for newly practicing artists. Additionally, this fall she will participate as a 2021 Artist Fellow with the University of Houston & Project Row Houses' Socially Engaged Arts Fellowship.