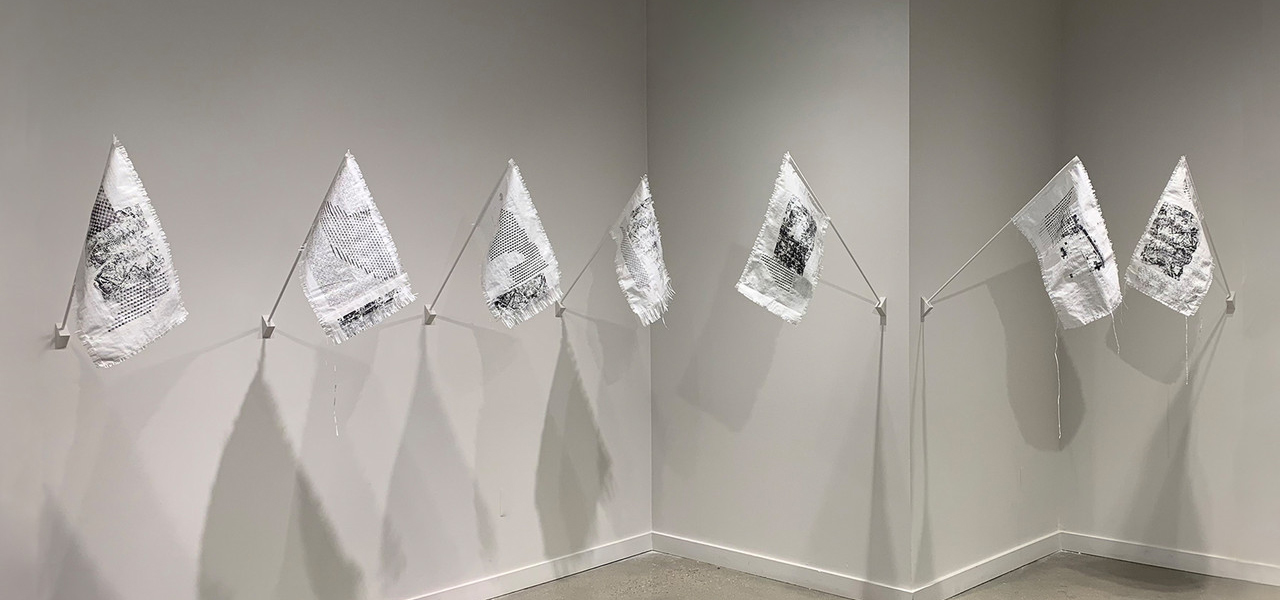 wherever you are is called Here
Screen-print, weaving, and maps on rice bags
Flags serve as symbols of nations. Also used to distinguish one group from another, they are icons of ideologies, the most powerful manifestations of nationalism and sectarianism. Made in collaboration with Sobia Ahmad's grandmother, Wherever you are is called Here reimagines the symbolism of flags and its relationship to place and home for immigrant, displaced, and exiled communities. It poses the question: What happens to political boundaries when our allegiances lie with ancestral imagination that knows no bounds? This is an installation of what she calls "counter-flags/non-flags/anti-flags."
Reflecting on the current anti-immigrant and anti-Muslim rhetoric in the U.S. and worldwide, these counter-flags are created from rice bags, woven maps, photos, and stories of home from Ahmad's grandmother. As they sewed the rice bags, she recorded her grandmother's stories of forced migration from India during the 1947 Partition and later to the U.S. The audio is played in the gallery along with the installation. Woven into the rice bags are maps and images of places encountered and remembered, real and imagined: from state lines and zip codes in the U.S. to the border of India and Pakistan. Interwoven and layered, these maps, places, and borders become faded and pixelated—alluding to rhythmic uncertainties of geography in relation to home.
While the material and weaving techniques pay homage to her ancestral history of rice farming and rituals, the form and content symbolically subvert the function of hyper-nationalism. This work imagines a future in which our existence is defined not by the nations we were born in or migrated to, but by ancestral wisdom and mythic imagination. These counter-flags/non-flags/anti-flags are symbols of belonging beyond sectarianism and of home defined not by borders, but by the richness of our personal and communal stories.
Sobia Ahmad, wherever you are is called Here, 2019. Image courtesy of Adam David Bencomo
Purchase this artwork and others from the Call & Response exhibition online at MCD's Artists Marketplace.
ARTIST MARKETPLACE
Born and raised in Pakistan, Sobia Ahmad moved to the U.S. at the age of fourteen. Her work has been exhibited internationally—including at the Herbert F. Johnson Museum of Art in New York, Queen Mary University in London, and the Women Filmmakers Festival at the Smithsonian American Art Museum in Washington DC. Her recent achievements include the Wherewithal Research Grant by the Washington Project for the Arts (2020), a socially-engaged fellowship at Halcyon Arts Lab (2019), and a solo exhibition at the Corcoran School of the Arts and Design in Washington DC (2019).