Amelia Toelke and Andrea G. Miller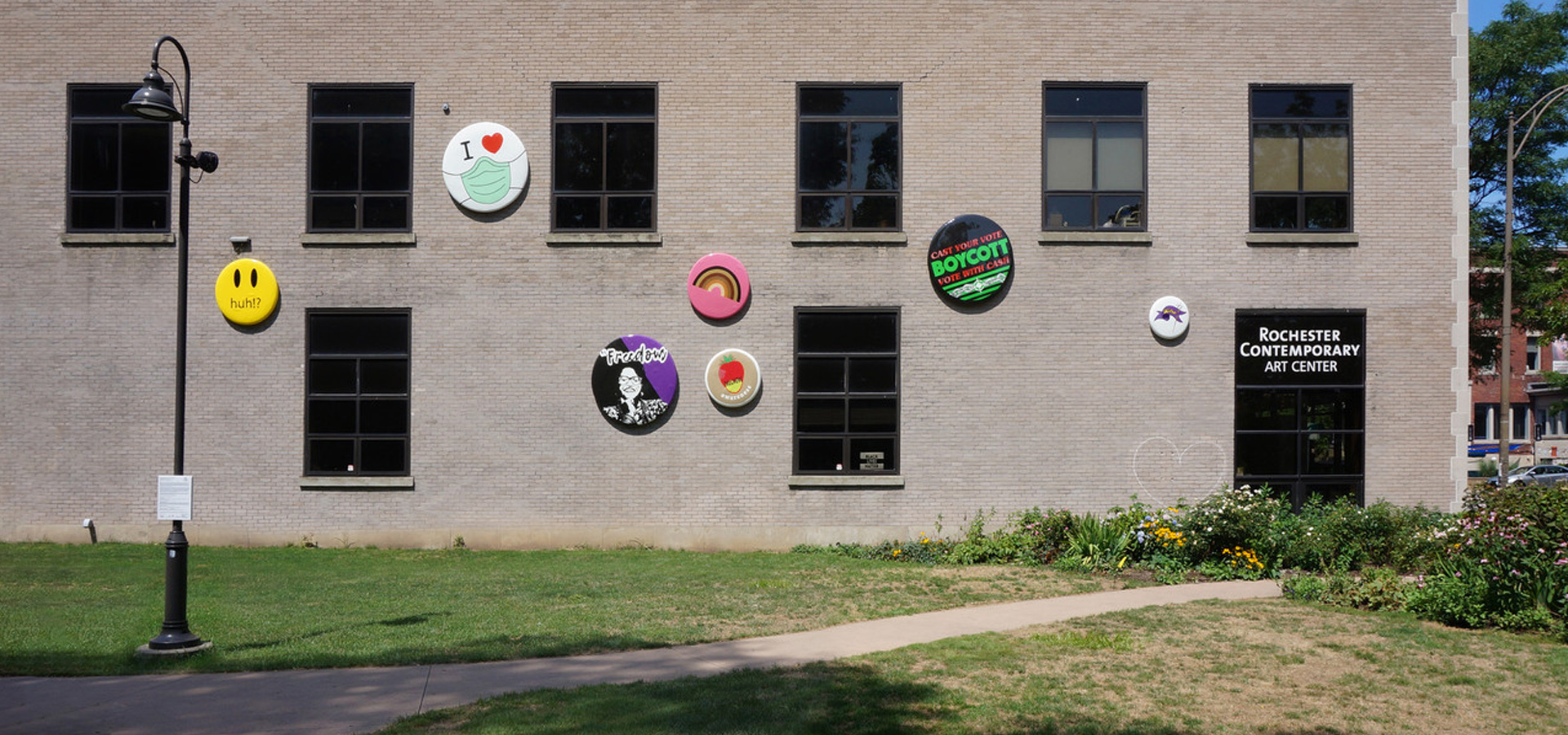 Underpin and Overcoat, RoCO
Upcycled Styrofoam, paint, fiberglass, resin, wood
Underpin and Overcoat debuted in Rochester, NY as a temporary public art installation spread across four sites around the city: The Rochester Contemporary Art Center, SewGreen Rochester, 17 Main Street, the Douglass Auditorium, and the Susan B. Anthony House. The piece takes the form of oversized pin-back buttons that adorn the exterior facades of buildings. Colorful, graphic, the button designs play with the imagery and text often associated with political buttons without expressing explicit ideological views. Instead, Underpin & Overcoat uses the format of the button to inspire, bring joy, and allows viewers to insert their own messages and ideals.
In addition to designing buttons themselves, they invited local Rochester artists Amanda Chestnut, Tania Day, Stephen Dorobiala/Thievin' Stephen, Erica Jae, Abiose Spriggs, and the Seneca Art & Culture Center at Ganondagan to contribute designs. This collaboration gave representation to the diverse community and experiences of those who live in the Rochester area. With this multiplicity of voices, the urban environment became a forum to discuss opposing views, ask questions, and find commonality in shared sentiments. In such divisive times, this work empowers viewers to consider one another, take action, and recognize their collective humanity.
As their personal signage, jewelry is inherently a tool for activism. It holds meaning beyond monetary and material value and we often use jewelry to reveal our unique styles, political positions, religious views, economic status, and cultural identities. In this way, jewelry is incredibly personal, and a fact that makes its relationship between wearer and viewer an extremely potent space—we wear jewelry both for ourselves and for others. Underpin and Overcoat exploits this particular aspect of jewelry. It presents city residents with jewelry-turned-signage and invites them to see the political as both personal and collective.
Amelia Toelke, Underpin and Overcoat, RoCO, 2020. Image courtesy of the artist
Amelia Toelke and Andrea G. Miller are visual artists and educators. Toelke's work engages the language of jewelry to explore the complex negotiation between identity, culture, and adornment. Her work activates the space between object and image, reality and representation, and through recurring imagery and tropes she seeks the point where humor and sentimentality meet. Miller's practice is influenced by the traditions of metalsmithing and sculpture, community outreach, and public education. Born and raised in the Midwest, Miller maintains an active studio practice outside of the classroom, and in 2017, she was awarded the Lilly Endowment's Teacher Creativity Fellowship.