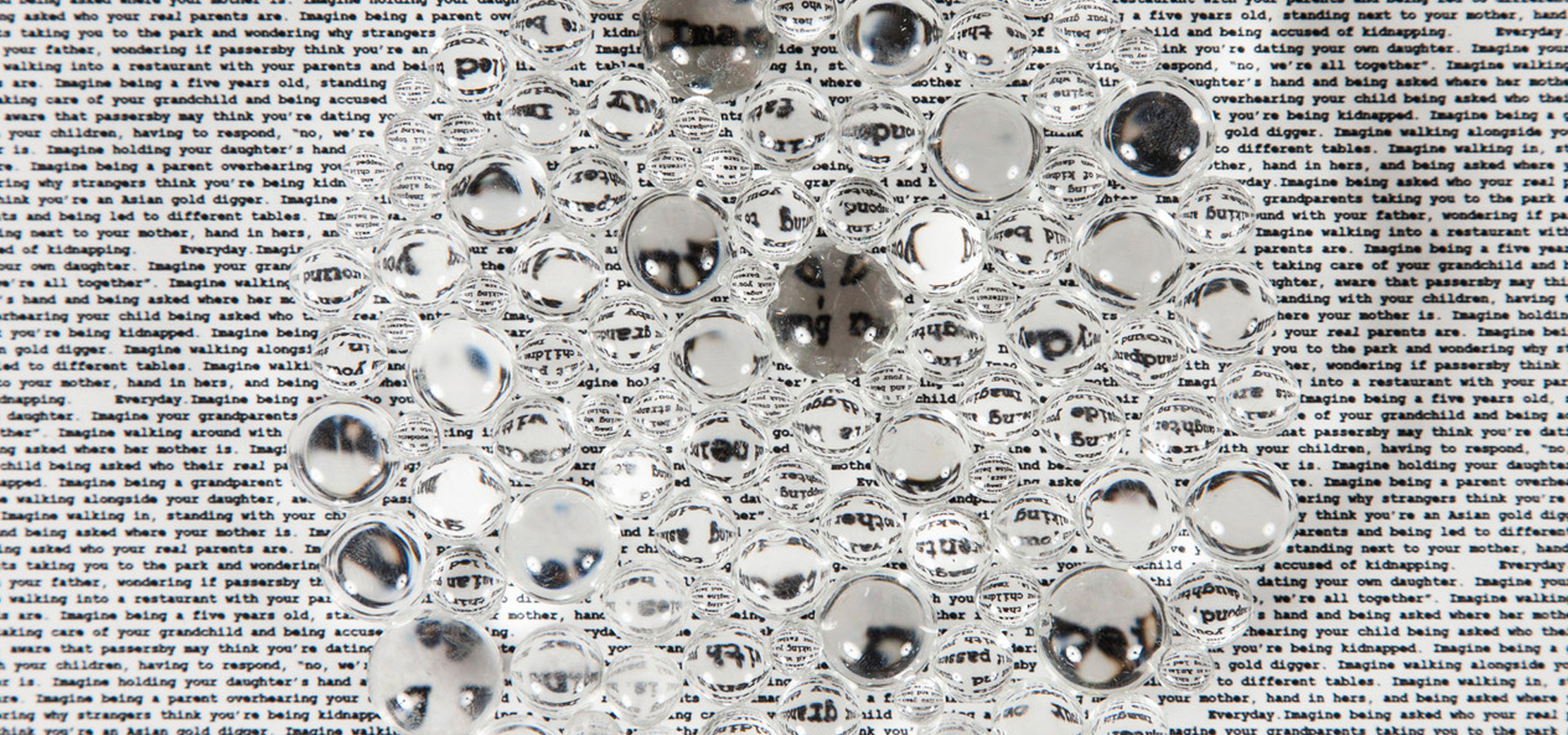 As an adopted Asian-American woman in a mixed-race family, Abegael Uffelman finds that there is a lot of ambiguity and unintentional micro-aggressions she faces every day. From childhood to adulthood, there have been countless moments of uncomfortability regarding other people questioning her race and family structure. She explores these moments of her past and allows the viewer to struggle with her to understand them. The text is purposefully small and extremely difficult to read. Lines and experiences like, "Imagine being asked who your real parents are. Imagine being a parent overhearing your child being asked who their real parents are. Imagine walking around with your father, wondering if passersby think you're an Asian gold digger. Imagine walking alongside your daughter, aware that passersby may think you're dating your own daughter." are repeated. Provided is a carefully crafted glass lens that magnifies the text, but simultaneously distorts it, causing the viewer to struggle to read the piece, even when "help" is given. This relationship between the viewer and the artwork reflects how Uffelman navigates through life with this distorted lens forced on her.
This work is very personal, however, she created it to start conversations using her direct experiences with racial identity and preconception. The personal can often be universal and giving viewers this interactive experience can help others relate to these issues at hand. This piece tells the viewer to put themselves in Uffelman's shoes and imagine what it's like to be burdened with these preconceived notions every day. Maybe next time they will think twice about questioning a stranger's race, language, family, etc.
Abegael Uffelman, Everyday, 2019. Image courtesy of Haigen Pearson
Purchase this artwork and others from the Call & Response exhibition online at MCD's Artists Marketplace.
ARTIST MARKETPLACE
As a glass and mixed media conceptual artist, Abegael Uffelman relates the physical qualities of her work to societal disparities. She analyzes concepts of social interaction, politics, identity, personal trauma, and memory through creating physical objects and installations that others can relate to. Uffelman earned her Bachelor of Fine Arts with a minor in art history from the Tyler School of Art, Temple University in 2019. Her work has been featured and awarded at the Glass Art Society International Student Exhibition (St. Petersburg, FL) and VisArts NextGen (Rockville, MD). In early 2020, she completed a visiting artist residency and taught at New Street Glass, Worcester Center for Craft in Worcester, MA. Currently, she works full time as an instructor/kiln assistant at Foci Minnesota Center for Glass Art in Minneapolis, MN and serves as the arts administration intern for The Glass Art Society.