An online exhibition showcasing how designers from around
the world are responding to the COVID-19 pandemic.
San Francisco, CA (June 8, 2020) –The Museum of Craft and Design presents Design by Distance, a virtual exhibition available to the public online through December 31, 2020. This exhibition showcases how designers from around the world are responding to the COVID-19 pandemic through the development of objects, garments, accessories, and space planning. Curated by Ginger Gregg Duggan and Judith Hoos Fox of c2-curatorsquared, Design by Distance highlights designers who are proposing new forms. These proposals, some meant for production, others speculative, offer commentary on the range of needs and emotions elicited by facing a pandemic. Humor and satire, albeit of a gallows sort, results in masks, emoji sets, and mechanisms for maintaining social distance, a term that has become part of a collective cultural zeitgeist nearly overnight.
Fox comments, "Now that we are armchair curators more than ever, we see proposals in online publications and sense in them a kind of inventive, optimistic, nimble, spirit that promises that the future, though different from what we have known during the last decades, will not be entirely dark."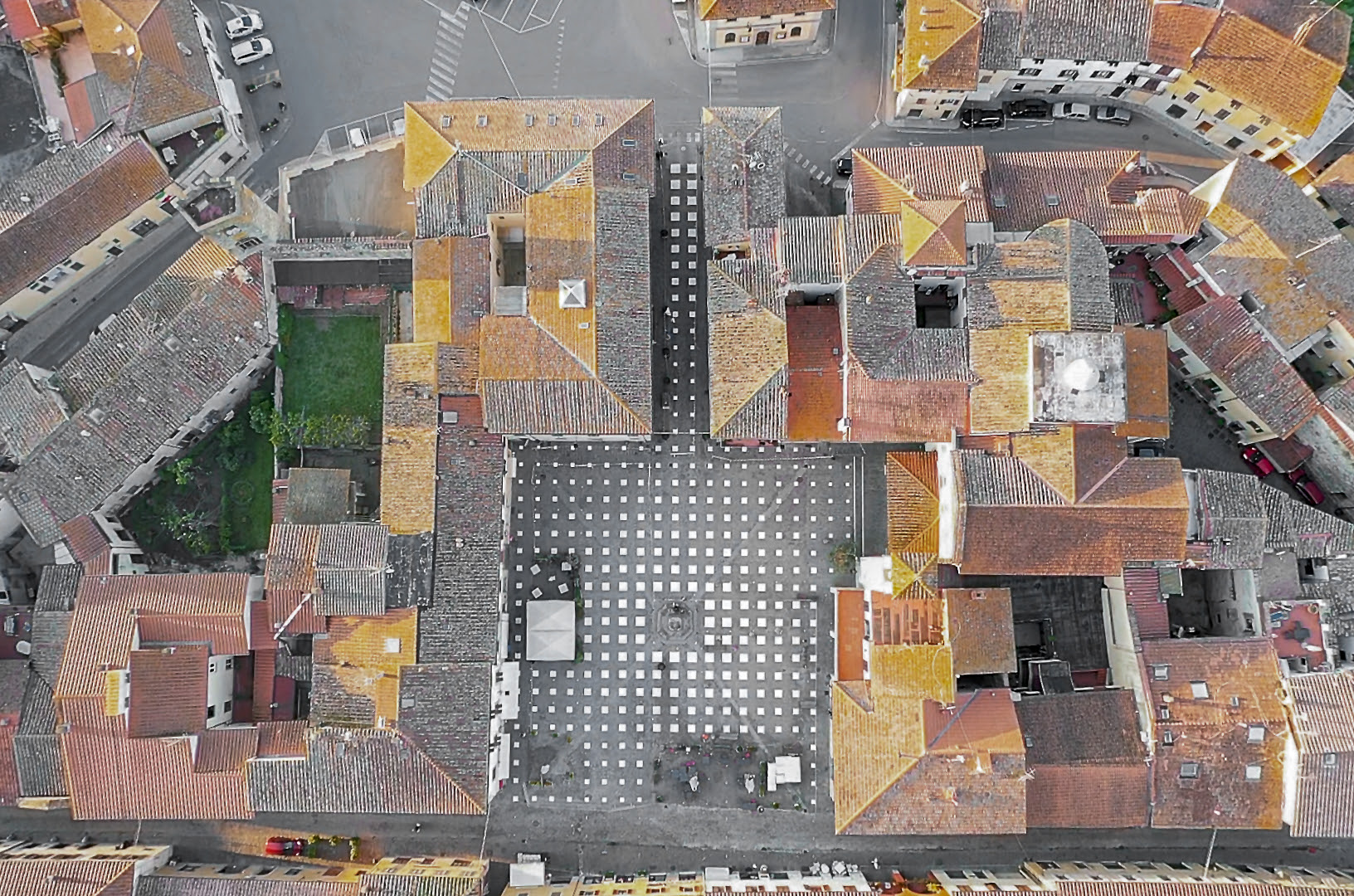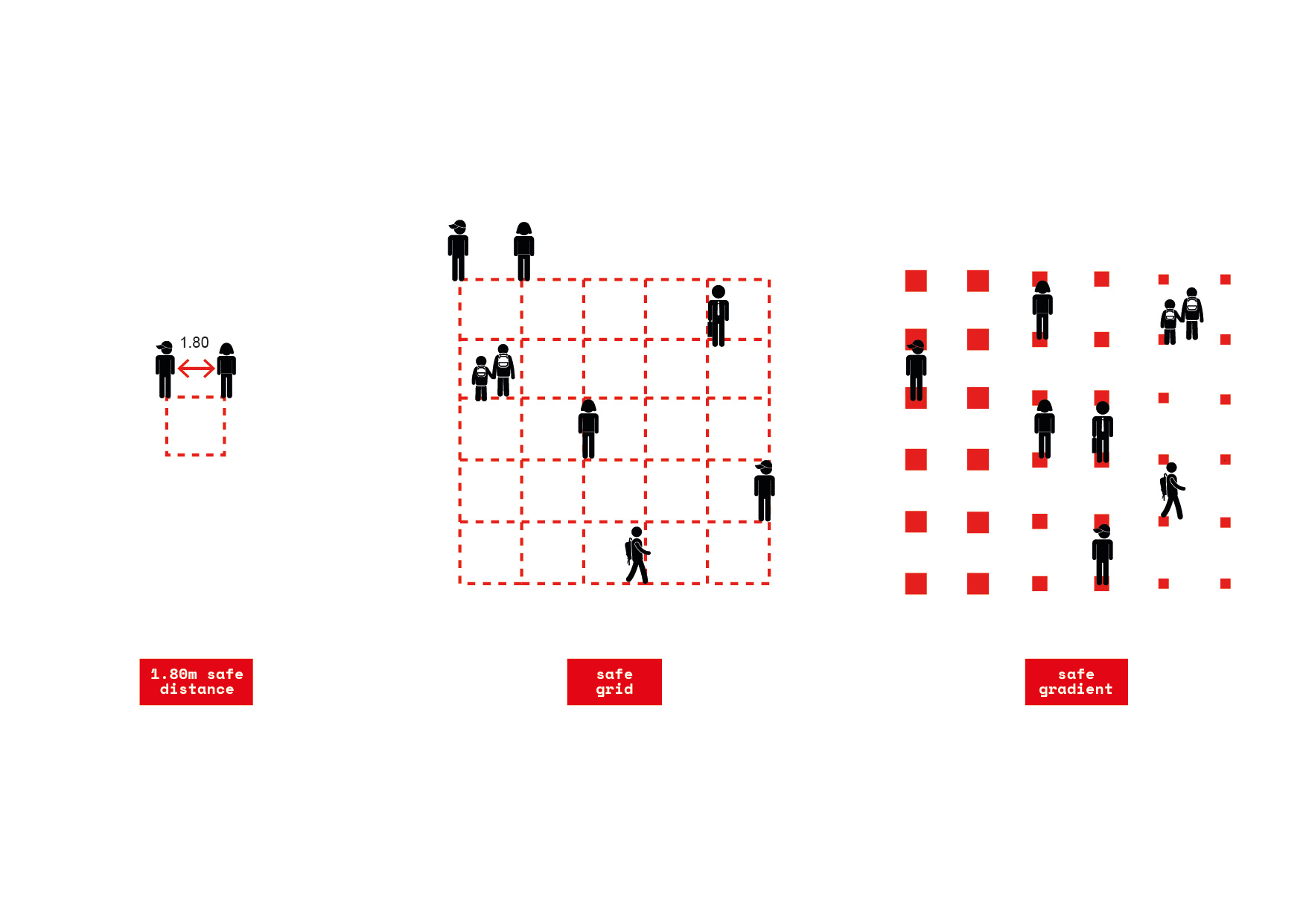 Caret Studio, Stodistance, 2020. Photograph by Francesco Noferini, courtesy of Caret Studio
One example from the array of proposals, which reaches into the realms of fashion and home furnishings, is Italy-based design firm Caret Studio. Their project, Stodistante, looks at social distancing and proposes a grid of squares to be painted with temporary paint on piazzas and other open spaces as Italy plans to reopen. Their 1.8-meter grid is designed in a gradient pattern and intensifies toward its center indicating safe passage across the space as well as locations for gatherings.
Included works may go into production and become part of our daily surroundings and wardrobes; others, though impractical, may ignite future proposals; and some will make us laugh. All these characteristics were very important as Duggan and Fox considered which designers to include in the exhibition. Above all, however, it is a novelty in form and concept that guided their selection. As we are in the midst of this pandemic and do not know what lies ahead as global conditions shift and evolve, the array of design work in this exhibition is by no means definitive.
Learn more about Design by Distance and access the exhibition at sfmcd.org/exhibitions.
Participating Designers:
Caret Studio, Italy; Chih Chiu, China; Andrea Ayala Closa, Spain; Paul Cocksedge, United Kingdom; Sun Dayong, China; Joe Doucet X Partners, United States/United Kingdom; Libero Rutilo and Ekaterina Shchetina, designlibero, Italy; Dutch Invertuals, Netherlands; Ying Gao, Canada/Switzerland; Christophe Gernigon, France; Ýr Jóhannsdóttir, Iceland; Livable/ Sep Verboom, Belgium; Umberto Menasci, Italy; multiply design, Hong Kong; Nendo, Chief Designer Oki Sato, Japan/Italy; Lucy+Jorge Orta, France; Plastique Fantastique, Germany; Max Siedentopf, Germany/Namibia/United Kingdom; Studio b Severin, Germany; Veronica Toppino, Italy/UK; &Walsh, United States; Kiran Zhu, China
###
Top Image: Sep Verboom, Livable Platform, 2020. Photography by Karen Eloot & Pieter Vanoverberghe.
Press Images Dropbox
For more information, and interview requests, contact Sarah Beth Rosales at sbrosales@sfmcd.org or 415.773.0303.
---
About c2-curatorsquared
c2, a curatorial partnership between Ginger Gregg Duggan and Judith Hoos Fox, develops exhibitions of international, cross-media contemporary art and design that explore current issues in culture. This independent curatorial partnership was formed in 2008 and has since worked with museums across the US and abroad.
About the Museum of Craft and Design
The Museum of Craft and Design (MCD) is San Francisco's only museum devoted to craft and design. Founded in 2004, MCD showcases designers, makers, and artists through an exciting and distinctive series of craft and design-focused exhibitions and public programs. As a non-collecting institution, the museum actively collaborates with artists, designers, museums, and universities, as well as design venues and practitioners to create inspirational experiences in the world of craft and design for visitors of all ages. Learn more at sfmcd.org
Visitor Information
Aligning with local and federal guidelines, and social distancing recommendations for the containment of COVID-19, the Museum of Craft and Design is temporarily closed, but you are invited to Create and Connect with MCD@Home.
The Museum of Craft and Design is located at 2569 Third Street (between 22nd and 23rd), in the historic American Industrial Center in San Francisco's vibrant Dogpatch neighborhood. MCD is a North American Reciprocal Museum (NARM) member, a Blue Star Museum and participates in ROAM. MCD offers free admission to our nation's active-duty military personnel and their families, including National Guard and Reserve year-round.