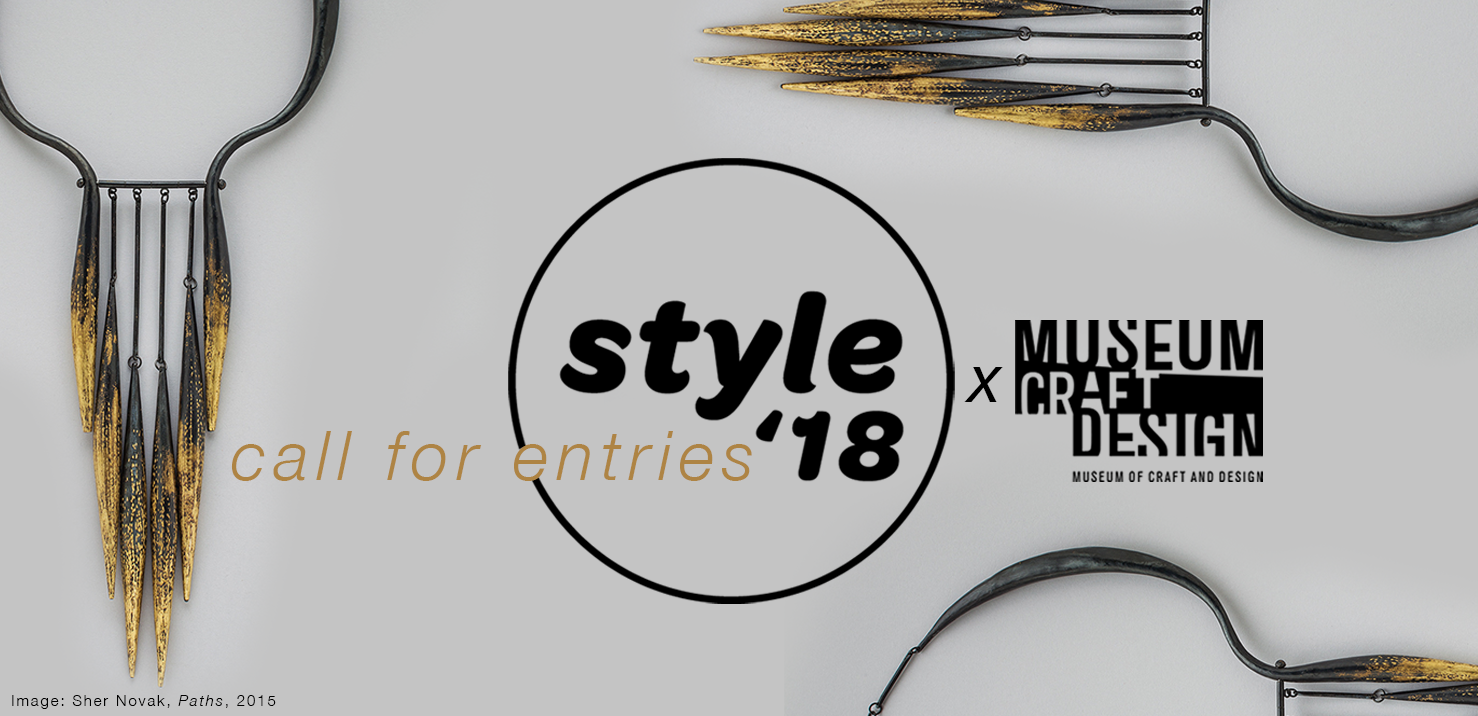 ABOUT STYLE' 18 
STYLE '18 will take place over two days on Saturday, November 3, 2018 (10:00 AM – 5:00 PM) and Sunday, November 4, 2018 (10:00 AM – 4:00 PM)) at the Museum of Craft and Design in San Francisco. Our esteemed jurors will hand select 36 national and international designers to participate in the 2018 event. Attendees can experience and purchase original pieces as well as meet the makers. All proceeds will go to support MCD's MakeArt education program for children and families in the Bay Area.

HOW TO ENTER
Please complete the online submission form at the link above. A $25 (USD) non-refundable entry fee will be charged per applicant at the time of submission. 
ELIGIBLE MEDIA
Apparel, jewelry and fashion accessories. 
PUBLICITY
The event will be publicized regionally and nationally. MCD/STYLE reserves the right to use photographs or digital images of any accepted work for the purpose of publicity.
BOOTH INFORMATION
Vendors will not be required to pay a booth fee. Each booth is 8′ x 8′ and includes one 6′ x 2.5′ table and 2 chairs. Garment racks and additional tables will be available for rent. Additional rental information and arrangements will be made upon selection.
SALES
On all transactions, vendors will receive 60% of net sales (less the credit card processing fee). You will be paid approximately (3) three weeks after the close of the event and will receive a full accounting of your transactions.
Additionally, STYLE operates a centralized cash register and accepts cash and all major debit and credit cards. This allows the artists to focus on meeting and styling their customers without the interference of having to ring up sales.
The percentage of sales also provides you with:

Digital media kit to use on your website and digital communications

(5) Five free admission vouchers to give to your best customers

Listing on the Museum website

Access to our event PR and promotion

Opportunity to inspire the next generation of artists!
IMPORTANT DATES AND DEADLINES
JUNE 8 (11:59 PM) | Deadline to submit applications
JULY 13 | Notifications sent to all applicants
JULY 27 | Signed and completed agreements due back to MCD from accepted vendors
FRI, NOV 2, 5 – 9 PM | Installation and setup
SAT, NOV 3, 10 AM – 5 PM | Day 1 of Style '18 event
SUN, NOV 4, 10 AM – 4 PM | Day 2 of Style '18 event
SUN, NOV 4, 4 – 8 PM | De-installation and breakdown of the event
Complimentary valet parking.

STYLE' 18 JURORS
DIANE MASTER
Diane Master has had a dynamic presence in the Bay Area craft and design scene as the founder of the prestigious Palo Alto Clay and Glass Festival, now in its 26th year. Additionally, Master was the manager and buyer for the Palo Alto Art Center Gallery Shop for nearly two decades. Stirred by an exhibition on indigo dying techniques at the PAAC and the countless inspiring craft artists she had encountered and worked with, Master launched the first STYLE as a one-off, art-to-wear textile and art jewelry event. STYLE's reputation for quality and inventiveness made it an instant success among artists and consumers alike and 12 years later it continues to thrive. This year, STYLE has taken a significant step forward through its association with the Museum of Craft and Design.
JOANN EDWARDS
JoAnn Edwards has overseen the Museum of Craft and Design's vision and growth since its founding in downtown San Francisco in 2003 to its relocation and acclaimed 2013 grand reopening in San Francisco's historic Dogpatch district. Through the development of highly celebrated and innovative exhibitions and MakeArt educational programs, the Museum of Craft and Design has grown under Edwards' leadership into an internationally recognized cultural institution that extends the institutional mission beyond its brick and mortar space.
For additional questions please contact Caroline Holley at cholley@sfmcd.org or 415.773.0303.