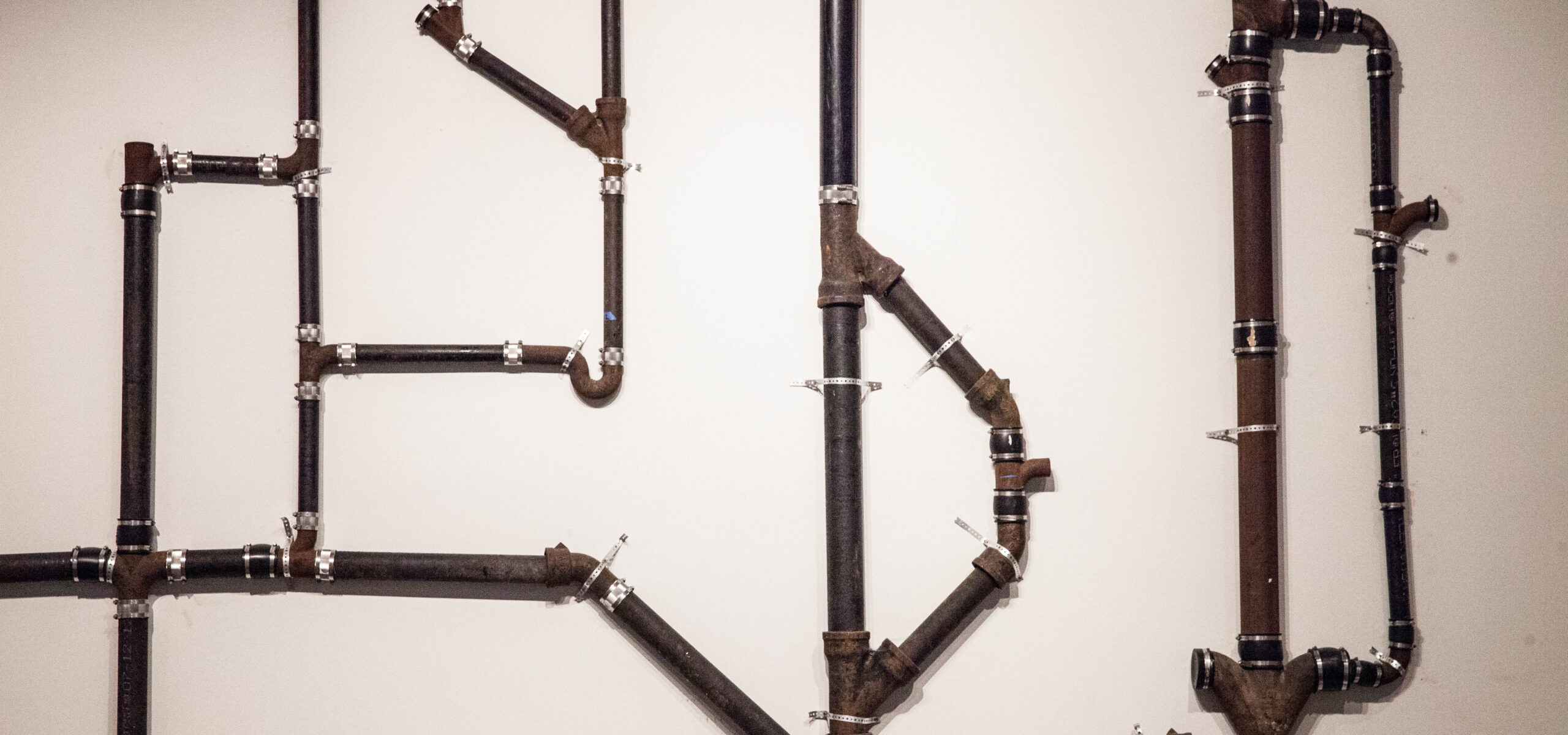 Anja Ulfeldt: Of Sound | Mind and Objects
August 20, 2016–January 22, 2017
Anja Ulfeldt's interactive, sound-based installation Domestic Infrastructure #2 is the second in a series of autobiographical sewer portraits compiled from configurations of drains found in the artist's own residence and local neighborhood. Exemplifying an aesthetic of necessity, Ulfeldt draws parallels between external infrastructures in the built environment and the circulatory and digestive systems of the human body. The installation includes an intermittent electric pump and an antique hand pump to activate recycled running water through the system.
Constructed from cast iron drainpipes, found objects, plumbing, and audio equipment, the installation exists as a life-size working model brought to life by the act of listening. Microphones and hydrophones placed inside the pipes amplify gurgles, drips, and flushing sounds of water moving in real-time. Intentionally attempted repairs in the form of shop rags tied around the joints are unable to stop water from leaking out and dripping down the sculpture, revealing a sense of anxiety through disrepair. Of Sound | Mind and Objects, Domestic Infrastructure #2 makes visible a system often hidden behind walls and amplifies the common sounds normally drowned out of everyday life.
Museum visitors are invited to use the antique hand pump to move water through the system and listen to the resulting live composition of sound.
Above Image: Anja Ulfeldt, Domestic Infrastructure, 2016. Image courtesy of the artist.
Anja Ulfeldt is a durational installation artist working primarily in sculpture and time-based media. Time and presence are the consistent themes of her work, particularly the presence of the audience. She is captivated by the idea of "the moment" as a period of undefined duration, but also as an event of great importance. Imbued with a sense of mortality that is both an examination and a celebration of contemporary life, Ulfeldt's work addresses psychological relationships to human infrastructure through visual art, sound, and durational experience.
The daughter of a painter and an engineer, Anja grew up in Berkeley, CA, and earned her BFA from California College of the Arts in 2001 and her MFA from Stanford University in 2014. She is a founding member and co-director of two artist run alternative spaces in northern California, one a pop-up contemporary gallery in Oakland and the other a floating venue for visual art, research, and performance built atop a converted potato barge operating in the Sacramento River Delta. She is a recipient of the Visions from the New California Award in 2010, the TSFF & SOMArts Murphy and Cadogan Contemporary Art Award in 2013, The AAF/Seebacher Prize for Fine Arts in 2014 and the Joan Mitchell Foundation Emerging Artist Finalist Award for 2015.