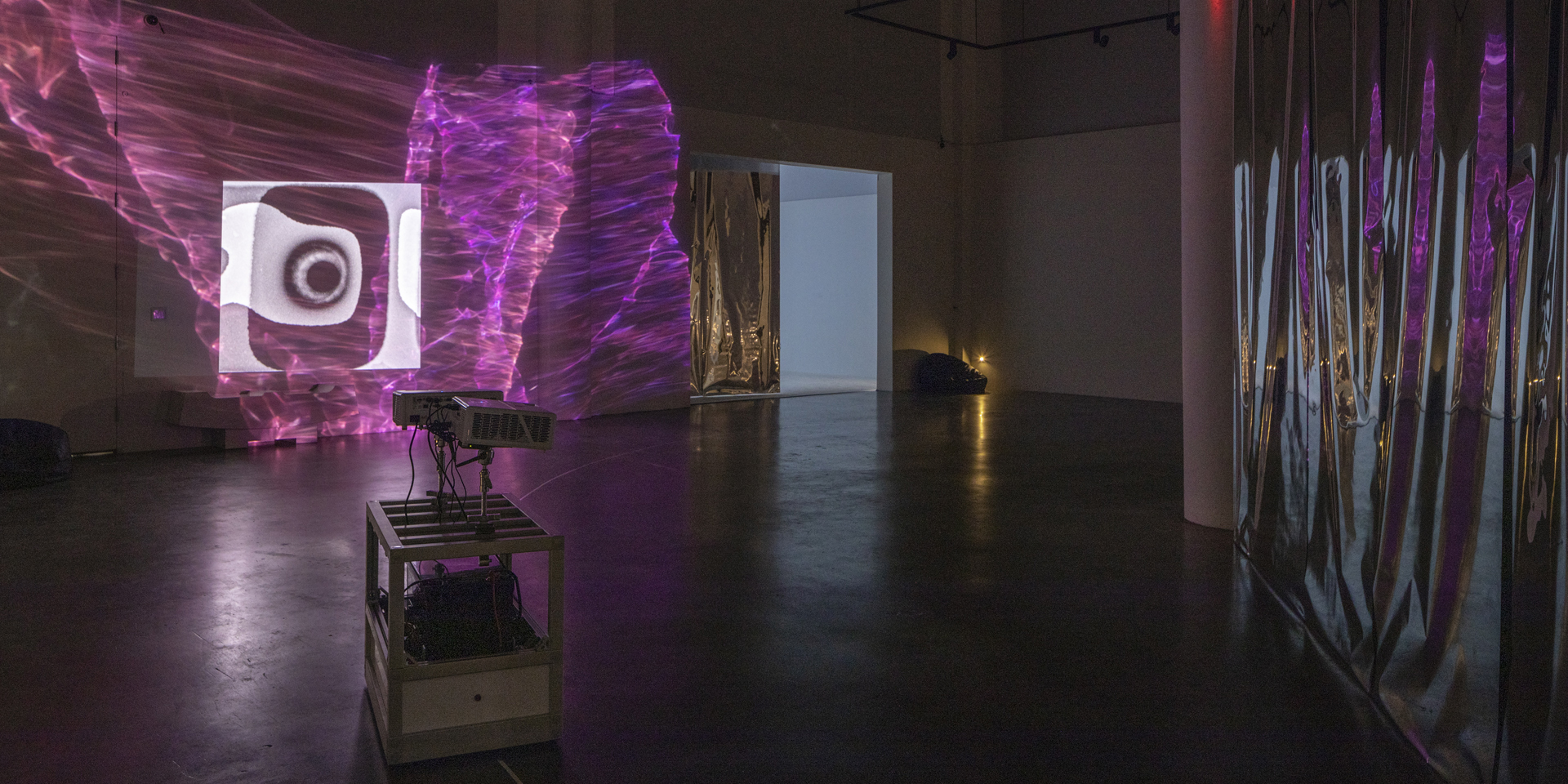 Bull.Miletic: Proxistant Vision
November 19, 2022 – March 19, 2023
Guest Curator:
Carol Covington
Bull.Miletic: Proxistant Vision is generously supported by MBC BioLabs.
This exhibition contains projected images with flashing lights and visual patterns that may trigger seizures to those with photosensitivity.
The world premiere of Bull.Miletic: Proxistant Vision is the culmination of an innovative, art and technology research project that explores the impact of new aerial imaging technologies and their influence and power in everyday life.
This seven-year endeavor by artist duo Synne Bull and Dragan Miletic identified the emergence of a new, visual paradigm for which they invented the descriptive words: proxistance (noun) and proxistant (adjective). Most prominently exemplified by Google Earth's "digital ride" from a global perspective to street level view, a proxistant vision names this combination of proximity and distance in a single, moving capture.
Custom designed for its premiere at the Museum of Craft and Design, this unique presentation features three robotic video installations: Ferriscope, Venetie 11111100110, and Zoom Blue Dot. Each artwork has its own focus, but all trace the multiple paths and genealogies of the "proxistant" (overview to detail) effect.
Now based in Oslo, Bull.Miletic considers San Francisco their true artistic "home base" in the United States. They were among the first graduates of the MFA New Genres department at the San Francisco Art Institute, were artists in residence at Headlands Center for the Arts, and have been honored to work with Anglim/Trimble Gallery since 2005.
Their Proxistant Vision research project was developed during Synne Tollerud Bull's Ph.D. Fellowship at the Faculty of Humanities, University of Oslo; and Dragan Miletic's Ph.D. Fellowship at the Trondheim Academy of Fine Art, Norwegian University of Science and Technology, including an Artists in Residence Program at the University of Chicago (Ferriscope) and UC Berkeley's inaugural Arts + Science Residency (Zoom Blue Dot).
Image: Bull.Miletic, Zoom Blue Dot (1992-2018), Museum of Craft and Design. Photo courtesy of Henrik Kam.
Bull.Miletic: Proxistant Vision, 2022, Museum of Craft and Design. Video by Spencer Cross.
360º VIRTUAL WALK-THROUGH
Bull.Miletic: Proxistant Vision, 2022, Museum of Craft and Design. Video by Spencer Cross.
Bull.Miletic is a collaborative artistic duo comprised of Synne Tollerud Bull and Dragan Miletic. Through their award-winning media installations, Bull.Miletic focuses on the transformative effects of media technologies and the way they infiltrate and take effect in the physical environment of everyday life. Bull.Miletic have shown internationally at venues including Venice Biennale, California Biennial, WRO Media Art Biennale, Wrocław, Yerba Buena Center for the Arts, San Francisco, German Architecture Museum, Frankfurt, Künstlerhaus Bethanien, Berlin, Pasadena Museum of California Art, Victorian Arts Center, Melbourne, Pacific Film Archive, Berkeley, Ulrich Museum of Art, Wichita, Henie Onstad Art Center, Høvikodden, and Museum of Contemporary Art, Belgrade. They received numerous grants and awards including the Excellence Award at the 2020 Japan Media Arts Festival for their work Ferriscope.
MCD welcomes the opportunity to work with you to craft sponsorship opportunities and benefits that suit your philanthropic and marketing goals. All sponsorship gifts are fully tax-deductible.
Learn more about our levels and benefits and become a sponsor today through our Exhibition Sponsorship form.
Questions? Contact our Development Team at giving@sfmcd.org.