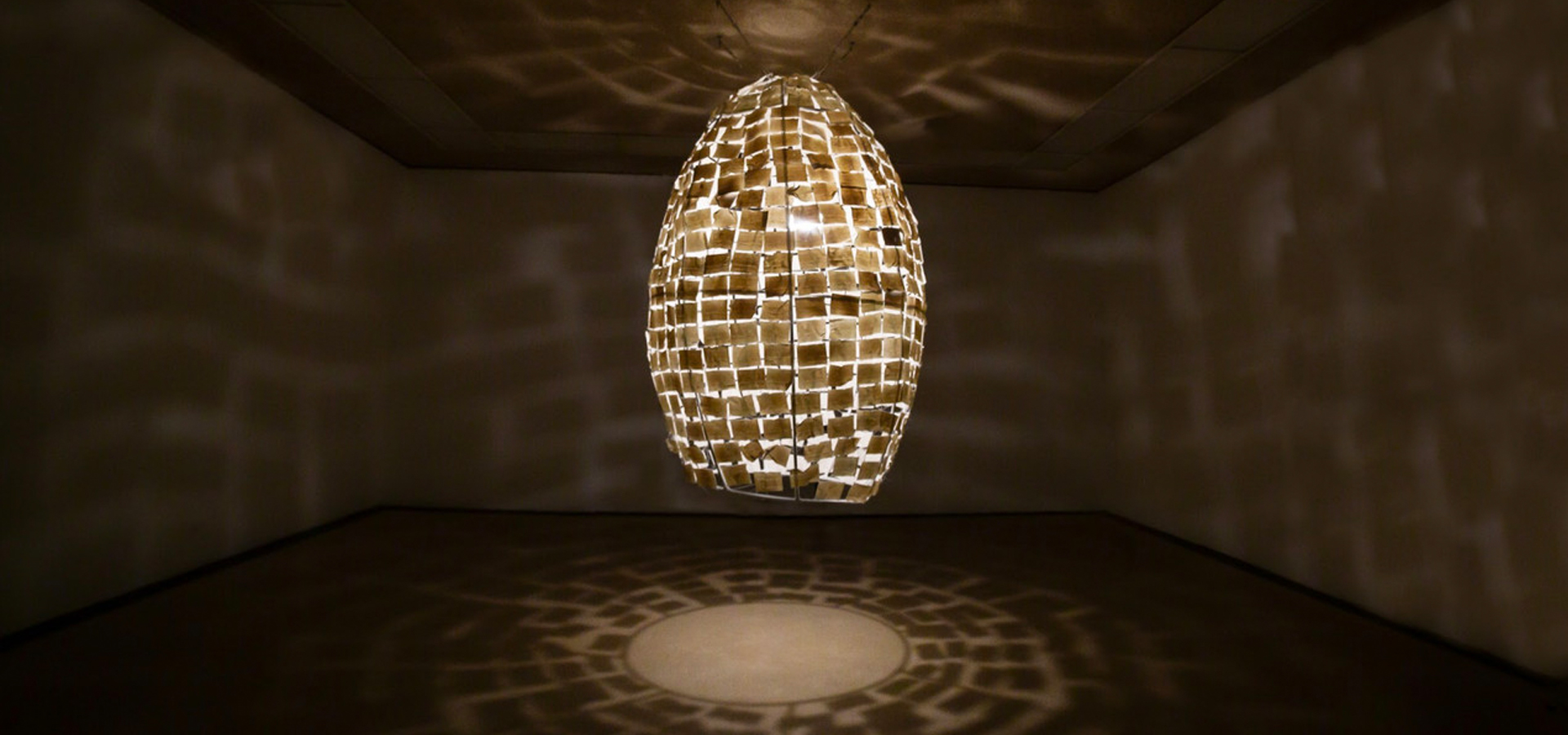 Porcelain, glaze, electric metal tubing, string
cocoon is an 8×4-foot sculpture spun from weeks in locked-down social isolation with silkworms for companions. This piece is made of 660 1-2mm thick porcelain surgical face masks with hand-mixed original Jun-inspired glaze. Creating "cocoon" was a moving meditation, processing violence Ahn Lee experienced as a Chinese person in relation to COVID. In January 2020, Lee and their sister took their mom to Hong Kong to visit their family for the Lunar New Year. It was the first time they had been back for the New Year since they immigrated–tickets were cheap due to the protests. Upon arrival, they wore masks in solidarity with the protestors, though masks were banned for this reason. When they left in February, masks were mandated for protection. Two weeks later, Lee returned to their job and experienced racial violence from coworkers and managers that was so intense that they were forced to quit. Lee's mom, who believes she would not survive COVID, refused to wear a mask for months for fear of being targeted for racial violence.
cocoon is a portal, one that leads Lee to a larger project of investigating the relationship between the silkworm and the Cantonese diaspora in the Bay Area beginning with the Mulberry Plantation. Today, "Mulberry's Market" remains in Piedmont as "a tribute" to The 1880's Plantation, which employed over 100 women. Mrs. Hittell, the leader of this venture, used the language of Yellow Peril to motivate sericulture: "the Chinese capitalist" as a threat to the American family and domesticity. Unfortunately, these anti-Chinese sentiments are much too familiar in our present. This body of work aims to create a present Chinese folklore that tells of a future where we can emerge from this moment of racial violence amidst a global pandemic with power and grace.
Ahn Lee, cocoon, 2020. Image courtesy of the artist
Purchase this artwork and others from the Call & Response exhibition online at MCD's Artists Marketplace.
ARTIST MARKETPLACE
Ahn Lee is a nonbinary, queer Cantonese artist and researcher. Their interdisciplinary practice of ceramics, media, and performance relies on a combined methodology of autobiographical re-making and re-historicizing the Cantonese diaspora. Lee explores their ancestral roots to Sunwui (Xinhui), a contested site of capitalism and imperialism through leveraging archival research, critical race, and gender theory. Lee is a first-year MFA student at UC Berkeley whose work has shown at Root Division, SF International Asian American Film Festival, Amsterdam Transgender Film Festival, and as an Emerging Artist with Disabilities and Creative Capital Artist Training Grant recipient at The Kennedy Center.