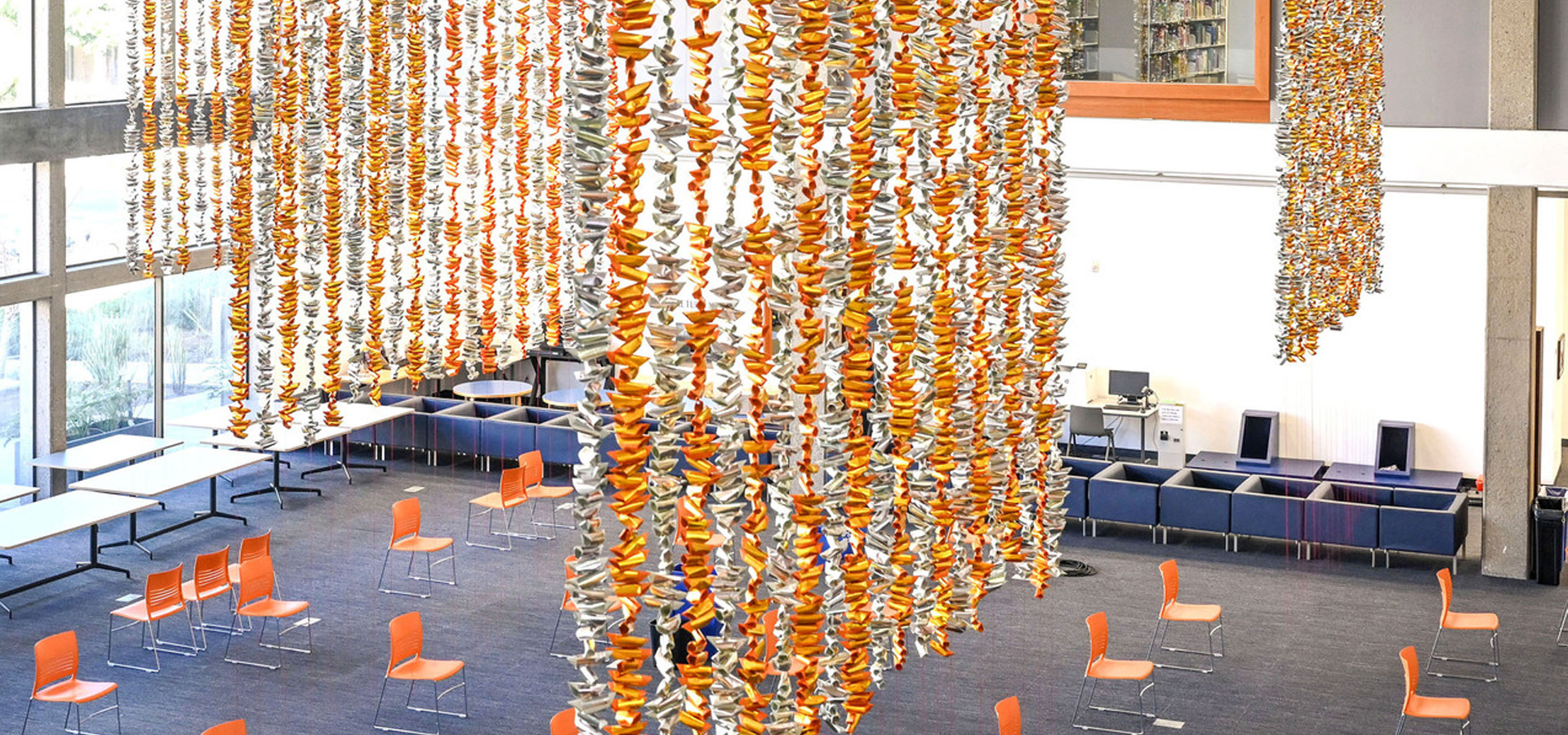 15,000 & More: A Plethora of Light and Darkness
Joss paper and red string
15,000 & More: A Plethora of Light and Darkness is an installation paying special tribute to the lives lost from COVID-19 in Los Angeles County. Borrowed from the Chinese concept of folding joss papers, also known as ghost money, into ingots as an offering to the deceased family members, I have achieved over 20,000 ingots with help from the community. This challenging yet significant experience brought me closer to reflect on the notion of my identity and raise social awareness to the public.
The art installation is created amid the coronavirus pandemic as a purpose to reflect what's going on in a time of crisis. The work involves the hands-on process; the production is repetitive and time-intensive but the folding process has a therapeutic effect on me. Employed not for its obsessive quantity, but to invoke social consciousness about the pandemic tragedy. With the act of folding a simple form of ingot, an abundance of silver and gold ingots are attached to strings and suspended from the ceiling to represent the lives lost from COVID-19 pandemic in Los Angeles County. The pandemic has led to a dramatic loss of human life worldwide and marks a remarkable toll on our community. This site-specific installation at Glendale Central Library serves as a shrine/temple—a place for individuals, residents of the city, and collectively as a nation to pause, reflect, pray, mourn, and honor the dead.
Connie DK Lane, 15,000 & More: A Plethora of Light and Darkness, 2021. Image courtesy of Nirav Solanki
Purchase this artwork and others from the Call & Response exhibition online at MCD's Artists Marketplace.
ARTIST MARKETPLACE
Connie DK Lane is a visual artist primarily focusing on mixed-media installation. Her work weaves the threads of history with strands of contemporary societal ideas, creating cultural metaphor and articulation built on personal and collaborative reflection with diverse communities in Los Angeles County.
Lane received both a B.F.A and M.F.A. from California State University, Long Beach, California. Through years of artistic practice, she has been fortunate to have her work presented extensively in Southern California and to receive some awards in the process. Born and grew up in Hong Kong, she currently lives and works in Seal Beach, California.