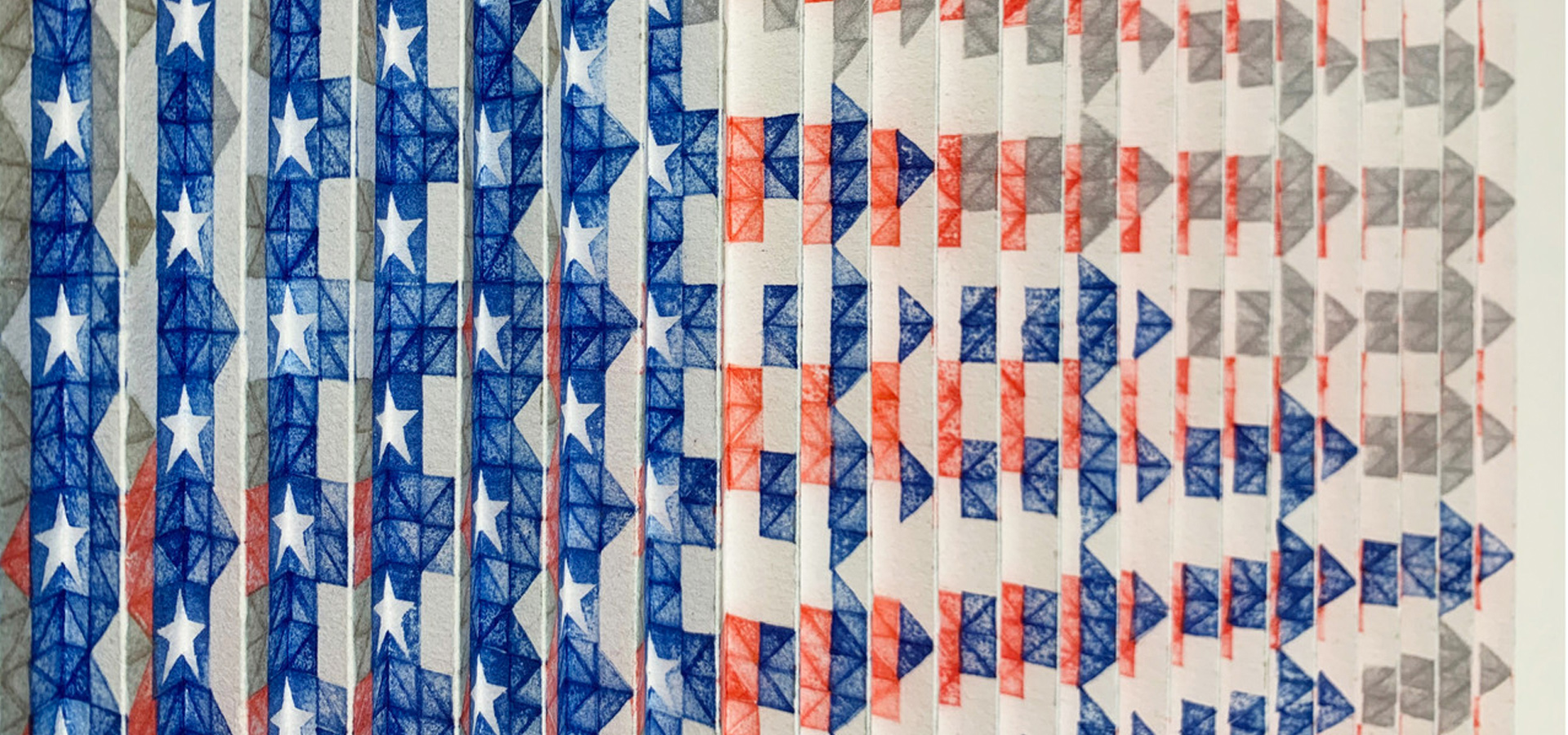 Stamped ink on folded paper
We live in a deeply divided time when each political party embraces the image of the United States flag as a symbol of their national spirit. This piece is a 3-dimensional expression of the divisiveness of our country. Viewed head-on, one sees the American flag composed of individually stamped colored triangles. Lean far to the right, the pattern of red arrows converges into a tight formation pointing decisively to the left. Lean far to the left, it's the opposite. At each extremity, the sight of the flag is lost. Each side has an imposing and dominating view of its intentions. This is the state of US.
Where do you stand?
Beverly Patterson started US at the beginning of the pandemic. Along with the isolation and stress of the stay-at-home orders, there was the added stress from the disconnect and divisiveness of the political climate surrounding the presidential election. Everywhere, she saw the U.S. flag being used by politicians to brand themselves as the most patriotic of candidates. As the presidential election intensified, it seemed there were more and more flags behind the candidates on their pulpits. Patterson wanted to capture this unique time in a way that required the viewer's physical interaction because our interactions had become flattened onto the computer screen.
Under stay-at-home orders, she used the art supplies she had at home. Using handmade stamps, this artwork is an accordion-folded paper quilt of triangles and stars that are red, blue, silver, and gold on paper.
Beverly Patterson, US, 2020. Image courtesy of the artist
Beverly Patterson is a San Francisco-based artist, graphic designer, and educator. Informed by her architecture-focused education and experience, her work reflects her fascination with perception, culture, patterns and geometry. Her work seeks to directly engage the viewer. For instance, US requires the viewer to position themselves relative to the artwork for distinctly unique perspectives. Through painting, printmaking, ceramics, photography and collaging, Beverly's creative zone is where structure and the unexpected converge: seeking the magical moments when they highlight the best in each other.